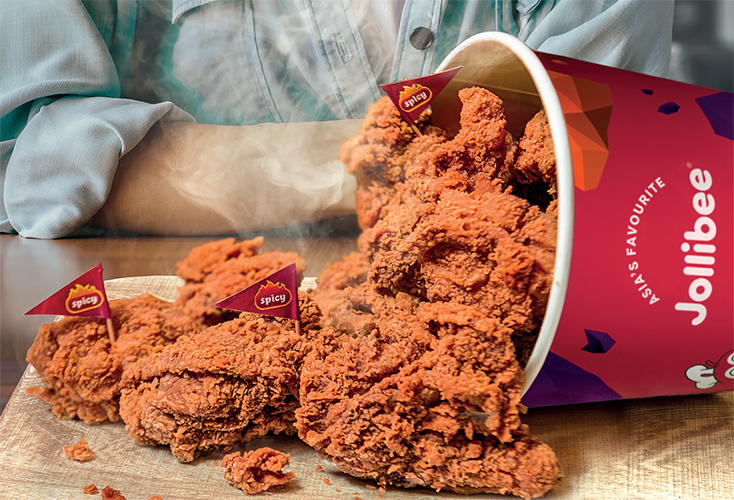 Ready for action
Jollibee is looking forward to the new year with great enthusiasm as plans to expand the business even further begin to take shape
Best known for its Chickenjoy, Jolly Spaghetti, and Yumburgers, the Filipino-inspired fast food restaurant, Jollibee, shares with FoodChain magazine its developments over the last two years. Adam Parkinson, the Vice President and Market Head of Europe, discusses how the business has pulled through Covid-19 challenges, while continuing to grow across the UK.
"I won't lie, 2021 was tough, particularly as the country went into lockdown. We faced the challenge of trying to establish our brand awareness in the UK with very little foot traffic in the city centers. What we knew from our 2020 experience was that lockdowns don't last forever, so we changed our mindset, and focused on strengthening the partnerships we have with our delivery aggregators. We felt that if customers can't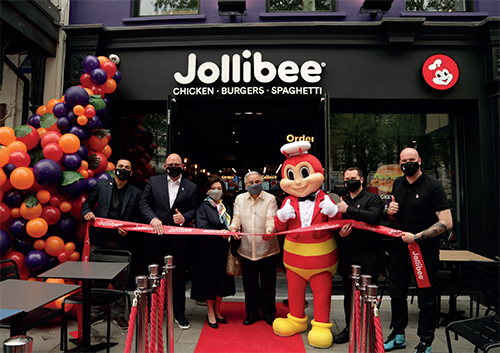 come to us, we will go to them, as restrictions reduced in the second quarter, we were able to line up two new openings as those customers returned to the cities," he says.
"I'm happy to report that since the restrictions have been lifted, we opened a further six stores across the UK in 2020, and have seen our sales return to our expected forecast, which has placed us in a stronger position as we end the year."
New openings
The big question still stands: how has Jollibee continued to prosper during these tricky times? Adam's answer lies in his team, and the company's supply chain. "When these unexpected events happened to the business, we turned to our team to be agile, think outside the box, and stay focused. For me the biggest takeaway from the whole experience was how resilient my team was to keep pushing forward with the initial plans.
"Although we were hit by the pandemic, and supply chain disruptions, our size and nimbleness to adapt to the situation has provided us with a greater advantage over some of our bigger competitors. In addition to that, we also have strong partnerships with our suppliers," he expresses.
With these reliable networks in place, the business has pushed efforts to move its supply chain across Europe. "The truth is that this is a huge expense within our business, so localizing it to Europe is key to our financial model being achieved. It has also enabled us to share the dream we have with key supply partners to see how we can grow together, reduce costs in the business, and to ensure we sell our great product at a price that our customers consider as value, while ensuring the business itself remains stable and sustainable."
In addition to these developments, Jollibee has opened another eight stores in 2021, and despite the quick expansions, the novelty of opening a new restaurant is yet to wear off. Adam shares how he is always humbled by the overwhelming support the business receives, whenever an opening day comes around. "With a great mix of loyalists, and over 70 percent of customers who may have never heard of us, we've managed to ensure we achieve the sales forecast we set out prior to opening. The feedback has been very positive so far with most people opting for our flagship Chickenjoy, and our great tasting chicken burger as their go-to during visits.
"Our latest opening in Newcastle is a symbol of all the hard work we've put in to connect with the local community. When you see a packed store, with a mix of customers that reflect Newcastle's diversity, it is a fantastic sight, and all these new establishments give us tremendous motivation to continue to open more," he shares.
Customer convenience
Adam divulges that the latest Jollibee opening was in Nottingham on December 16, 2021. In terms of going into 2022, he shares that a further ten sites have been earmarked and developments are underway, which also includes an entry into Scotland in the first quarter. He is sure that these aggressive expansions will support the business's goal to secure a presence in key cities across the UK.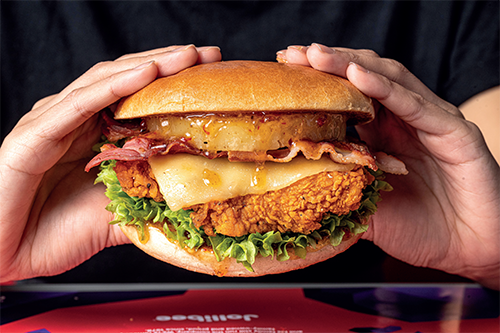 Alongside its desires to grow the company, Jollibee is also moving online, and has recently launched its own app. In celebration of the new development, the company gave away free chicken burgers to the first 10,000 users who downloaded the software. "I am happy to say we have seen those free burgers be snapped up in less than a week.
"We believe technology is a way to get to know our customers better. It helps us adapt our business to ensure we deliver on what they really want, and secondly, we know our customers have busy lives, and we should continue to make placing orders in our restaurants as seamless as possible!" Adam expresses.
In its effort to improve customer convenience, the business is also introducing drive-thrus. "The drive-thru business is a huge opportunity we haven't yet tapped into, and introducing the concept for Jollibee came about from feedback from our target audience. So, as we did with our interior design, we listened, and customers can expect to see amazing Jollibee drive-thrus on major roads up and down Europe very soon!"
Our discussion moves towards the topic of the future, and Adam highlights that Jollibee is investigating the possibilities of franchise partnerships in its long-term plans. "We have held off franchising, and opted instead for company operations. This was purposely planned, as we felt it was important to test, trial, and create ourselves, before we ask our partners to invest their money. This way, we are able to ensure we have a strong model to share with them. We feel that if we are to grow aggressively and compete with the new brands that are growing in Europe, we will need to partner with companies and people who share our vision and values.
"So, we believe we are now able to reach out, share and talk to interested partners, and this is what we will be doing in the new year. The future looks very bright for us, and I feel confident that if we can deliver on the plans that we have laid out for ourselves in the next year, then the best is yet to come!"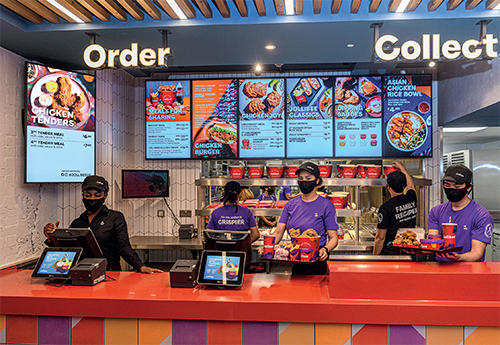 Although he is optimistic, Adam feels the industry still 'lacks the foot traffic in the main cities', and he hopes that the enticing smells of fried chicken will encourage more people out of their houses, and into a Jollibee's restaurant. "The last data we saw showed foot traffic decreased by 30 percent, and tourism was near nonexistent compared to those before the pandemic. This is obviously concerning, but we are in a far better position since vaccination numbers have been on the rise.
"I think the last 18 months have seen companies debate how to balance capital spend, with dark kitchens and delivery. For us, navigating these measures accurately will allow us to provide excellent service to our customers, while reducing the overall investment, and will be especially useful during these uncertain times."
Franchise opportunities
Adam predicts that these challenges will iron themselves out as new brands enter the market, and help stabilize the economy, which, he believes, is vital in order to bring all countries 'out of the economic slump we find ourselves in'.
"Overall, the business in Europe is in a strong position. We believe that 2022 is going to be our most successful year yet, as we add between ten and 15 stores to the market, and continue to build on the achievements we have already made. We still plan to commit 50 million euros on building the brand here in Europe. This budget is dedicated to the three countries we currently operate in, which also includes Spain, but we are looking to find the right partnerships to help us grow even more aggressively and penetrate even more new markets across Europe.
"Tying in with that, customers can look forward to the launch of our spicy range, which will follow the back of the successful launch of the spicy chicken burger, and will be accompanied by several spicy products to give our customers an array of options! This, matched with the continued support of our app, will enable us to get to know our customers better and keep our menu exciting, and full of variety for the whole family.
"I'd like to conclude by emphasizing that we are so excited to start our promotions for franchising opportunities, and we look forward to teaming up with strong partners who share our vision to put hundreds of Jollibee's across all countries in Europe!" Adam says. D
www.jollibee.uk