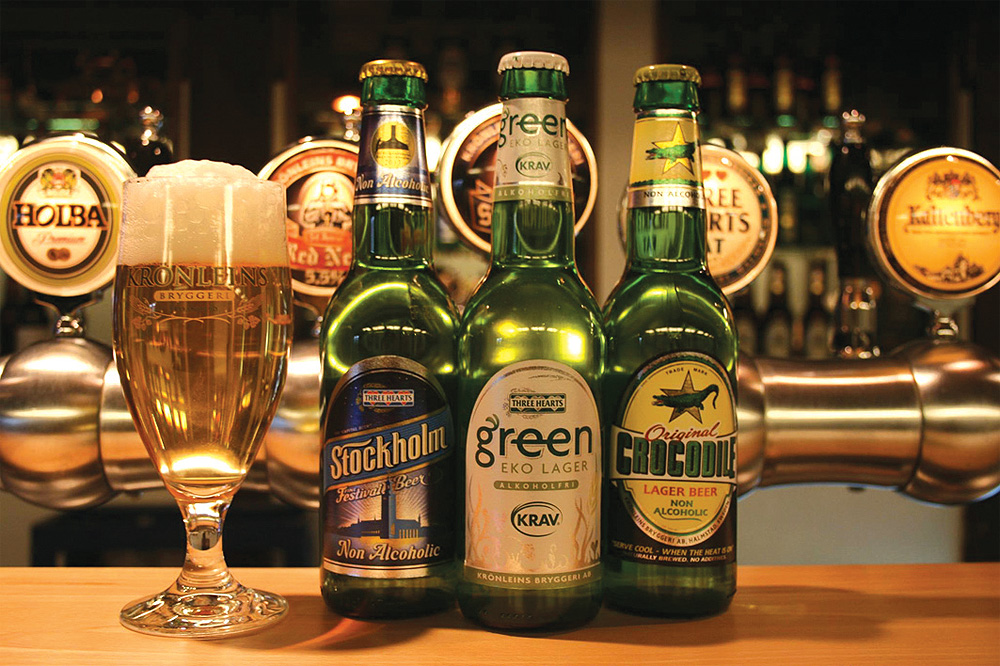 Brewing excellence since 1790
A family-owned brewery since 1790, multi-award winning Krönleins Brewery's forward-thinking approach to delivering high-quality products has resulted in a solid reputation and increased global recognition
Active in the brewing industry for six generations, the Krönlein family's history began in 1790 when brewmaster Johann Albrecht Krönlein from Bayern moved to Sweden.
Following a number of brewery developments in Sweden over the years, Krönleins decided to acquire Appeltofftska brewery in Halmstad, Sweden founded on 15th February 1863. The Brewery grew from its humble beginning in an old half-timbered house at Stora Torg into a well-reputed brewer of pure and natural beers with a modern and highly efficient brewery. Notable business developments include the strategic decision to move from Stora Torg to its present premises on Westre Katt in 1897; this is located on one of the town's initial well, which is full of high quality spring water that the brewery had been using since 1836.
A new brewing and malting facility was also built during 1897 and 1898, which are still partly in use today.
Following the re-location and investment, Anders Krönlein took over the stock majority of the company in 1920 and a new era began with extensive modernisations and investments into brewing, fermentation tanks and filling equipment. It was also during the 1920s and 30s that the brewery focused on not only being a leader in high quality machinery and efficiency, but also turned its attentions on product development. This hard work paid off, with the brewery launching a high-grade strong beer, Three Hearts Export, in the 1950s; it was made solely for export because beer of this strength was prohibited in Sweden at this time.
Award winners
Today Krönleins Brewery is run by Carl Krönlein, Managing Director and 6th generation family member and is Sweden's fifth brewery in terms of size. Located in the south of Sweden, the brewery
benefits from a strong regional retail market share but also an important national market share within the Swedish monopoly chain, Systembolaget. Alongside the Retail & Monopoly chain, the brewery has two other business sectors, Horeca and Export, as Carl notes: "The state owned monopoly is our biggest business area, with half of our turnover coming from here; the grocery chains and supermarkets then take approximately 30 per cent, with Horeca and export responsible for 15 per cent each when it comes to turnover. Because our main customers are Systembolaget, future growth for us lies in the state owned monopoly, export and Horeca."
With some 35 million euro net sales and an enviable local market share, the 100+ employees strong brewery is continuing its long-term aim of developing and improving products by paying attention to customer demand and maintaining quality. This strategy has so far held Krönleins Brewery in good stead, as it has become the most awarded brewery in Scandinavia. Awards include 32 gold, 31 silver and five bronze DLG for German Quality Awards and a Best in Class for obtaining medals during a ten-year period from the DLG. The brewery also won silver in 1996, gold in 2002 and silver in 2011 in the Brewing Industry International Awards for Strong Beers above seven per cent with its Three Hearts Extra Strong 7.5% beer. Krönleins Brewery is the only brewery in the world to receive both the gold medal in the Brewing Industry International Awards and gold prize in the DLG-pramierung; no other brewery had this success!
Discussing the reasons Three Hearts Extra Strong won these awards, Carl says: "I would say that we are brewing very elegant, smooth and well balanced beers regardless of strength. Three Hearts is a strong beer at 7.5%, and it is not that easy to get a normal taste in a beer of that percentage; it is more like a wine product in the sense that it has an alcohol taste, but we have managed to get flavours to cover the strength. So if you are drinking this product in normal temperature from the fridge it wouldn't taste so strong; it is a pleasant, tasty rich beer, that is not very hoppy."
The brewery also won silver in 2002 and gold in 2005 at the Brewing Industry International Awards for Strong Beer above seven per cent with its 7.2% Stockholm Fine Festival Beer. The Stockholm Fine Festival Non-Alcoholic Beer was also awarded gold in 2013 from the Brewing Industry International Awards.
Other non-alcoholic beers, up to 0.5 per cent, include Original Crocodile Lager Beer and Three Hearts Green Eko lager. Using organic barley malt and organic hops, the brewery uses special processing techniques to deliver a superior taste that is mixed with balanced bitterness.
The brewery's most recent release was Three Hearts Amber "källare No 9", a 33 cl can that is a niche in volume and boasts typical hoppy aromas. In addition to beer, the brewery also makes Halmstad ciders and soft drinks. Its 33cl Halmstad Cider Pear, 4.5% volume, is a sparkling wine cider that should be served chilled and, like all Krönleins products, is produced with pure water from the well; also available is the 33cl Halmstad Cider Apple product.
In order to remain at the forefront of brewing high quality products, Krönleins Brewery's operations will be further enhanced through investment over the next 12 months. "We are focusing on replacing a lot of equipment, which has to be changed bit by bit due to our location in a historical part of town. This will be quite a challenge as we will have to keep up production while also building a new brewhouse in and around the old one. While this is ongoing, our strategy remains the same, to market high quality, world-class, competitive, tasty beers," Carl concludes.