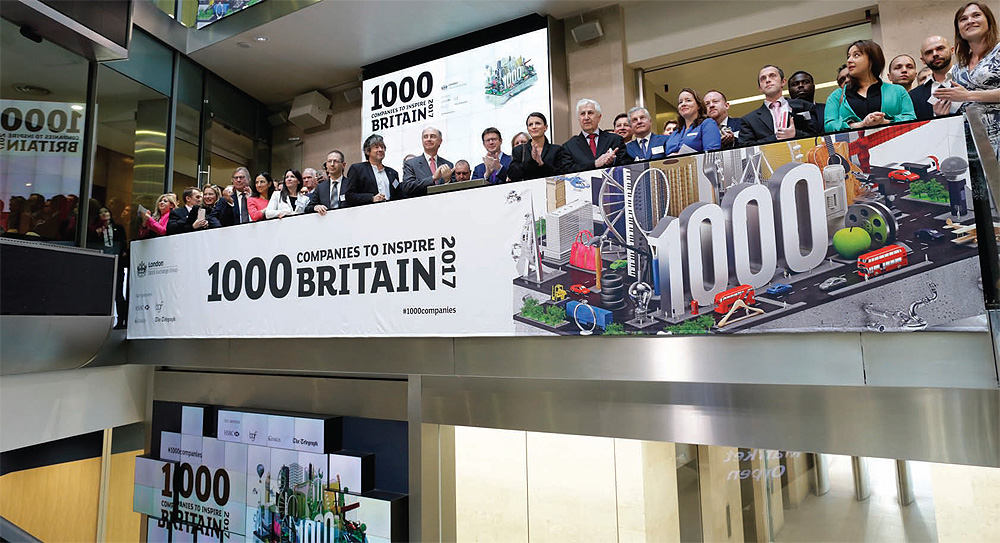 London Stock Exchange Group
Inspiring success
1000 Companies to Inspire Britain 2017 is London Stock Exchange Group's latest annual report to shine a spotlight on the very best of British business
When London Stock Exchange Group (LSEG) launched the inaugural edition of its 1000 Companies to Inspire Britain report in 2013, its stated aim was to bring to the nation's attention a fact that LSEG already knew to be true, that the dynamic small and medium enterprises (SMEs) that make-up said list are the lifeblood of the UK economy. The Confederation of British Industry (CBI) would subsequently go on to confirm how just 3000 scale-up, medium sized businesses contributed £59 billion to the UK economy over a three-year period. Meanwhile, in 2016 alone, the UK created a record number of 650,000 start-up firms.
"The 1000 Companies to Inspire Britain 2017 report is the latest in a series of annual reports which identifies some of the most exciting, fastest-growing businesses active in the UK today," explains Emma Titmus, LSEG's Business Development Manager in the Primary Markers team. "The report forms a conscious effort from ourselves to profile some of the fantastic companies we
have operating right across the country, shining a light on their wonderful achievements and success."
In order to build the list of 1000 companies, LSEG employs the expertise of the financial technology company DueDil. They combine key financial performance indicators and sector benchmarks to populate the list. In order to qualify for the list, companies must be active and registered in the UK, and while Ltd, PLC and LLP entities are all considered, investment vehicles and funds, charities and non-profit organisations are excluded. Independent company, or consolidated group, revenues must total from £6 million to £250 million, based on the latest filings with Companies House, and companies are excluded if they have been incorporated in the previous three years.
Each company's average annual turnover growth rate is calculated over a three-year period, based on four sets of accounts, with calculations weighted to favour latest-year growth. Any company with over 20 per cent deterioration in net assets over a three-year period is excluded. Once the long list has been identified the eligible companies are separated into their Standard Industrial Classification (SIC) groupings. Within each sector the companies are ranked by individual growth rates and those that have most outperformed their sector averages are identified.
"This year's report makes for wonderful reading and a particular highlight is seeing the growth of companies in specific regions," Emma continues. "In the West Midlands, for instance, the average annual growth rate of the companies showcased comes in at 60 per cent, while in Scotland average revenue growth stands at 91 per cent. At the same time, it is very positive to see a further increase in the number of companies from Wales spotlighted, which just enhances the strong sense of regional representation that the 2017 report possesses."
Following the publication of the 2017 edition of the report, LSEG hosted a series of celebratory events, taking in visits to London, Bristol, Birmingham, Manchester and Edinburgh throughout the months of June and July. "The management teams of the companies featured in this year's list, along with selected invited alumni from previous editions gathered at these events where we had the opportunity to raise a glass to their achievements," Emma enthuses. "It is at these events where we also get a real insight into what these companies are doing and how we can possibly be of service to them. It also gives them the opportunity to network and possibly look to do business with one another."
The release of LSEG's annual 1000 Companies to Inspire Britain report also provides an opportunity for reflection on the 12 months that have just passed, and for attention to turn to the year to come. "We have seen some interesting events in recent times in the UK, not least of all the vote to initiate Brexit," Emma says. "I think it is more important now than ever that companies have strategies for growth in place, that they are investing in innovations and new technologies, and that they are choosing the right partners to help them scale-up in a sustainable way that adds long term value to the business.
"Despite us, as a country, having a degree of uncertainty about the immediate economic future, there are clearly still a lot of excellent opportunities for companies in the UK. We have an incredible business culture, companies are continuing to thrive and we are not seeing the massive slow-down that some feared would occur, all of which is positive news."