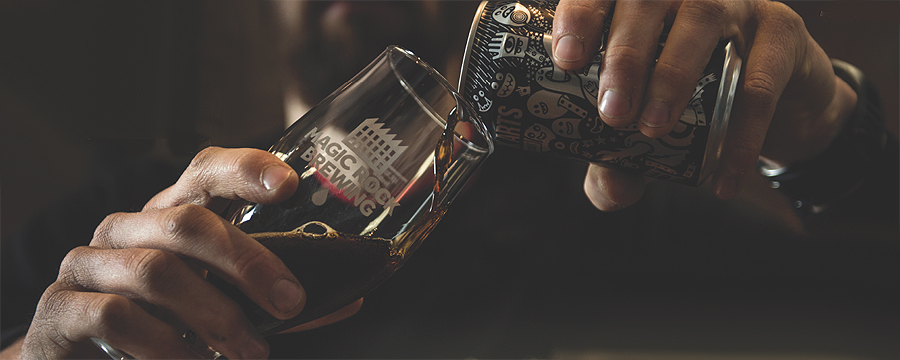 Magic Rock Brewing Co Ltd
Quality on tap
Formed from three people's passion for beer, particularly US craft beer, Magic Rock Brewing Co Ltd has enjoyed solid growth as a specialist in brewing exciting and flavourful beers
Founded in 2011, Magic Rock Brewing Co Ltd is a labour of love from two brothers with a passion for great beer and the burgeoning UK craft beer scene. Aided by head brewer Stuart Rose, the
team was driven by a desire to bring characterful and exciting beers to both their local market and beyond. With brewing beginning in mid 2011, Jonny sold the majority of his shares to Richard in the final quarters of 2011.
Beginning operations with a core range of six beers, from an easy drinking pale ale to an American-inspired 7.4 per cent IPA, the brewery was also involved in a number of collaborations, seasonal beers and one-offs to keep things interesting for both customers and the company. From the brewery's early days, the beers exceeded expectations, which resulted in Magic Rock Brewing Co being named the 2nd Best New Brewery in the World 2012 on the independent ratings site Rate Beer. Having gained an impressive reputation, the company increased capacity to meet demand in the first year of operations, with additional 166bbl fermenting vessels added in October 2011 and January 2012.
With further growth following, the brewery relocated to a new site in Birkby, Huddersfield, which increased capacity to 10,000hl PA; the Magic Rock Tap House was then opened, which resulted in the launch of the brewery's first run of cans. Capacity was increased by a further 100 per cent in early 2016, with fermentation capacity now reaching 70,000 litres.
Richard discusses the brewery's developments in that time: "We still make the core beers that we produced five years ago, which all still sell in good numbers; but we now have a core number of eight beers, which are reflected by the products we do in smaller packs, so there is an eight can core range. We did draught for the first five years in operation, but since we moved to the new site in 2015 and installed the right equipment, we now have cans."
Core range
Within the core range is Salty Kiss, a 4.1 per cent German style gooseberry flavoured gose that has a tart, sour, fruity and refreshing taste that makes it an excellent accompaniment to food; Hat-Trick, a modern take on a traditional pale ale that is 3.7 per cent and brewed in association with local football club Huddersfield Town and Ringmaster, Magic Rock Brewing's 3.9 per cent flagship pale ale that uses hops from the US to ensure a floral/grassy aroma as well as citrus flavours. There is also Inhaler, a 4.5 per cent juicy pale ale; Rapture, a full-bodied, 4.6 per cent hoppy
red beer that is made up of five types of malt and six types of hops; High Wire, a 5.5 per cent tribute to the pale ales of the West Coast of America; High Wire Grapefruit, a 5.5 per cent fruitinfused version of Magic Rock Brewing's High Wire pale ale and Dark Arts, a six per cent surreal stout that blends four malts and many hops to deliver a decadent and indulgent experience. The final product in the range is Cannonball, a 7.4 per cent India pale ale that is high in alcohol and hugely hopped to deliver strong flavours such as tropical fruits and a sweet malty backbone.
Elaborating on what makes Magic Rock Brewing's products unique, Richard states: "It is the approach; I wanted intensity of flavour with drinkability that makes people want another one. When it comes to our core beers it has been a matter of tweaking them and continual improvement since we started brewing. It is also our branding, which is done by a friend of mine Richard Norgate; I'm not sure people had seen modern branding quite like ours with beer in the UK before, we love good design and wanted a level of idiosyncrasy to our branding. The way we approached the marketing and brand side of the business has worked out very well."
Continuous improvement
Focusing on continuous improvement and expansion has proven fruitful for the company, with turnover increasing to £3.5 million and a further increase of 25 per cent to 30 per cent anticipated over the next 12 months. "This expansion has enabled us to supply to a lot of people that we couldn't previously; in the first four years we had to keep saying no to people and instead maintained our original clients. However, with this additional capacity we have been able to export and do more distribution, with export reaching more than 20 countries now," says Richard.
Moving forward, Magic Rock Brewing is keen to continue enhancing its product range and delivering new and interesting products to customers as a way to remain a leading position in a competitive market. "We have no desire to aggressively expand, but instead are more interested in improving quality. We can potentially increase capacity by 30 per cent by improving procedures and speeding things up, but more important for me is that we are focused on production improvements and delivering better quality beer. The UK market is very competitive and we don't want to get dragged into price wars, which is why we seek out new ways of offering high quality beers that are exciting for customers and for us," Richard concludes.
Images courtesy of Sam Needham