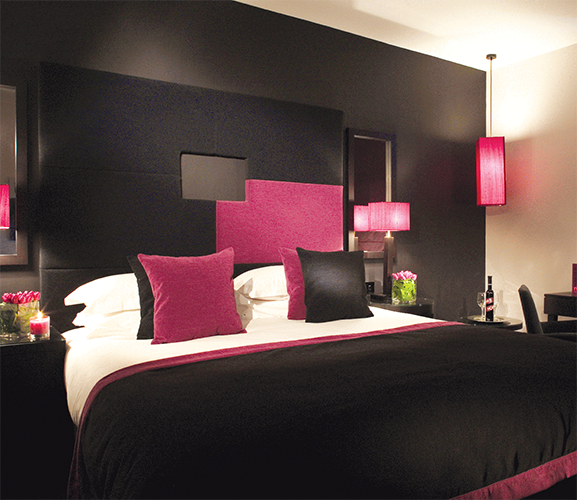 Point of difference
Malmaison continues to strengthen its position in the UK market with the launch of its new hotel in Liverpool
The 27th of January 2007 marked another important milestone in Malmaison's history when it launched its new property in Liverpool. One of the features which set this hotel apart is its stand-alone cocktail bar. With its own street entrance, the 50- seat cocktail lounge will replace the traditional bar with an opaque glass box in the centre of the room inside, where staff will make and dispense drinks – it's all about the mystique: guests will just see shadows inside the box.
Liverpool has always been an edgy, rock 'n' roll-type city, and the hotel has been created to reflect this. Because Liverpool is a very dynamic place, having won European City of Culture 2008, it was decided that it would suit the essence of what Malmaison is all about. Situated on the docks, this is Malmaison specifically for Liverpool and not just another Malmaison designed to a template.
Today there are ten Malmaisons in the UK: Edinburgh, Glasgow, Newcastle, Manchester, Leeds, Belfast, Birmingham, Oxford, London, and Liverpool, all distinctive, architecturally unique buildings that exude flare. Each one is bold in design and rich in colour. Malmaison has always believed in being different with its blend of flamboyant design and refreshingly innovative service. Its new initiatives also include complementary high-speed internet access for all guests, cable in the rooms and wireless in the bars and brasseries.
Bars and brasseries are the hub of each hotel and destinations in their own right, similar in set-up to the first Malmaison, which was primarily a brasserie and bar with rooms for guests that came to dine. The food has always been tasty and wholesome, cooked by award winning chefs in a relaxed, fun environment.
Malmaison is named after a Chateau on the outskirts of Paris – the original home of Napoleon and Josephine that he famously decorated for her, which became an icon of great style. Two hundred years later in 1994, Malmaison revolutionised the UK hotel industry by opening its first hotel in Edinburgh, the birth of affordable chic in the city. The first Malmaison is an architectural gem of a building – a former seamen's mission built in 1833, with an impressive baronial façade overlooking the recently rejuvenated bohemian area of the Port of Leith, just minutes from the hustle and bustle of Princes Street, the Old Town and the Georgian elegance of the New Town.
This is one of the charms of Malmaison, earning it a reputation for converting very old and unusual buildings. It has, in its portfolio, hotels that are a converted brewery, a former church as well as the old boys' school at Charterhouse Square, amongst its collection of interesting buildings. The company remains passionate about maintaining style yet grounded by its desire to deliver real value.
Having worked for Malmaison for seven years now (in two parts, returning three years ago), CEO Robert Cook has always had one definite plan of action for the hotel chain: going back to its traditional value and roots, as the heart and soul of Malmaison has always been a bar and brasserie. In achieving this aim through every new hotel added to the portfolio, Robert wants to concentrate on bringing the humour back into the business and treating it as a restaurant with rooms, injecting a bit of fun and increasing its saleability. This ambition and focus has really revitalised the brand and the company has seen the results with a 40 per cent increase in profitability.
If awards were the defining factor of a company's overall quality and success, then Malmaison would be dominating the market. Despite its achievements, Malmaison believes in keeping it simple by not trying to change the brand and working with a team of people that are extremely committed, injecting energy and keeping the brand vibrant. It even maintains its simplicity in its food preparation – taking the best raw ingredients and doing very little to them; Malmaison doesn't believe in masking its food in sauces, cooking in butter or pouring salt all over it. And in January 2007, Malmaison launched its Homegrown and Local menu featuring food supplied by local farmers and local suppliers.
On October 2005, Malmaison made a very significant £66.4 million investment when it acquired what was perceived in the industry as its nearest competitor, the Hotel du Vin Group. The company now has plans to continue expanding its portfolio and aims to roll out four or five new Hotel du Vin and Malmaison locations in the next three years. The next launch will be Hotel du Vin Cambridge, in May 2007, with 42 bedrooms and suites, Champagne Bar, bistro and private dining room followed by Hotel du Vin Cheltenham featuring 48 bedrooms and suites, a spa and bistro in June 2007. Malmaison Reading with 72 bedrooms, three suites, a Café Mal and one meeting room will be launched in July 2007, whilst Hotel du Vin York with 42 bedrooms and suites plus usual trademark bistro will be launched in winter 2007. Aberdeen Malmaison is planned for opening in 2008 and will have 81 bedrooms, five suites, a spa and fantastic steakhouse and seafood grill.
Robert sees further expansion of the Hotel du Vin Group in the UK, concentrating on the cathedral cities and university towns. After strengthening its position and reputation in the UK market, Robert's personal vision is to eventually see the company infiltrate the US market with Malmaison, but a trophy in the London's West End with some 150 to 200 rooms is his immediate goal.