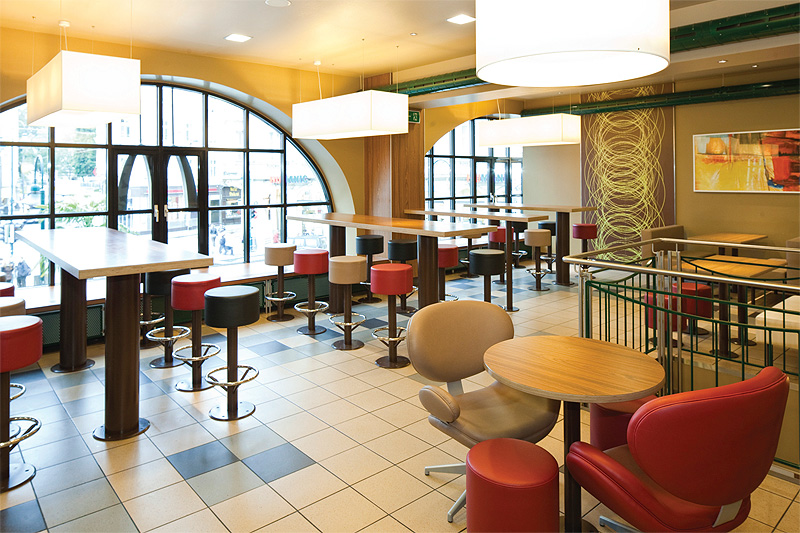 It's a wrap
McDonald's Austria has almost completed its major refurbishment programme and experienced success with the launch of two new products
As one of the world's largest chain of hamburger fast food restaurants serving 47 million customers a day, the McDonald's name is no stranger to the every day consumer. Today McDonald's operates 31,000 restaurants worldwide in more than 119 countries on six continents, employing more than 1.5 million people. One of the locations making up this portfolio is McDonald's Austria, which was first established in 1977 in Vienna on the Schwarzenbergplatz. Today it has 173 restaurants, with the doors of its 173rd having been opened on the 16th August. For the next few years, McDonald's Austria and its 55 franchisees have plans to launch between five to ten restaurants a year.


As a key part in McDonald's European strategy for modernisation and improving the experience for its customers, McDonald's Austria began its refurbishment programme in 2006. Speaking to Food Chain, Andreas Schwerla, the managing director of McDonald's Austria comments: "Since we began the project in 2006, we have invested around 100 million euros. This signals a new era for the restaurants and involves a complete redesign of each of our restaurants both indoors and outdoors. The refurbishment was driven by McDonald's vision to offer a modern and sympathetic design that entices customers through the doors whilst providing employees with a pleasant place of work in.
"Investing significantly into this programme has proven to be very successful and beneficial as McDonald's Austria has begun reaping the rewards. We are always committed to continuously improve our image and the brand representation in the market, taking on board our valued customers' feedback and the positive impact on our sales growth. We should complete the programme by the end of 2010, as we only have a few more restaurants left to be redesigned."
Continuing the focus on improving its offering, McDonald's Austria launched a new range of wraps in May 2009. "The wraps were developed by Gerhard Fuchs, an Austrian franchisee who was formerly a first-class chef, and it is by far the most successful product launch of the last few years. When we launched the wraps little did we realise what a hit it would be not only here in Austria, but also throughout the other McDonald's chains throughout Europe. We are of course very proud that McDonald's Austria has managed to make such a significant impact and contribution to the portfolio," Andreas exclaims.
This year was no exception to McDonald's Austria's promise of offering an innovative touch, as it launched yet another exciting product in March 2010. Developed specifically for the Austrian palette, this latest creation combines vegetables, salad and creamy yoghurt in a surprisingly new way. The Veggie Burger is a colour feast for the eyes especially over the summer months with juicy red tomatoes, crunchy green peppers, tender peas and carrots as well as spicy yellow parsnips. The aim was to create a vegetarian burger that tastes as delicious as meat to meat lovers. "Many of our customers seemed to request a vegetarian burger and it is very important to us to be able to offer a diverse choice. Therefore, we were determined to create a crisp and fresh burger oozing with taste, colours and flavours," Andreas states.
Commenting on the launch, Gerhard adds: "The primary aim was to combine a variety of vegetables to create a burger that was modern and imaginative. There are various combinations of peppers, broccoli, corn, parsnips and peas, carrots and onions in a crispy potato patty, plus the addition of tomato and lettuce. A special yoghurt sauce was also created to complement the burger perfectly." The Veggie Burger seemed to have converted many customers in Austria, with meat lovers now turning to the delights of this new burger too. The launch has been a major success for McDonald's Austria, as it emphasised that the sweet and spicy flavours of the Veggie Burger is the perfect summer snack or convenience food-to-go.


Priding itself in looking after its consumers, McDonald's Austria's varied range of breakfast helps kick-start the day. With its 'easy morning' breakfast option, customers can chose from a selection of 20 special breakfast products including McMorning, Bacon McMuffin and McToast, and it also includes classics such as eggs, meat and Marmeladesemmerl. McDonald's Austria believes strongly in catering to every preference – hot, cold, spicy or sweet – and the 'easy morning' range understands that a great breakfast would not be complete without McCroissant, McToast, McMorning, Ham & Eggs Wrap or the classic Viennese breakfast. An ingenious innovation is the McGriddles Sweet – sweet-baked pancakes with maple syrup.
Testing the menu in selected restaurants in Salzburg and Styria proved a great success and since 3rd May 2010, it has been rolled out in all of the McDonald's restaurants in Austria. The new 'easy morning' breakfast was launched to complement the newly Austriadesigned McDonald's Austria and works hand-in-hand with other product innovations including its wraps and Veggie Burger.
Not only is McDonald's Austria committed to launching new products and revamping its looks, but it is also very passionate about playing a responsible role when it comes to sustainability, education and the environment. "In everything we do, we have always worked to fulfil the visions of our founder, Ray Kroc, when he said that 'we have an obligation to give something back to the community that has given so much to us'. We believe we achieve this by supporting Ronald McDonald Children's Care, being a responsible employer, consciously working to reduce our carbon footprint and of course, also in constantly offering top quality food sourced by regional farmers wherever possible. Never compromising on any aspect of our commitment to the community, we believe McDonald's Austria will continue to be a significant part of the Austrian landscape," Andreas concludes