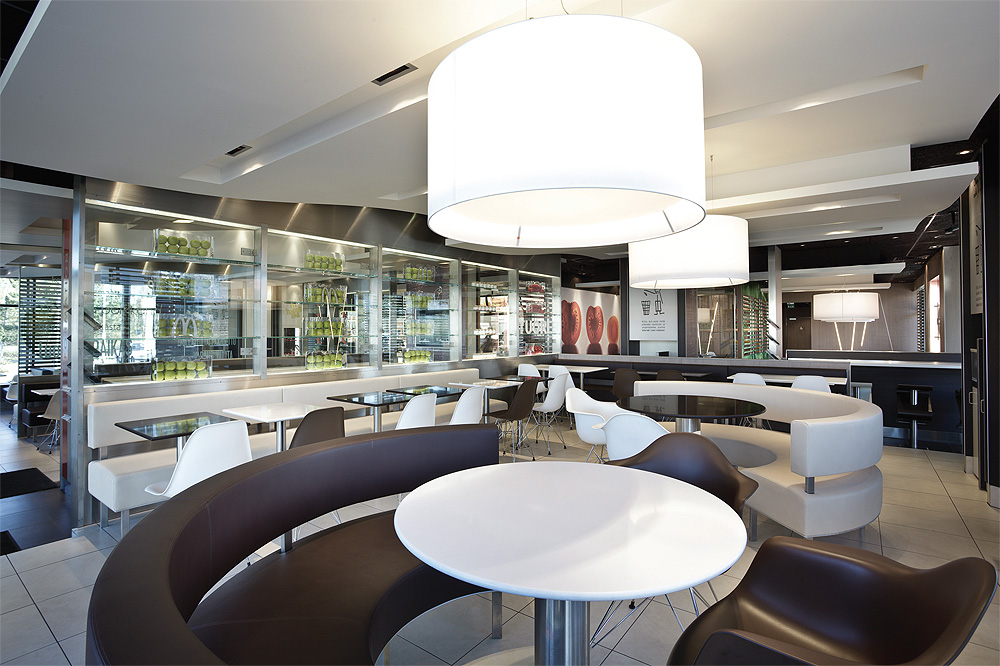 A new era
McDonald's Finland is adopting a new brand image as it continues to carry out major refurbishments at all of its branches across the country
Over the past 54 years, McDonald's has firmly asserted its dominance as the world's largest chain of hamburger fast-food restaurants. With over 31,000 locations across 119 countries, the company serves approximately 50 million customers every day, and its first Finnish restaurant was opened in the city of Tampere on the 14th of December 1984. Today, McDonald's has 82 outlets across 38 cities throughout the country, of which 68 are licensed to private franchise entrepreneurs. The company's prominence in Finland is highlighted by the fact that it employs around 3200 people, with each newly opened restaurant creating between 30 and 40 jobs. In addition, McDonald's also co-operates with VATES, a Finnish company that promotes the employment of the disabled.
As the company approaches its 25th anniversary in Finland, Marko Hämäläinen, director of operations, discusses the business' ongoing accomplishments: "This is a very important achievement, as we are relatively young in the McDonald's market in comparison to our neighbours – in Sweden, for instance, the company has been present for over 30 years. Now that we have hit the 25-year milestone, we are in a position to really progress into a new era. The last five years have been very positive for us and we intend to build on this."
This success has led to McDonald's Finland investing in a major refurbishment project across all of its branches in recent years, as Marko explains: "Our strategy at present is to focus upon increasing the customer base in our current restaurants, rather than investing to open new outlets. We commenced this remodelling programme four years ago, and so far we have renewed both the interiors and the exteriors of 35 restaurants across the country. This was done mainly because most of our restaurants opened in the 1990s, and after ten years the time had come to address the areas that were outdated. This is something that we are doing in accordance with McDonald's European strategy, and our goal is to completely modernise the appearance of our outlets whilst improving the overall experience for the customers."


The investment required to transform a single restaurant is 200,000 euros, and having already refurbished 40 per cent of its outlets to date, McDonald's Finland has spent approximately seven million euros in total. Marko elaborates further on the venture: "We hope to have the entire operation completed by 2012. However, it is an ongoing process and in five years' time, once all 82 restaurants have been modified, we will repeat the procedure again. By striving to offer a whole new level of customer satisfaction we have succeeded in improving the brand image across the country, and we have received a massive amount of positive feedback from our customers." This feedback is obtained through a systematic survey system that is employed across the country, implemented on an annual basis to review the operations, quality and service of the overall chain.
The countrywide improvements that are being made throughout McDonald's in Finland have also extended to the restaurants' kitchens, where various additional measures are being taken, according to Marko: "One area that we have changed is the preparation procedures in our kitchens, and we are splitting the kitchens into separate sections for each product. This means having one area for beef products, one area for chicken products, another for salad and so on. Not only does this mean that the staff can operate much more effectively, but it also ensures that our food maintains the best quality possible."
McDonald's Finland is constantly looking to develop all aspects of its business operations, and it has therefore been investing in its drive-thru services across the country as well, as Marko elaborates: "Our drive-thru customers are very important to us and we are always researching into new ways of upgrading the experience for them. One example is our implementation of new signs across many of our outlets, and we have also looked into enhancing the customers' convenience by having comprehensive menu screens outside as well. As with both our interior and kitchen modifications, the improvements here are being carried out in conjunction with McDonald's Europe."
Facilitating all of these new developments has required a considerable amount of investment, and McDonald's Finland continues to spend despite the challenging economic situation. Marko shares his views on why the company has remained so financially secure: "It is only natural that the recession has affected the industry to some degree, although the market for informal eating out in Finland has stayed very stable. Growth has certainly slowed down, but it has not plateaued and the fact that we are also improving our customer experience will help us continue to ensure future success. I predict that in the next two to three years, when the crisis subsides, McDonald's will be experiencing very strong growth again – not just in Finland, but worldwide."