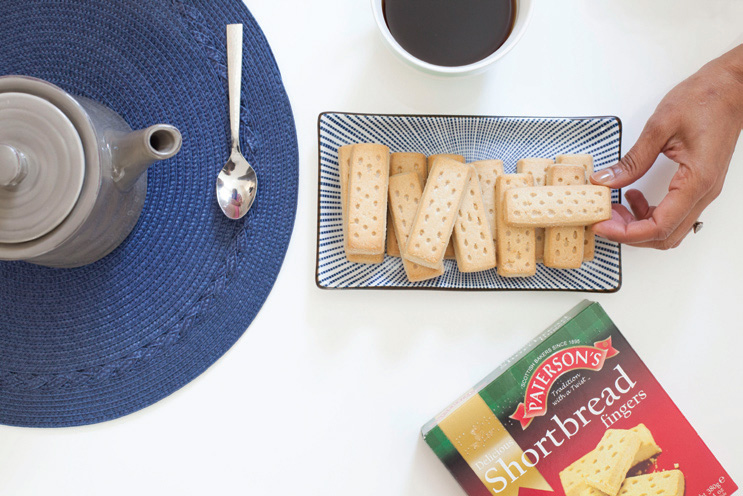 A very British treat
Britain's number one shortbread brand, Paterson's, has placed sustainability on top of its agenda to future-proof its operations and improve its efficiencies
In hindsight, it can be observed that the twilight of the 19th century turned out to be the dawn of a business that would become Britain's number one shortbread brand some 120 years later. Humble beginnings, involving Mr and Mrs Paterson selling home-baked oatcakes in Rutherglen (not far from Glasgow), suggested little of the prominent status Paterson's was going to reach.
Through perseverance, a sense of responsibility, and pride in its products, however, the small business has elevated itself to a household name and a family favourite for millions of UK consumers across several generations.
Having moved east to its main facility in Livingston, today Paterson Arran manufactures a wide range of shortbread, biscuits and oatcakes under its Paterson's, Brontë and Café Brontë brands. Its main retail brand, Paterson's, is the nation's favourite shortbread brand, with 49.1 per cent share. In addition, the company operates a smaller facility on the Isle of Arran, where it specialises in the production of chutney, mustard and preserves under the Arran Fine Foods brand.
A spike in customer demand in the last decade has encouraged Paterson's to upscale its shortbread production, which has led to a dramatic sales growth for the brand. "In the past, we only produced shortbread for a few months of the year, but we now bake Paterson's Shortbread all-year-round. Consequently, Paterson's brand now has a retail value of over £13m, with over 4.5m loyal customers purchasing Paterson's throughout the UK," Adam Wilson, Technical Manager at Paterson Arran, points out.
Positive results
Considered a modern classic, Paterson's Shortbread Fingers 380g is the brand's core best-selling product. Delivering the unique Paterson's taste, its shortbread fingers are made to a unique rapeseed oil and butter recipe, which is not only palm oil free but contains just 2.8 per cent saturated fat – a figure considerably lower than may be found in other shortbread products in the market, and a significant USP for Paterson's.
"In 2018, we launched our new Scottish Cream Jam Shortbread Thistle Rounds, which combine our treasured Paterson's recipe, with the addition of fresh, locally sourced double cream, and delicious strawberry jam from our site on the Isle of Arran," Adam reveals. The indulgent treat is now available in Tesco stores throughout the UK, as well as in Asda, Morrisons, and Sainsbury's outlets across Scotland, launched following increased consumer demand for biscuits with fillings and toppings (Mintel, 2018).
Keen to use its own jam in its shortbread rounds, Paterson Arran took the decision to upgrade its Isle of Arran site by placing significant capital investment to develop the facility's capability of making jam for industrial baking. Adam comments: "Previously, we were making only retail jam on Arran, but, for our new jam shortbread rounds to achieve the highest possible quality, we had to invest in a new system. The technology of making industrial jam is very different to that used to make retail jam, so we had to take this step and expand our capabilities, and this is already yielding positive results."
Sustainability
Amongst the most impressive features of Paterson Arran, if not the company's most commendable trait, is its unwavering commitment to environmental sustainability – a value embedded deeply in the business' day-to-day operations. "We have been awarded, and retained since 2009, the prestigious ISO14001 accreditation for environmental management. We have a comprehensive system, which allows us to set ourselves challenging targets with a view to reduce waste, energy consumption, water usage, and improve our efficiencies," remarks Adam.
He draws our attention to some figures surrounding Paterson Arran's sustainability achievements: "First and foremost, we have been a landfill-free site since 2014, sending waste to an RDF plant. Furthermore, we have reduced our general waste by 60 per cent in the period between 2006 and 2018, which is an even more impressive feat when you consider that our production has increased by 90 per cent during this time.
"Two other areas where we have made considerable progress, are water and energy consumption reduction. With regards to the former, we have lowered the total amount of water used on the site by 24 per cent in the last 12 years, as well as reducing the water needed to make one tonne of our product by 60 per cent. We have also cut down electricity and gas consumption per tonne of product by 42 per cent and 40 per cent. Our Isle of Arran facility gained its ISO14001 accreditation in 2018, so in the coming years, we will be looking to reduce its environmental impact too."
New launch
Paterson Arran has been awarded for its commendable environmental sustainability efforts with a number of awards and nominations over the last few years. In 2017, the business won the 'SME Management Award' at the VIBES Scotland Awards (Vision in Business for the Environment of Scotland) and the 'Environmental Sustainability Award' at the Scotland Food & Drink Excellence Awards. In 2018, Paterson Arran was a runner-up in the 'Management Award' category at the European Business Awards for the Environment.
"We have a positive outlook for the years to come and expect to continue growing our brands through sustainable business practices. In April 2019, we will be launching Paterson's Flatjacks, a twist on the traditional Flapjack. Launching in two delicious varieties – Raspberry & Apple and Dark Chocolate & Ginger, Paterson's Flatjacks are vegan friendly and palm oil free, whilst also containing less than 2.5 per cent saturated fat. Our Flatjack launch further demonstrates Paterson's position as a leading brand within UK in-home and out-of-home snacking, delivering delicious products from clean, sustainable ingredients," Adam finished.
It's clear that Paterson Arran has come on a real journey from its humble beginnings in 1895 and is set to continue supplying consumers with delicious treats for many years to come, whilst working hard to protect the environment around us.