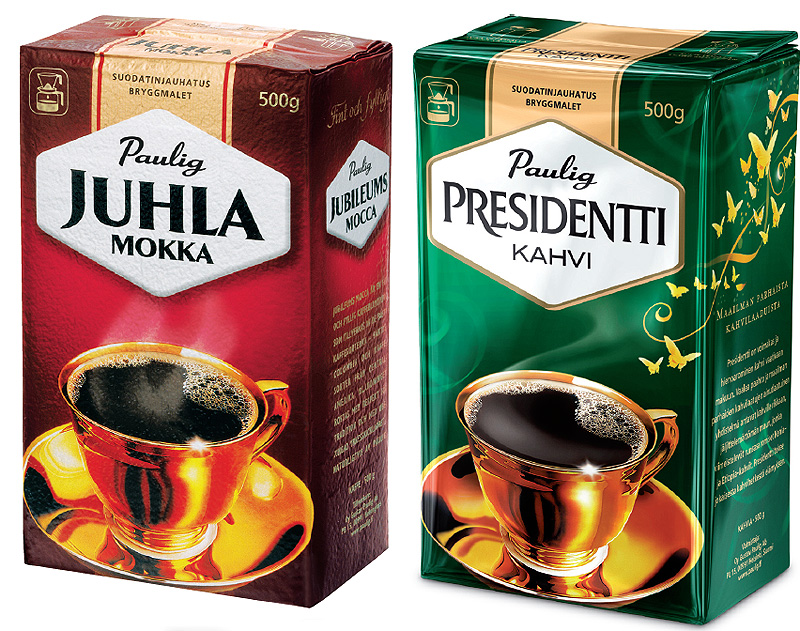 Rulling the roast
One of Europe's oldest and most distinguished coffee roasters and producers, Paulig continues its 135 year legacy of supplying its customers with the finest products
Paulig was established in 1876 and, as with many other companies, it all began 135 years ago as a one-man operation, driven by the vision of Gustav Paulig. An immigrant from Germany, Gustav started his business by importing and trading colonial goods including salt, coffee, spices, flour and cognac. Rapidly making a name for himself as a visionary businessman, Gustav was one of the first men in the industry to recognise the importance of creating a brand and in the 1880s designed the first company logo, a P-insignia that featured on all Paulig coffee packages, highlighting the products' high quality.


In 1904 the business expanded from wholesale goods into the food industry with the opening of its coffee roastery in the Katajanokka district of Helsinki, the first of its kind in the Nordic countries. To mark the 25th anniversary of the facility, Paulig officially launched its first coffee brands, the Juhla Mokka and Presidentti blends, and two years later in 1931 the company's ready-ground coffee products started appearing on shop shelves. Between 1919 and 1947 the company was run under the leadership of Eduard Paulig, son of Gustav, and it was during this period that it became the recognised name in the food industry that it continues to be today.
Unimpeded growth
As the Baltic countries opened up to the Western world following the collapse of the Soviet Union, Paulig became one of the first companies within the region to reach out to its former trading partners, returning to countries it had not been active in for more than 50 years, like Estonia, and opening sales offices in Russia. As the market for coffee continued to grow unimpeded Paulig would go on to make further history by introducing its home country of Finland to a new type of coffee industry professional, the barista.
"Gustav Paulig set out from the start to create a line of products renowned for their quality and maintaining these high standards remains at the heart of the company's operations today. Paulig's market leading products have helped it become the leading coffee company, not just in Finland, but also in Russia and its neighbouring Baltic countries," says Elisa Markula, Paulig's managing director and head of the Paulig Group's coffee business.
In Finland the company's coffee brands include the traditional Juhla Mokka and Presidentti product range, which are the most popular and appreciated coffees in Finland, and UTZ certified coffees Brazil and Paulig Mundo. The product family itself extends even further to include the Paulig espressos, Paulig Parisien, Coffees of Origin Paulig Kenya, Paulig Colombia, Papua New Guinea and the Paulig Classic, which was developed specifically for the Baltic and Russian markets: "Finland is without question the company's main market, where the average yearly consumption of coffee per person works out to roughly ten kilos roasted coffee," Elisa continues. "At present Finnish consumers are favouring light roasted coffees so South American countries like Brazil and Columbia are very important source markets for Paulig, in which the company is responsible for buying approximately 60 million kilos of raw coffee beans. Outside of Finland, 95 per cent of the products made by Paulig are made from the finest Arabica coffee beans from different origins."
Raw materials
As Elisa explains, it is the strong characteristics of these raw materials that have set the groundwork for creating the high quality products Paulig has become known for: "Everything starts with the raw materials and the sampling process each type of coffee bean goes through. It is at this stage that experienced and qualified specialists evaluate a bean's appearance, aroma and flavour before it is chosen. This meticulous approach doesn't simply end here either, with each and every product sampled and tested at each phase of production. Undeniably this makes for tough work, but what it also does is maintain a level of quality that has seen Paulig meet countless international standards and be certified by some of the strictest product auditors in the world."
In response to increased demand for coffee products in certain markets, Paulig set upon a course several years ago to invest 120 million euros into the construction of a new state-of-the-art facility. In 2010 the doors officially opened to what Elisa enthusiastically describes as, 'possibly the most beautiful building in the world': "The factory building is made almost entirely of glass and inside it is kitted out with the most modern technology available. At present it is producing around 40 million to 45 million kilos, however with a few adjustments, this can be increased further to 60 million kilos to meet increased demand.


"Another key feature is that it is an extremely energy efficient and environmentally friendly facility, with natural gas being used as the sole source of power and every employee taking the greatest of care to ensure the amount of waste produced by the factory is limited. Areas of the business such as waste management, product and personnel safety and environmental friendliness have long been cornerstones of the work undertaken by the company. From bean to cup, Paulig takes its social and business responsibilities very seriously."
Rising costs
In the past year raw material costs involved with coffee production have risen by more than double and as a result Paulig, and other companies operating in the same field, have seen a decline in most markets as at least part of this increased cost has had to be passed onto the consumer. Despite experiencing a fall in sales in some countries, Elisa states that this hasn't been a universal trend: "The Russian drink market is still growing with an ever increasing consumer demand for natural, roasted coffee. Even in countries where overall consumption has dipped, Paulig has maintained its market position and it remains confident that it can retain its foothold in the industry in the years ahead."
Indeed, Paulig opened a new roastery in Russia this summer in Tver, 160 kilometres northwest of Moscow, which is serving the growth markets of Russia and its neighbouring countries. The new roastery is modern and efficient with capacity of 7000 tons per annum. Paulig will concentrate on high-quality coffees but the new roaster will also enable mid-priced quality coffees to be produced as well as offer private label products to customers.
Understandably, with it becoming an even more important market to capitalise on, a major focus of the company today is this expansion into Russia and the surrounding CIS countries, however, as Elisa concludes, something just as crucial for the company will be its ability to remain dominant in its home country: "Kazakhstan, Belarus and the Ukraine each have the potential to be important areas of growth for Paulig going forward, but it will just as important for the company to maintain its fantastic marketshare in Finland. The best way to achieve this will be to continue making every coffee category interesting for the consumer by bringing new ideas and innovations from all four corners of the globe to the European market, all under one, industry leading, brand name."