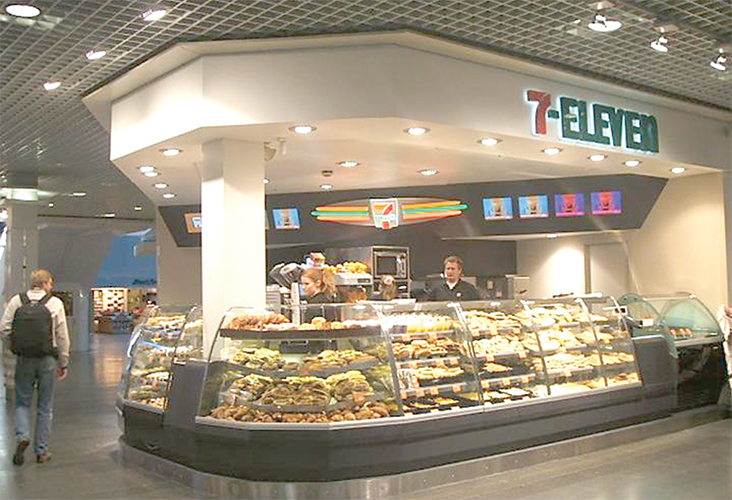 The store next door
With a comparable growth of 10.9 per cent, Reitan Servicehandel Sweden is witnessing a period of significant expansion
As part of the rapidly growing Reitan Group, Reitan Servicehandel Sweden has 400 Pressbyrån and 7-Eleven stores based across the country. Serving groceries, fresh food, magazines, confectionary, and a range of other goods, the franchise-based retail shops meet its customers' everyday needs.
Explaining its position within the group, the company CEO, Johannes Sangnes says: "We are responsible for the Pressbyrån and 7-Eleven chains across Sweden, while we also control Interpress, a press distributor within the country, supplying international magazines and newspapers to over 3400 other shops."
Pressbyrån has a long history in Sweden that dates back to 1899 when it began distributing newspapers across the country. "To explain the nature of the stores today, they are similar to WH Smith, with a lot of newspapers and magazines, as well as confectionary, drinks, cigarettes and food," comments Johannes.
The other major chain that the company runs is 7-Eleven; Reitan's urban-based convenience stores. "With the first opening in 1994, we have grown to include 72 shops," says Johannes. "Compared to Pressbyrån, 7-Eleven include more grocery products and fresh food, similar to Boots, although we also have a cashier desk that is accompanied by a range of freshly baked goods, including hot dogs, pasta and pizza."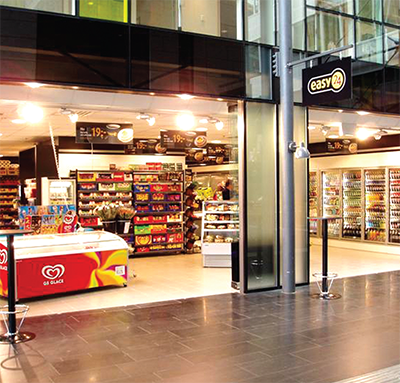 Although Johannes has only been in his position for just over two years, he has witnessed significant developments within the company: "When I started our comparable growth was close to zero, but within a year it was the best in our history, reaching six per cent. Today we have probably the best level in Scandinavia with a fantastic 10.9 per cent."
Through a policy of thinking globally, but acting locally, this high level of growth is even more impressive when considering the size of the operation. Johannes comments: "We have 400 shops with around 2.6 billion krona in goods, so this growth means an increase of a further 200 million."
Explaining the emphasis that he places on comparable growth, Johannes continues: "It is the key issue. It would be very ambitious to say that we can remain at the same level, but I hope to achieve four per cent. In terms of growth I hope it will be ten per cent, because there is a big difference between the two; if I buy 50 shops I will get a fantastic growth, but it is not definite that I will achieve a fantastic comparable growth."
A significant part of the company's strong comparable growth has been the modification of the organisational structure. Johannes comments: "I have turned it into a very flat organisation. If you look at the structural map, the customer stands at the top, then comes the shops with their managers and sales people, before the regional managers, who all report to me. I see it as particularly important for the CEO to be close to the operation, which is why there is only one level between us."
While Reitan Servicehandel Sweden is witnessing strong growth, the Reitan group itself is also developing rapidly, with the recent acquisitions of Hydro Texaco and Spaceworld illustrating this point. While neither of these companies has a presence in Sweden, Johannes hopes that the moves will have a positive impact for his company.
The acquisition of Hydro Texaco was part of the group's strategy to try and move its stores onto the Norwegian and Danish road networks. Commenting on the potential of a similar development in Sweden, Johannes says: "We have actually tried the same here, and we are currently looking for an oil company in Sweden to start a joint venture with."
While the Hydro Texaco stations are unlikely to directly affect Reitan Servicehandel Sweden, the move to acquire Spaceworld, one of Norway's leading providers of electronic entertainment, may make an impact. Johannes comments: "As Spaceworld does not have a presence in Sweden, we may consider testing a shop-in-shop solution. Before Christmas we actually opened a shop on the border, but this test is still mostly targeted at Norwegian shoppers."
Moving onto developments that are ongoing in the company's stores, Johannes says: "We are looking into offering even more fresh food, with an emphasis on healthy eating, while also looking into expanding some of our range of products for next year."
Together with this product development, Johannes also explains that the company is conducting an airport test: "We have put a 7-Eleven into an airport to target users of low cost airlines who are not provided with food. Opened in July, it is called 7-Eleven Express, and has been a success, which we hope to expand into other airports."
Alongside this expansion, Johannes concludes that Reitan Servicehandel Sweden has plans to continue its impressive growth rate: "I hope that Pressbyrån will grow by at least 30 shops per year and 7-Eleven by five, while I hope to open 100 stores with gasoline stations and 100 Easy24's within the next four years."