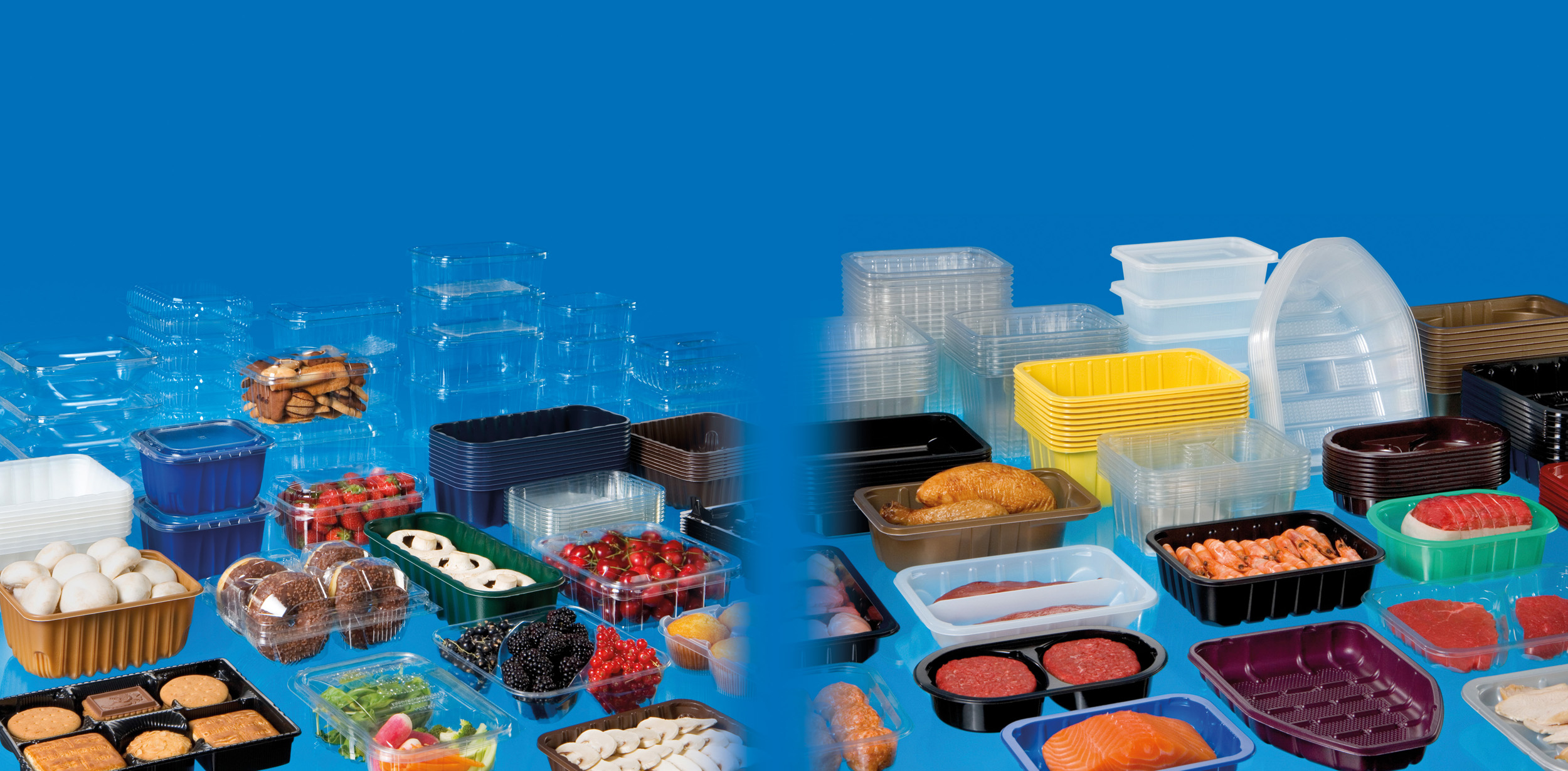 Sharpak – Yate and Bridgewater
A neat package
With the strength and co-operation of Groupe Guillin behind it, market-leading Sharpak continues to drive a range of innovations into the packaging market
Founded in 1972, familyowned company Groupe Guillin is an international specialist in developing and manufacturing packaging solutions. Through a programme of acquisitional growth the group now occupies a leading position in the global market with 18 subsidiaries spread across 11 sites and manufactures over 8.5 billion trays every year. Based in the UK, the Yate and Bridgewater subsidiaries perfectly demonstrate the innovative and world-beating approach to business that has afforded the group such success over its history. Brought under the group's wing in 2010, the Yate and Bridgwater sites respectively manufacture polypropelylene (PP) rigid thermapacked trays for the mushroom, poultry and ready meal industries, and PET (polyethylene terephthalate) and PET/PE (with a polyethylene laminate), for the red meat industry.
The core strengths of the companies within Groupe Guillin are very much the product of a smart and co-ordinated structure implemented across the whole network. "The group is very much focused on providing excellent service," begins MD for Sharpak Yate and Bridgewater, Martin Taylor. "The group operates with each individual business having its own specialism. So Yate and Bridgewater have their own markets and this gives each entity its own nuances of focus. For example, our Bridgewater facility is very highly focused on making sure that the product has a very good sealing flange because more than 90 per cent of our customers there operate modified atmosphere packaging and therefore require a reliable seal. This is not a specialism across all sites but if another company wants to get into it then we will either help them do that, or they will sell our products. Basically as a group, we can provide a one-stop-shop for our customers with highly specialised products and this allows us to service some major customers."
Such a strategy is crucial for Sharpak and its sister companies to perform effectively in a fast paced and challenging market, and this is particularly important to the group's reputation for innovation. "All 11 sites across Europe share the same design platform," explains Martin. "This means that we can all share our designs and ideas very quickly, which allows us to progress together at a fast pace. Each company has its own design team and in-house prototyping facilities that includes 3D digital modelling and CNC lathe machines to rout out moulds for physical samples. We have spent a lot of time recently shortening this process so we now target to get a product from initial enquiry, through the design phase and to a prototyped sample within a week. This reflects the speed of the market."
In terms of specific innovations, Sharpak Yate and Bridgewater both present product portfolios that demonstrate a keen commitment to continuous improvement. At the forefront of recent developments is the award winning Sharpak Fortis range, which brings to market a variety of highly optimised products. Designed through a process of finite element analysis, every aspect of the tray has been optimised, resulting in a 20-30 per cent weight reduction and increased strength and integrity. The range has been designed in close collaboration with customers to work effectively within the most modern high speed packing lines used in food processing, and has a far reduced environmental footprint.
Another significant product, which Martin comments is gaining good traction within the market at present, is the Vista range. Utilising innovative vacuum pack technology and a shallow tray, the materials form a tight second skin around the product to provide a number of aesthetic, quality and environmental benefits. "We have also developed our SharpSeal range, which uses a single mono-PET material that can be recycled easily within the current post-consumer recycling system. Continuing this trend for environmental responsibility is SharpLow, which incorporates mineral fillers in the material to reduce its petrochemical content whilst retaining its protection and strength qualities," outlines Martin.
Other innovations are: SharpTek, which uses ground breaking antimicrobial technology to reduce the impact of cross contamination and provide reassurance to customers and consumers and SharpPlus, which uses special materials to absorb odours and increase consumer appeal. "This was originally developed for the poultry market but is becoming more popular in the meat industry, reducing the cost of customer complaints," notes Martin. "Then for the red meat industry we have made a lot of investment into absorption padding. These are important to lock away liquids and maintain a clean, presentable pack for consumers. We made the decision that padding via the use of robots is a far superior solution to hand padding as it reduces the risk of cross contamination. Therefore we have invested to ensure that our entire range of trays are padded by robots."
Supply chain
Environmental responsibility is a key driver to Sharpak's innovation strategy at present and this further entrenches the company's leading position in a market where recyclable quality materials are critical to continued success. Another major focus for the company at the moment is its work with customers into supply chain optimisation. "Since the recession, value has really increased in terms of being a driver for consumers," says Martin. "This has been looking at the entire supply chain to keep the overall cost down and provide better value for the end consumer."
It is clear that operating as a supplier to the fast-paced and ever-changing consumer market throws up many challenges, but Sharpak is responding well thanks to its committed drive for innovation and the robust group structure that supports it. Groupe Guillin as a whole commits £20 million a year into investment and over the last three years Bridgewater has received £12 million to cope with demand. "A lot of this has been put into increasing the warehouse as the business grows and develops," highlights Martin. "We have to make sure we keep our service levels up to serve the market. We are always investing into faster, better machines as well as part of our approach to continuous improvement."
With a period of successful growth ongoing, the future for Sharpak, and indeed the Guillin group as a whole, is positive despite challenges in the supply of PP raw materials. "We want to continue growing with a focus on continued innovation and improvement," concludes Martin. "We have been successful so far but we see future opportunities and I think a lot of the innovations that we are developing and what some of our sister companies are developing in Europe are key to exploiting these. It's a real key strength for us to be able to share these innovations across markets, so rather than just delivering what the customer wants today, we can start focusing on what they might need tomorrow."