A seafood success story
Having adapted to the conditions of a pandemic with its indemand takeaway service, Shell Shack continues to innovate with the latest food trends, and brand new partner restaurants
In this industry, you have to be ready to fight or shut your doors," says Dallas Hale, Owner and Chief Executive Officer of Shell Shack. The last 18 months may not have been an easy ride for the restaurant industry, but Crafted Bar Concept's portfolio of restaurants may just have the magic ingredient. From Shell Shack's popular 'to go' service, to Sushi Marquee's high energy dining experience, the company has weathered the storm of Covid-19, and shows no signs of slowing down.
"The last 18 months for Shell Shack have been very good," Dallas affirms. "Everybody was nervous when the Covid-19 outbreak began, but what we refused to do was to shut down. We changed our model in order to provide takeaways, instead of dine-in meals. It was very successful, and our 'to go' sales went up 500 percent."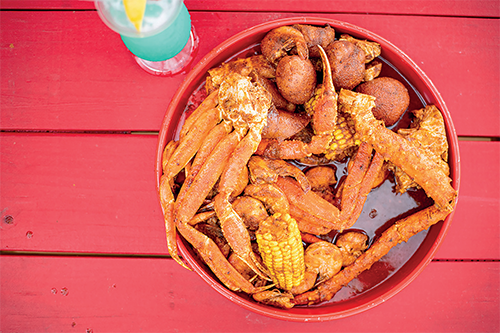 Adapting to the situation with a new streamlined takeaway dining model and extended menu, Shell Shack was able to protect its team from the uncertainty felt by many during the lockdown period of 2020. "We kept our staff employed and working by digging in and riding it out," explains Dallas.
"We also did some different things that were a bit out of our wheelhouse," he adds. "The delivery orders helped us, as well as the fact that we were able to serve alcohol. Both of those factors helped us out tremendously, and with the support of the Shell Shack team, all our concepts thrived."
Increased demand
For Dallas, keeping a successful restaurant means fighting for your team, and your concept, in the face of adversity. "We delivered and executed our services very well. There is a nationwide staff shortage going on, and supply chain problems, but we have tackled every one of those issues head-on, and we are still running," he asserts.
With an established name and customer base, Shell Shack has been able to keep its customers loyal whilst operating on a takeaway model. As Dallas determines: "The customers have been very understanding, they know their orders might take a few minutes extra as there is a major staffing shortage going on right now."
The 'to-go' system brought to light new ways in which Shell Shack could use technology to streamline its services. Dallas explains: "It was almost overnight that our 'to go' orders spiked to 500 percent over what we were doing before the pandemic, and that did cause some confusion.
"Every time we would put the phone down, it rang again. Some people thought we weren't answering, but it was actually that the calls were getting cycled through, due to such high demand. In response to these comments, we actually took our phone system and changed it to a queue system.
"With our new system, everyone that calls will know their place in the queue and how long they need to wait; it even updates customers if their place in the line changes, so they know we are actively answering the calls and making headway."
Confidently responding to the needs of its customers, and using all possible resources to improve its service, has helped Shell Shack continue thriving. The company's renewed success is also, in part, due to its new menu innovations, as Dallas confirms: "Thanks to all the concepts we have added to the menu, we have not skipped a beat. As of today, we are rolling out even more new menu items for Shell Shack, with more coming out for Sushi Marquee next week [at time of writing]. We have really taken the situation at hand and responded to it by remodeling and upping our game 150 percent."
Shell Shack's versatile menu makes the best use of local seafood, with an expansive palate, and a range of novel dishes on offer. "We added seafood appetizers and onion rings to the menu, and we now offer fried oyster baskets as well," Dallas details.
"Nashville hot chicken is very popular in the US right now, and we wanted to understand how we could capture some of that without flat out doing the same thing, so we did a Nashville hot chicken sandwich, and it is amazing. We developed our own Nashville hot sauce, and the special comes with this as well as the option of Buffalo chicken. Now you can get a Nashville hot chicken sandwich with all that good stuff, and in the next three weeks we will be adding lobster and scallops to the menu," he adds.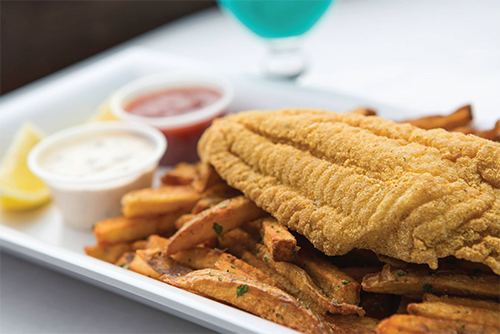 Successful brands
Shell Shack's parent company, Crafted Bar Concepts, is known for its unique menus, and focus on the whole dining experience. Alongside Shell Shack's famous fish-based innovations, the company is responsible for Sushi Marquee and Ebb and Flow. "It's actually been a really good year for all our concepts," reveals Dallas.
"We have won a lot of awards and generally thrived. Shell Shack got best seafood in DFW, and Ebb and Flow got best new restaurant. Shell Shack is also sponsoring 'national crawfish day', and we have now founded national brunch month, which will be in the national bake calendar next year.
"Additionally, Sushi Marquee got best sushi in DFW and best all-around restaurant in Frisco. To maintain this success, we have really been trying to think of new and better ways to keep everybody happy and grow the business, and our Sushi Marquee concept is adding a full hibachi menu, which will happen in the near future."
Hibachi is a traditional Japanese grill; literally meaning 'fire bowl', the meal includes grilled seafood, rice, meat and vegetables. Dallas himself conceptualized the inclusion of a hibachi menu, and the new offering adds to Sushi Marquee's already diverse menu. "With Sushi Marquee we have fun interactive videos and a DJ experience, as well as phenomenal food; once we really locked all that in, and I felt comfortable with it, I happened to be in a restaurant and saw the hibachi going on. Seeing that, a light bulb went off, and next thing you know we have a hibachi table in our restaurant.
"We are rolling out the hibachi at the moment, by doing taste tests and a little bit of market research. Once we have taken it to the next level, we will be just about ready to introduce the experience at Sushi Marquee," he discusses.
Ebb and Flow is Crafted Bar Concept's latest endeavor; known for its signature cocktails and 'Plano's best brunch', the restaurant has seen success despite opening its second location earlier this year. "We opened our second location in Plano right in the middle of the pandemic," states Dallas.
"We have one in Deep Ellum and our second location in the Shops of Legacy in Plano, which opened about six months ago. They have been very successful despite opening during such uncertain times."
New concept
As Shell Shack, Sushi Marquee and Ebb and Flow all continue to flourish, Dallas and his team invest in marketing and social media to get the word out about their latest expansions. "Everything we do is with growth and marketing; we always keep our fingers on the pulse of everything," says Dallas.
"In terms of marketing, we are going all out on the public relations front; we are doing cooking shows and interviews, and really putting our brand out there. We also make good use of social media, always updating our Facebook, and the website, so that we can let everyone know about all that is happening at each concept.
"I was just on a show last week with one of the major food critics here in Dallas, who has a national TV show. We were talking about Ebb and Flow on there, and now I'm preparing to do a food show at the Texas fair to promote the new hibachi. We are always going non-stop," he adds.
Proving just how busy the Shell Shack team is, Dallas discusses plans for another launch in 2022: "At the start of next year we are planning to launch a new concept which is very exciting, and I hope it will be every bit as successful as Shell Shack, Sushi Marquee and Ebb and Flow. It's a great concept, and we are now in the process of perfecting it," he announces.
In the long-term, Crafted Bar Concepts will continue to expand through its existing restaurants and exciting new dining concepts, as Dallas concludes: "We will continue to focus on expanding all our brands, as well as some new concepts. It took us a few years to perfect our model, but now that we have it running smoothly and effectively, we want to duplicate it, and keep growing."
www.shellshack.com