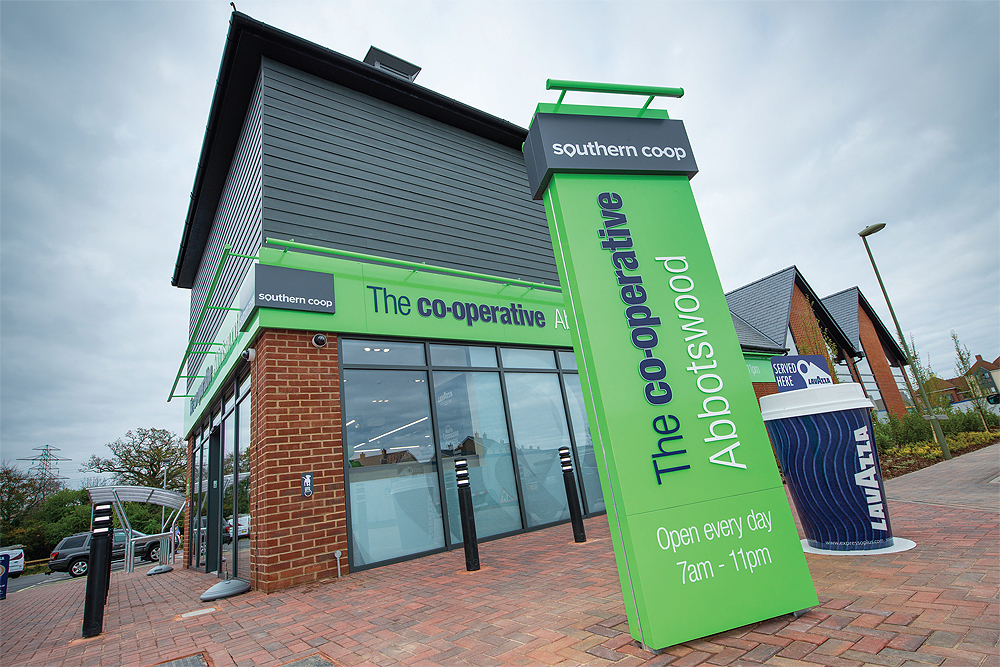 A refreshing approach
As an independent regional co-operative, Southern Co-op plays its part in boosting the sense of local community in South England through various initiatives, while maintaining sustainability practices across all of its operations
Rebranding, new store openings, and the introduction and development of new sustainability measures have been the order of the day for Southern Co-op in most recent times, all while the Society was experiencing another strong growth in income in 2017. Indeed, the company reported a nine per cent rise to over £430 million, chiefly due to investment in new food stores and funeral homes. Trading across 11 counties in the south of England, Southern Co-op opened 16 new food stores in 2017, bringing the total to 216. "We are pleased to have grown our presence in a lot
of our target areas, which has extended our customer and member bases in these locations and enhanced our offer to the local communities," begins CEO, Mark Smith.
Convinced that it needs to make the visual impact of its communications stronger, Southern Co-op decided to refresh its brand. "The new image has helped us make the story of who we are, what we stand for, and what makes us different, clearer to explain and understand," Mark points out, going on to talk about how the Society continued to support local producers throughout 2017. "Last year, we marked the tenth anniversary of our Local Flavours range, which was also subject to a brand refresh that is now gradually being rolled out to all of our stores. It is a really valuable part of our retail stores and we now showcase nearly 200 producers. The Local Flavours range, which had a record turnover in 2017, includes seasonal fruit and vegetables, fish and meat, cheeses, chutney, bakery goods, and beers."
Community support
2017 was also the first full year of operation for Southern Co-op's community engagement strategy 'Love Your Neighbourhood', which gives local stores and funeral homes the chance to contribute to the creation of safer, greener, healthier, and more inclusive neighbourhoods – four themes which were identified through a survey of over 4000 of its members and colleagues. Through this initiative, local charities and community groups can apply for support in a variety of ways including funding, goods in kind donations, to become a local fundraising partner and local volunteering. In 2017, Southern Co-op contributed £1.26m to its local communities through fundraising events, campaigns and donations. Around £500,000 of this came from proceeds from the five-pence carrier bag charge. Since the charge was introduced, Southern Co-op has also seen a difference in the amount of bags customers use. "We have managed 33to reduce carrier bag usage by 69 per cent since 2015 and we continue to ask customers if they need a bag and to make Bags for Life available as an alternative option. In 2017 alone, we sold more than one million Bags for Life. This is just a small part of the work we have been carrying out to promote sustainability and reduce waste," says Mark.
Business priorities
"Our members have told us that sustainability means a lot to them and we want to have a positive impact on our communities – today, tomorrow, and in the future. We have set ourselves some ambitious targets with regards to saving energy, helping to protect our local wild spaces and wildlife, implementing our Fairtrade commitments, creating sustainable supply chains, and reducing waste," he outlines. "We are also committed to playing our part in supporting the global sustainability agenda. Therefore, we are publishing our new 'Our Plan 2018-2023' in the autumn, which will discuss our business priorities over the next five years and beyond, and will provide details about our future sustainability commitments. This includes reporting against the UN Sustainable Development Goals within our Sustainability Plan. I am firmly convinced that by continuing to act responsibly and encouraging others to do the same, we can support communities and environments, giving society and the planet a chance to sustain themselves and thrive locally, nationally, and globally."
Addressing waste
Food waste has been identified as one of the target areas for Southern Co-op. The business has already succeeded in having 100 per cent of its food waste directed away from landfill and it remains focused on searching for ways to avoid and reduce the amount of waste it produces. "We 'backhaul' all waste from our retail stores to a central depot where dry mixed recyclables are sent for recycling, food waste is processed through anaerobic digestion, and customer and general waste goes to a refuse-derived fuel facility.
"At store level, we are constantly looking at ways to balance availability with wastage – we don't want to throw away products that could still be sold. For example, we are currently trialling new processes for in-store bakery, which, we hope, will drive a significant reduction in wastage for this category," Mark reveals. "We have also been running food donation trials with a number of stores and charity partners, including local charity Foodcycle in Portsmouth, and we are pleased to say that we have seen success with some of these arrangements with safe, edible surplus food being sent to a charity each week."
With a trading history of nearly 150 years, Southern Co-op has had to learn to adapt to new conditions and challenges to its business. But its overall purpose remains the same – to work together for the benefit of its local community. This can be demonstrated in its dedication to addressing local and global sustainability issues. As it continues to identify future opportunities, this regional independent co-operative should continue to remain relevant in the long run.