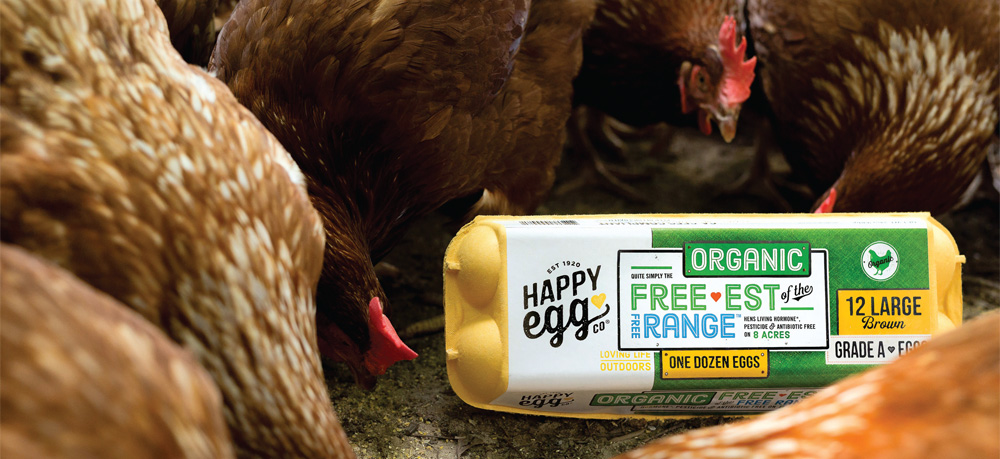 Egg-cellent quality
The Happy Egg Company plays a central role in introducing free-range, organic, and heritage eggs to the American market, having taken upon itself the task to promote effective best practices in raising happy hens to US farmers
Over the course of most of the 20th century, two English families, the Kent's and the Dean's, were gradually building their egg businesses. They merged in 2006 to create Noble Foods – the parent organisation of the company we are going to present to you today – The Happy Egg Company, focusing particularly on its US branch. But first, a little more history.
A key development for the future US based Happy Egg Company was the expansion of the Kent's family business. Upon their marriage in 1949, Clifford and Margaret Kent began renting a farm in Cornwall and selling eggs to the community through their farm shop. In 1984 their son Michael took over the business, and it was him who, in 2006, combined with Dean Foods to found Noble Foods. It is Michael who is building the companies US business today.
Three years later, Noble launched The Happy Egg Company, which quickly grew into Britain's leading egg brand and, shortly after, was taken to America, where no less than a land of opportunities for free-range eggs awaited. Owing to Noble's brand building expertise, the Happy Egg's US branch has now risen to prominence, despite the challenging environment in which it had to operate.
"When Happy Egg started in the UK, 50 per cent of the British retail market was already made up of free-range eggs. In striking contrast to that figure, only three per cent of the US egg market was
occupied by free-range eggs," Dan Arnsperger, Managing Director of Happy Egg USA, remarks.
It was, therefore, the company's primary task to fly the flag of free-range eggs and to familiarise American consumers with the higher quality they can offer, as well as to highlight the ethical dimension of raising happy chickens. "We had to create a proposition aligned with the needs of US consumers and we hired the best marketing talent we could to establish a brand that resonates mainly with the millennials who are becoming more conscious of the healthy properties of the food they consume.
"The real success for us, however, has been the blending of a strong brand identity with an equally strong supply chain. It has not been easy, because the US simply does not have traditions in raising birds with outdoor access. Nevertheless, we have identified 33 small family farmers up to this point who are progressive enough to willingly take the opportunity to produce eggs that meet the standards of American Humane.
"As raising happy hens is a fundamental part of our philosophy, we are staunch proponents of The Five Freedoms – internationally-recognised standards of care that affirm every living being's right to humane treatment. These involve freedom from hunger and thirst; freedom from discomfort; freedom from pain, injury, or disease; freedom to express normal behaviour; and freedom from fear and distress. We believe that the birds should have a constant supply of food and unfettered access to water, but more importantly still, they should be let outdoors and allowed to express natural behaviour. Our vast pastures provide enough space to keep our hens happy and safe and we even give them access to the outdoors for longer than humane regulations require, so that they can enjoy the fresh air and land as much as possible. You can clearly observe the differences in behaviour between chickens that have outdoor access and such that are kept in cages. Everything we do, is based on our vision that we should create the best possible environment for hens to produce eggs," Dan explains.
To distinguish itself, however, Happy Egg does not content itself with simply meeting the minimum standards set by American Humane and other associated organisations. Instead, the company is vigorously pursuing ways in which it can exceed these requirements and redefine best practices in raising happy hens. "It is understandable that many people stick to the minimum standards due to cost reasons, but we are looking to maintain the fine balance between ensuring the absolute best conditions for the chickens, keeping our farmers happy by educating them and providing them with all the necessary equipment for their activities, and at the same time offering great value, which means driving unnecessary costs down and creating an attractive proposition for the consumer," Dan adds.
Evidently, Happy Egg's efforts are coming to fruition. Whereas six years ago, only three per cent of the eggs in the US market were coming from hens with outdoor access, nowadays, this figure has soared to nine per cent. Looking to capitalise on this trend further, in the last year and a half, the company has reimagined its brand and adjusted its strategy, which has led to a 30 per cent year-on-year growth in 2018. In addition, Happy Egg eggs can now be found in some of America's largest retail chains such as Walmart, Publix, Kroger, Albertsons, and Sprouts, which gives the business strong nationwide exposure and puts it in a healthy position for future growth.
While free-range eggs have represented Happy Egg's core business in the US since it first set foot in the country, two years ago, the company entered the organic space of the egg market in a move that turned out to be so spectacularly successful that in 2019, the organic side of the business will outgrow the free-range one. Furthermore, this year will see Happy Egg actively develop its heritage eggs offering. This type of eggs, produced by world renowned and historic Heritage hen breeds, has been highly popular in the UK for quite a few years now, but it is just making a name for itself on the other side of the Atlantic and Happy Egg is hoping to lead the charge with its range of heritage eggs hitting about 2000 stores by the end of the year.
Opening up on the company's long-term goals, Dan communicates its vision of becoming America's number one branded business for eggs. "Brands hold unique power here in the US, so we need to make sure that we have a strong identity at all times and are regarded by customers as having the very best eggs. I think that it is definitely possible to take a European brand and launch it in the US. It takes longer than you think and is a hard job, but there is a massive opportunity if you get it right. The grit and determination that Noble Foods has demonstrated, has led to the success we have had and will hopefully continue to have for a long time," he concludes.