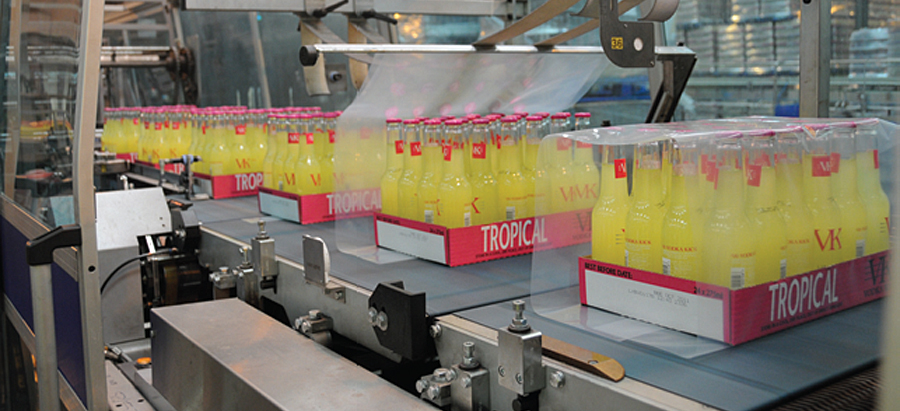 Quality in a bottle
Thomas Hardy Holdings Limited provides a wide range of packaging options for the beer and beverages markets
Thomas Hardy is a family run brewing and bottling business, dedicated to servicing the beer and beverage industries. The business was started by Peter Ward in 1997 having realised from 30 years at Courage (latterly Scottish & Newcastle) and his time as a consultant to the World Bank, that there was a gap in the market to offer niche packaging solutions to potential customers that do not have production facilities of their own as well as supporting multinational beverage companies.
Peter's son Chris Ward and his experienced executive team now run the business from their head office in Burtonwood, Cheshire and the company has two packaging plants one in Burtonwood and one in Kendal, Cumbria with mixing and blending facilities that feed the bottling line on each site. Thomas Hardy has and continues to package some well-known drinks brands including Bacardi Breezer, Carlsberg, Hooch and Fentiman's, however: "We have never had our own brands so we pride ourselves on being able to sit round a table with everyone and anyone," says Chris Ward. "Our core focus is on quality and service through the investments we've made in people and plant and I'm very proud of the teams we've built up on both sites."
Major investment
In the last five years Thomas Hardy has reinvested over eight million pounds back into the business and plans to invest a further million pounds this year. "We continually invest in plant to stay at the forefront of what we do, as we strive to reach our goal of being the 'go to' packer for premium beverages in the UK," explains Chris. "A lot of investment has been made in the sites' facilities, with a particular focus on filling capability in Burtonwood, pasteurisation control and end of line packaging formats on both sites."
The company has witnessed first-hand the move away from traditional 24 packs to smaller packs, carry packs and multipack clusters for the take home market. The innovative nature of the
company ensures that it is adaptable to new trends. "We have invested in a couple of new WestRock packers that will allow us to manufacture standard four pack, six pack and eight pack clusters but also three by one and the four by one stick packs, which you are starting to see on the supermarket shelves," explains Chris. Thomas Hardy and WestRock have worked together on a deal to install an identical new machine on each site with additional capability. "It's a dual approach and both parties will support each other in trying to generate further volume for the new machines. It means that we have enhanced our cluster pack offering and WestRock will hopefully sell more clusters, so it should be a win/win arrangement," explains Chris.
It looks like an exciting time ahead for Thomas Hardy. The company has also invested in a new KHS filler at Burtonwood capable of sterile filtration and clean room filling, enabling Thomas Hardy to package beer into P.E.T. bottles and support the craft beer movement of packaging beer that has been sterile filtered, rather than pasteurised, for enhanced flavour and aroma.
Thomas Hardy plans to continue to grow its current bottling facilities focusing on the premium end of the market but isn't afraid of exploring new avenues. "We are looking at the feasibility of a specialist canning line and actively seeking support for the project from new and existing customers. However it is still very much at an early stage and there is a lot of work to do as it will be another major investment for us," says Chris. The premium drinks market, especially adult soft drinks, has seen double digit growth on the back of the success and popularity of brands like Fever Tree and Fentiman's, which points to some exciting times ahead and the team at Thomas Hardy hopes that their service and innovation will continue to attract new customers.