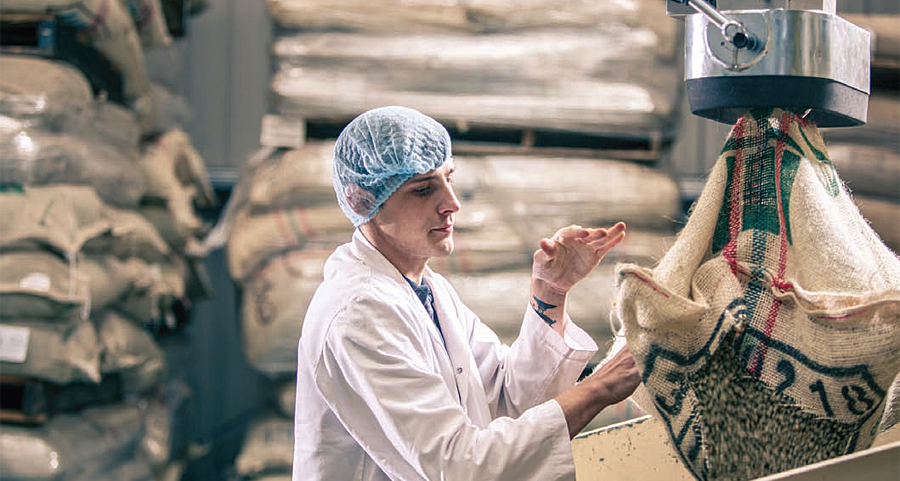 Full of beans
Recognised as one of the UK's most inspiring businesses, coffee manufacturer Lincoln & York has developed a solid reputation in the market as an expert in private label coffee roasting
Named after its two founders' home cities, Lincoln & York was established in 1994 by coffee buyer James Sweeting and coffee trader Simon Herring. Beginning operations by hand roasting coffee in the garden shed before selling it to local coffee shops, golf clubs and even hairdressers, James and Simon used their extensive knowledge of coffee to develop Lincoln & York into the UK's premier
coffee supplier.
"We import coffees from all over the world and create blends and products for customers depending on their sector, taste profile and changes in the market; we can tweak products from time to time to meet customer requirements and also develop new ranges in line with market demand," explains James Sweeting, Managing Director and Co- Founder of Lincoln & York. "To remain innovative and come up with new ideas we have a tasting team of four that taste approximately 200 coffees per day; during tasting we look out for certain things that customers may be requesting and then present clients with opportunities as they come up. Each of our tasting team trains for three years and are put through a range of tests to ensure they are experts in the field of coffee.
"Our main customers are presently in the UK food service and coffee bar market, which includes the out-ofhome brands that you see on the high street. The UK is our key market area, with 75 per cent of our sales coming from here, while the remaining 25 per cent is exports."
More than two decades since its inception, Lincoln & York has grown from a pop-up roastery to a 6000 square metre state-of-the-art facility, with two roasteries, 11 packing lines and a 70-strong team of passionate coffee lovers. Recent strategic investment in the site took place in 2014, when the company made history with the installment of the UK's largest coffee roaster at its North Lincolnshire plant; part of a £3 million investment phase, the 600 kg Brambati drum roaster doubled capacity and paved the way for further growth that has resulted in the company being listed amongst the London Stock Exchange's 1000 Companies to Inspire Britain in both 2014 and 2016. The company also announced that it had been included in Insider Magazine's Growth 100 list in October 2016 in recognition of its growth as a coffee supplier over the last five years.
Optimum reliability
It was also in 2014 that the company opened the doors to its own contingency facility; proud to be the only large roaster in the UK to have its own contingency facility, the company can ensure optimum reliability and complete flexibility to all customers thanks to the facility's features such as a green coffee intake area, contingency roasters and packing lines, development kitchen/ cupping room and a completely separate power supply. The fully-equipped standalone building is on the same site as the main factory and includes additional office space that enabled the company to expand from 40 personnel to 70 in just two years. "In addition to these investments, we are also always investing in green bean, green coffee handling systems and end-of-line packaging systems," notes James.
Having developed a strong reputation as experts in sourcing, roasting, packing and delivering completely customised coffee products, Lincoln & York has adapted its facilities and services to ensure
both personnel and the roasteries can deliver tailor made packages that meet specific customer requirements. From seven kg ground coffee ESE pods to one kg bags of espresso beans, 60 kg roasts of high grade speciality coffee to 600 kg of blended espresso, Lincoln & York can supply optimum solutions to its diverse customer base.
"There is a polarisation in the market between individual, artisanal coffee shops with a single site owner who is trying to develop his/her brand, while the other side of the spectrum is coffee shop chains or restaurants or other out-of-home businesses. The two are significantly different and thus have different needs, which is why we strive to offer the best possible product to suit each clients specific requirements," explains James. "Because of our knowledge, size in the market place and long-term experience, we are able to source and supply the best and most competitive coffees."
Key to ensuring high quality products that are sourced at the right time and at the right price is Lincoln & York's commitment to developing close relationships with its suppliers and specialised companies through its three-strong coffee buying team, which includes three Coffee Quality Institute certified Q Graders. Sourcing its green Arabica and Robusta coffees from more than 40 origins across the globe, the company regularly makes trips to source to ensure coffee is grown well, harvested properly and processed with care. "We source our coffee from Central and South America, East Africa and Asia and have a solid network of suppliers as well as a good tasting and buying team that consistently checks quality to ensure we buy what we say we buy," confirms James.
Having developed a strong foothold in the UK, Lincoln & York is keen to take advantage of the booming coffee market by expanding further into Europe and potentially beyond over the coming years. "The coffee market is still growing, which is something you can't say for all industries; as such, we have a growth plan for the next three to five years that we will follow to outgrow the market. This plan includes putting more emphasis on generating business outside the UK and to make exporting a more important part of our business," James concludes.