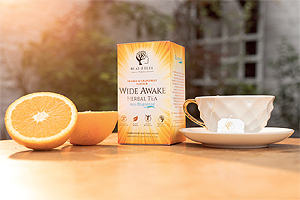 Time for tea
Famous family run tea company Ringtons along with its supply chain partner Infusion GB, one of the leading Herbal Tea packing manufacturers in UK, has decided to work with brand-new functional herbal tea brand Beau-T-Full Minds, after spotting a gap in the herbal tea market.
---
Beau-T-Full Minds founders include Sales Director Charlie Simpson-Daniel, a serial entrepreneur, York based entrepreneur and Managing Director at Beau-T-Full Minds, Tom Riddolls, former England rugby player James Simpson-Daniel and actor James Phelps, best known for his role in Harry Potter movies.
Beau-T-Full Minds, which launches in April 2021, has set its sights on establishing itself as a clear alternative in the herbal tea category, with five 'better for you' herbal teas and four coffees, all focusing on mental wellbeing. The range will launch with flavours such as Wide Awake Herbal Tea, Deep Sleep Herbal Tea, CBD Herbal Tea, Probotic Herbal Tea and Immunity-Herbal Teas plus coffees Manuka Honey, CBD Coffee, Lions Mane Coffee and Probiotic Coffee, all of which include active ingredients and herbal adaptogens to support all-round cognitive health.
Tom Riddolls commented: "We shared our vision for Beau-T-Full Minds after working with Ringtons and Infusion GB as part of the manufacturing supply chain and it soon became very clear they shared our passion and drive for a functional tea which encourages mental wellbeing, even more so during the pandemic and post Covid-19. This shared passion resulted in the agreement to go on an incredible journey together. Thebrand is 100% plant based plus 1p from every teabag sold will be donated to mental wellbeing charities, our aim to make the world a more beautiful place."
www.beautfullminds.com