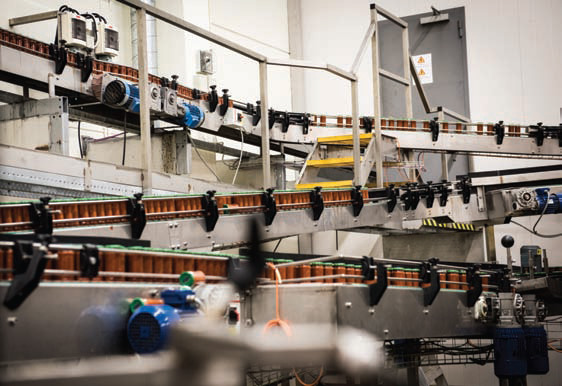 The full package
Offering high quality liquid and semi-liquid products, Trensums Food AB has established a reputation for delivering innovative processes and products of the highest standard
Trensums Food has a history that dates back to 1948, when the company first opened its doors as a cider production house. Today it has grown into a fully qualified food production company with flexible production facilities, extensive industry experience and knowledgeable staff. The business presently employs in excess of 150 staff across three factories that it manages from its headquarters in Tingsryd, located in Southern Sweden. "We work with a broad base of clients and implement several quality systems because we know 'that the devil is in the detail.' We have a very thorough product development and industrialisation process, as well as a highly skilled team," observes Sales Manager, Jorgen Kamph. "The development team is run by a very experienced manager, who knows how to take products from ideas to commercial production with quality and cost safeguarded."
With a varied portfolio of products comprising jams, condiments, sauces, salsa, seasoners, soups and beverages for well-known brands throughout the EU, Trensums Food is recognised as the first choice for several of Europe's leading production partners. The company was bolstered during July 2014 when Trensums Food became part of Nordic Food AB, giving it a strong financial foundation and access to the expertise of the wider group. "Ownership by Nordic Food has given Trensums a greater opportunity to serve customers that operate within several applications in the retail market. Clients can be served by the sister companies throughout the group and benefit from a single point of contact via Nordic Food," reveals Trensums CEO, Jonas Danielsson. "It also means that we can plan and install developments together to make sure that they are optimised and placed in the most effective part of the group. We do not need to dabble in every technology and instead only invest in the most suitable solutions."
Today Trensums Food boasts a high level of production capacity and proven experience in the processing and refining of foods. A particular area of expertise for the company is the preparation of fresh berries, beans and cereals into liquid and semi-liquid consumer products or ingredients. These include sauces, bases and oils among other products. Its manufacturing processes include techniques including pasteurisation, homogenising, sterilising and enzymisation, while the resulting products may be either hot or cold and packed in anything from food pails and drums to bottles, jars or Tetra packs. To meet unique needs of its customers, Trensums Food conforms to the Hazard Analysis and Critical Control Point (HACCP) system. Since 2005 Trensums Food has maintained certification according to the global standard set by the British Retail Consortium (BRC) Global Standard, through the European Food Safety Inspection Service (EFSIS).
During December 2014 Trensums Food introduced new Tetra Brik Aseptic (TBA) Edge packaging. TBA Edge packaging represents a smart choice for customers and retailers throughout the entire value chain because of the fact that it is easy to hold, open, pour from and reseal. The company's recently commissioned line is able to fill liquid products in TBA Edge 500ml and 1000ml packages. Trensums Food is the first company within Scandinavia that is able to manage viscous products such as soups, sauces, desserts, stocks and broths into TBA Edge, meaning that it can produce a very wide scope of products ranging from drinks to thick and chunky soups. "Tetra Brik Aseptic Edge fits well into our current market offering and will strengthen our leading position as a contract packer of liquid foods within the Nordic region," Jonas says. "We are able to operate with a high level of flexibility and increased automation, which allows us to produce food products that meet today's strong market demands as well as those of the future."
Further to the launch of TBA Edge, Trensums Food has implemented a new central robotic packaging system that, with a total expenditure of approximately 30 million SEK, represents one of the company's most sizable investments in recent years. "We have very versatile equipment throughout our manufacturing process so that we can offer clients various choices in packaging, openings, resalable options, shelf-ready solutions and so on," Jonas explains. "Our robotic packaging area is used to efficiently pack pallets for us and the system has a vast capability and capacity that allows us to implement many stacking patterns that is required for our varied products."
As the company continues to progress through 2016 and beyond, Trensums Food will focus on addressing the needs of the current market while strengthening its core business. "I think that both the biggest challenge and our greatest opportunity, is the fact that the market is moving towards higher levels of diversity. For example, vegan and religious options such a Halal and Kosher foods are increasingly important and we have perceived that the needs of the general consumer market fluctuate often. Customers can want one food during weekdays and a different option during the weekend, which brings much greater demands on flexibility," Jorgen says.
"We are currently deciding the future of the business, however looking at our current strategy we want to stay within our core business, which is in liquid foods," Jonas concludes. "We want to enhance our hot fill and UHT technologies to be even better in those areas and we have several surprises for 2016 – but we want these to stay as a surprise for now!"