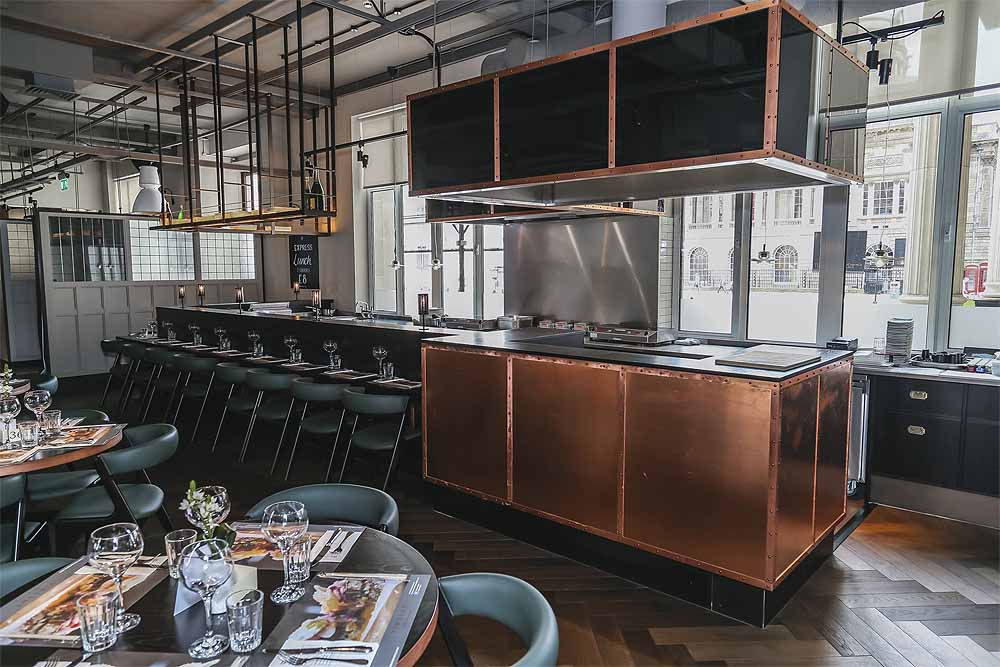 Vision Commercial Kitchens Ltd
A vision of perfection
Business in 2017 has been good for Vision Commercial Kitchens Ltd (Vision), continuing a welcome trend for one of the UK's largest commercial catering design companies. "We have worked hard
to grow the business considerably in recent years, taking on a whole host of challenging and amazing projects for different customers, which we always deliver to the highest quality possible," begins Vision's Managing Director, Jack Sharkey. "This growth has also allowed us to expand what we consider to be our most valuable asset, our workforce, recruiting staff across the whole of the company in areas such as sales, service, project management and marketing."
Established in 2002, Vision offers a complete service, from design and specification through to installation, training and after-sales services, and has developed a comprehensive infrastructure and client base which covers the length and breadth of the UK. With an experienced team, whose vast wealth when it comes to varying styles of operation give the company a strong competitive edge, Vision covers a wide selection of market sectors including restaurants, hotels, schools, colleges, care homes and garden centres.
In addition to its expanding workforce, the company has made a concerted effort to facilitate further growth through the launching of its light equipment shop. Combining a new e-commerce website and field service presence, the shop offers a wide range of products including kitchen utensils, table theatre, crockery, cutlery, janitorial and cleaning materials, and chef's wear, complementing Vision's project based and heavy equipment offering. "The introduction of our light equipment offering was very much a natural step for the business as it allows us to offer a full turnkey service to our customers," Jack continues. "The initial reaction to this has been very positive and we see the growth prospects for this side of the business as being very encouraging.
"At the same time, we have made strong efforts to expand and improve our service department, hiring a qualified and experienced National Service Manager, and this has already provided a boost to our capabilities by ensuring that we can deliver an even higher level of quality service to both our new and existing customers. These are just a few examples of how Vision is a business that is always looking to the future and at how it can constantly be developing and enhancing its services."
Innovative solutions
As Vision has grown internally, so too has its portfolio of successfully completed projects, with some of its recent successes representing some of its best work to date. One such example was its
delivery of the catering facilities for Fortnum & Mason's first airport bar at Heathrow Terminal 5. While not the first time the company has delivered for a customer based at Heathrow, a previous contract involved providing the catering facilities for The Gorgeous Kitchen and LEON units within Terminal 2, Jack considers the Terminal 5 project to be perhaps the most challenging and rewarding job he has ever been involved in.
"The Fortnum & Mason project, which required the careful positioning and shaping of the counter to ensure the correct customer approach, posed significant logistical and technical challenges, some of which were among the hardest I have personally ever seen," Jack explains. "To answer these, we had to identify and apply new, innovative solutions, resulting in what I have to say is an absolutely stunning new destination for travellers."
Other recent successes, including the Mondrian London hotels' Sea Containers restaurant, the full turnkey service project at Forest Lodge Garden Centre, the delivery of a training kitchen for students at Manchester Metropolitan University, and its recently completed undertaking at Soho House's new flagship hotel The Ned, help to highlight the versatility of Vision and its ability to adapt its approach to suit a customer's individual needs. "Customers come to us because of our reputation for consistency, our professional and reliable service, and our ability to innovate," Jack enthuses. "We have never been a company that simply accepts that things are done in a single, uniform way, rather we constantly challenge norms in order to find better ways of doing things. This is why we have been able to deliver the aforementioned projects in ways that exceed our customers' expectations."
Drive to improve
The market for Vision's services is constantly evolving, with exciting developments currently revolving around themes including achieving an increased degree of connectivity within the kitchen environment, and the drive towards more flexible and efficient cooking and refrigeration methods, to name just two. When combined with the growing need to maintain closer relationships with major domestic and global manufacturers, it has arguably never been more important for Vision to maintain the overarching strategy that has allowed it to prosper so well to date.
"Our primary strategy has remained unchanged for a number of years now, and will remain so for many to come, and that involves capital investment in our infrastructure, systems and processes, and the development of our most important resource, our people," Jack adds. "Our unrelenting drive for self-improvement has seen us become one of a very select few companies in our sector to have ISO 9001, 14001 and 18001 certifications, while our people are the reason why Vision is known far and wide for its ability to find improved ways of doing business. These are the sorts of traits that help to ensure that we remain at the forefront when it comes to delivering consistent quality to our diverse mix of customers."