Whiskey awards galore for Town Branch Distillery
The only brewery and distillery on the Kentucky Bourbon Trail has racked up more honors for its top-notch tipple
Town Branch Distillery – the whiskey distilling arm of Lexington Brewing & Distilling Co – has had a good year. Recently, it won America's Best Small Batch Single Malt 12 Years & Under at the World Whiskies Awards.
Its Town Branch Seven-Year Kentucky Single Malt Whiskey won the prize in question. "The passion and foresight of our founder, the late Dr. Pearse Lyons, has given us the oldest stock of Kentucky single malt in the world," said Lisa Wicker, CEO of Lyons Brewing & Distilling Co.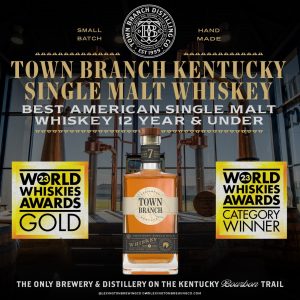 She added: "I look forward to growing and expanding on our single malt whiskey expressions for years to come."
"When we set up our stills in 2008 to start distilling, I asked Pearse what kind of bourbon mash he wanted to do and his answer was simple, we were going to make some fine malt whiskey on these stills, and the rest is history," recalls master distiller, Mark Coffman.
A whiskey explosion
The distilling explosion in the US has led distillers to varying degrees of grain exploration, mash bills, styles of whiskey, types of cooperages, and other variables.
Town Branch Distillery is also responsible for the award-winning Town Branch True Cask Bourbon, Town Branch Rye, and Town Branch Malt, as well as Bluegrass Sundown, a bourbon-infused coffee liqueur.