Nothing kneaded, nothing gained
Consistency and efficiency is what has raised the name of Whitworth Bros, and despite the difficulties brought on by the pandemic, the flour miller is as determined as ever to dominate its industry, providing the same high quality product its customers have depended on since its inception
The Whitworth mills have been part of a long-standing history of passionate family millers, and Martin George, the grandson of the buyer who purchased the company from the original Whitworth brothers, is now the business's Chairman. He speaks with FoodChain about the growth of the business and how it is continuing to be, in his opinion, the best flour milling company in the world. Having begun 20 years ago with only one percent of the market, Whitworth Bros now has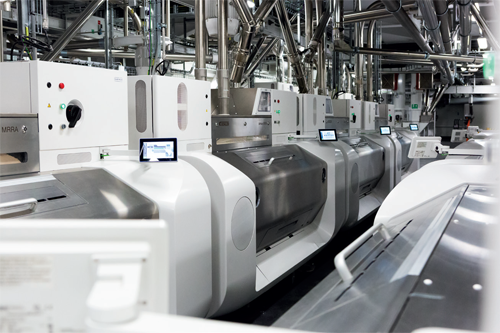 35 to 40 percent and has no intention of slowing down. At the time of our conversation, Martin shared that the business is set to unveil a brand-new mill located in Whitley Bridge, which will be equipped with technology unique to the flour milling industry.
"It comes with all the bells and whistles, equipped with the latest technology, and there's nothing else like it in the world," he begins. As far as Whitworth's offerings are concerned, the business's portfolio features an extensive range of flours. "We provide anything from baker's flour for well-known bakers, to specialist flours for biscuits and pizzas. We also make lots of heat-treated products that are used for batters and coatings. Then there's our chapatti flours, which have continued to be in demand. So, we do almost every range of flour, except organics and gluten-free because we're not quite small enough for such a niche market – aside from that, anything you want, we can do."
Knowledge & experience
When asked about the key drivers steering the success of the business forward, Martin discusses how much is owed to the culture of high quality and service embedded within the company; a culture that was instilled by his grandfather. "'Make a noise quietly', he would say, and in that regard, we've done just that. Family companies can take a very long term view and invest heavily in modern equipment, whereas the corporate competitor tends to look at much shorter timescales. In line with that, we also focus on ways of retaining our excellence, taking it one step further than simply attaining it. This approach means that we can maintain the consistency of our product and the reliability of our name," he says.
Measures that have been undertaken in order to support these ideals include working in conjunction with Bühler Switzerland, which, globally, is the biggest manufacturer of milling equipment. With Bühler's help, Whitworth Bros installed both the world's first wheat peeling plant for the reduction of mycotoxins, bacteria and toxic heavy metals, and the heat treatment process. This continuous thermal and hydrothermal process allows the targeted modification of wheat flour properties to produce flours suitable for coatings, breading, soup and cake applications, which was further refined when it constructed its second and third plants. "We also have a heat treatment pilot plant and two pilot test mills. Combining this with our extensive knowledge and experience of the flour milling industry means we can provide our customers with end-to-end solutions to meet their flour needs," he says. Additionally, teaming up with Bühler's innovation has enabled the company to prioritize saving on energy, space and labor. "For example, by incorporating more automated systems, we can have the same people working at a heat treatment plant also facilitate the operations at an additional mill, which brings down our expenses without compromising our products," Martin explains, continuing to express that these processes are fully auditable, and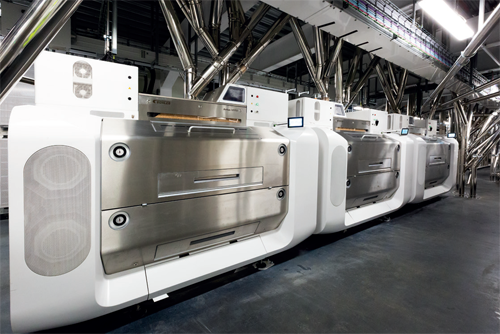 customers can be confident that Whitworth Bros is supplying flour to the same grist and analytical specification that they have always trusted. "As with most millers, we produce a wide range of wheat flours, but additionally we offer flour and grist milled from maize, rice and rye grains. Our heat treatment plants enable us to naturally modify wheat flour by reducing enzyme and microbial activity."
Team builders
Moving away from the technical side of the business, Whitworth Bros employs a group of approximately 750 people spread across ten different sites. Although this number may seem fairly large, Martin assures us that each member is highly skilled, cared for and well acquainted with the company's inner workings; so much so that he proudly shares how his business was able to uphold its momentum and maneuvere through 2020's obstacles with strategic determination and unity. "One of the difficulties that we faced with Covid-19 was training. When it came to people who have already been with us for a number of years, it was fine to explain new developments over the phone or through a video call. However, with new people who had just joined us, they needed to have in-person training, because this is a hands-on business. So, it takes experience for people to learn and they can't do that sitting at home watching a screen. As passionate as we are about delivering the best for our customers, our people are just as important. We might spend £50 million on a new mill, but if we haven't got the best people then we really are wasting our money. In my view, we certainly are the best miller in the world, and that's not because the service and quality to the customer is the only aspect that we strive to deliver on, but that we also see strengthening our team as being just as paramount," he emphasizes.
Trusted favorite
Aside from the difficulties of balancing safety protocols for training, there were additional challenges that Covid-19 inflicted on the business. While some team members were asked to work from home, other departments who's roles were operationally centered were required to be on site, which then incurred a greater risk of infection. Above that, there was also the issue of supply chain disruptions. "Our staff were incredibly devoted to doing a great job during the pandemic. We were very fortunate to have only one or two people affected given how tough it became. For example, we had the packing plant close on one site because one person tested positive and then of course everyone contracted the virus, so that was a great difficulty. With that, some suppliers were short of packaging. Thankfully, it's all looking like business is starting to straighten out again and we can realign ourselves to get back on track," Martin says.
As the turbulence that many industries experienced begins to settle down, Martin looks to the future with determination and surety that his business is in dependable hands. "I'm quite excited to have everyone back in with us. Our business relies on our people being here and although there will be exceptions, we are very happy to make the necessary adjustments. But it is time to press on, and we can only do that with everyone on board," he says. Martin concludes by adding that he is adamant Whitworth Bros will continue to grow organically, while remaining the trusted favorite that his grandfather had intended the business to be.
www.whitworthbros.ltd.uk