An insider's guide to the Altamarea Group and its mouthwatering collection of fine dining establishments
The Altamarea Group (Altamarea) is driven by a simple pursuit: crafting incredible dining experiences which ensure consistency and excellence at all levels. As a result, its restaurants have been recognized by the New York Times, the Michelin Guide, the James Beard Foundation, Zagat, and many more.
Currently, Altamarea operates 20 restaurants around the world. Senior Vice President, Susan Lee, recently sat down with Food Chain to discuss the brand's rise, new restaurants, and a promising future.
But first, a little context. Altamarea was founded in 2009 by Ahmass Fakahany, whose mission was to create an experience that extends beyond food and beverage. Since then, the company has propelled the luxury Italian dining scene in New York City, with a beloved following and dedicated team of industry professionals leading the way.
Altamarea's flagship restaurant, Marea, is one of the busiest of its kind in the city – perhaps on the East Coast. It was, like the rest of the company's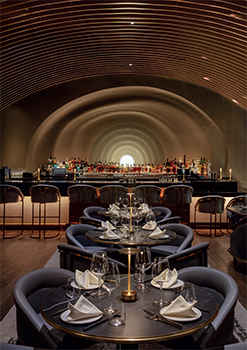 portfolio, built upon a vision to create distinct restaurant brands that offer outstanding service and unsurpassed quality. At Marea, diners can expect a variety of dishes, ranging from caviar and oysters to seasonal antipasti and award-winning hand-made pastas.
It is worth pausing on the latter. One of Marea's signature dishes – a red wine-braised octopus and bone marrow fusilli – has a cult following. Another dish, the seasonally driven quadrotti, is filled with sweet summer corn and finished with chantarelles and shaved black truffle. The menu is also composed of fish dishes, whole fish preparations, as well as a selection of meats and sides. Think pan-seared dover sole, 50-day dry-aged beef ribeye, and confit potatoes. There is something for everyone.
"Marea welcomes around 2000 guests a week, the brand loyalty is truly remarkable," admits Susan. "The restaurant stands out from the competition, particularly within the high-end Italian fine dining scene. Location is certainly a key factor – Central Park is beautiful, and the visibility for Marea continues to draw crowds. The food, wine, overall quality, and rigorous attention to detail heightens the entire experience. All the pasta is made in-house; extruded, hand cut, and shaped and filled every day. It is quite laborious, but of course worth it. There are at least two-to-three people preparing pasta as their sole job, because it's such a key part of the restaurant experience. They are invaluable team members, and you can see the pride they have in their craft.
"Beyond Marea, we expanded to Ai Fiori and Morini, which are both very popular," she adds. "In fact, we have multiple fronts of Morini in New Jersey, Washington, D.C., Long Island, and Miami Beach. More recently, however, we've been able to expand abroad, with a Marea location in Dubai, and Morini in Istanbul and Riyadh."
With all those options, which is Susan's favorite? "That's like asking a parent to pick their favorite child," she laughs. "I don't know if I have an answer for that! I love them all – but if I am going to Marea, then I am definitely going for the crudi assortment (sliced raw fish and shellfish) and all the seafood. Whereas, at Ai Fiori, I am obsessed with the trofie nero. I've loved it for over 12 years since I first worked for the group. Still, I go back for more! The desserts there are phenomenal, worth the trip just for that. When I go to Morini, I have to have the black truffle ricotta cappelletti with prosciutto, it's a signature dish. Also, the olive oil cakes! They are so delicious! I sometimes sneak one out even though I don't need any more carbs in my life."
Happy customers
Despite its success and recognition within the Italian fine dining niche, Altamarea has demonstrated a commercial and personal ebullience for variety, spreading its wings with the opening of 53 earlier on in 2022. Situated on 53 West 53rd Street in Manhattan, the restaurant has been built on a contemporary Asian dining concept. The new location can be found next to the Museum of Modern Art and sits within the Jean Nouvel Luxury Residential Tower. Diners can expect a focus on Cantonese, Singaporean, and Japanese influences and ingredients, which runs the gamut from fluke kombujime, to truffle xiao long bao, kung pao quail, and lobster rice in lotus leaf.
Staying ahead of the game and continuing to diversify through fresh and bold takes on contemporary dining experiences is part of what makes Altamarea stand out from other restaurant groups. The immediate hit that 53 has been attests to this. But where does the group draw inspiration from: diners or the market?
"I think it has to be a little bit of both," answers Susan. "You obviously must pay attention to what the client wants, and if you are blind to that then you
probably won't be in business for very long. Listening and responding to our clients is a priority; we seek to give them what they want, we always consider the desires of our clients and the market trends while staying true to our culinary integrity.
"At the end of the day, we're in the business of saying yes," she continues. "Ahmass is 100 percent client-focused. We're firm believers that you are only as good as the opinion held by the last person you served; you are only as good as the last dish you put out. Everybody in the executive team is dedicated to this sentiment. We're all industry veterans; everyone has been doing this for 20-plus years, and we would not still be here if we did not love it. We also embrace that we are in the service of people; if you do not have that in your blood then this is probably the wrong business for you."
Holistic growth
Not everything has been smooth sailing, though. As Susan details, the last two years have been fraught with a host of challenges brought on by the pandemic. For instance, before the arrival of Covid-19, machine orders might have taken a week or two. Now, lead times can take as long as eight months.
In fact, one stove top plancha took ten months to arrive at one of Altamarea's restaurants, which has forced the group to be ever more dynamic in its approach to procurement and logistics. "The biggest challenge, however, is the current labor shortage New York City is experiencing," Susan reflects. "We lost about 250,000 industry people during the pandemic and only about 80 percent of them have returned. So, we are dealing with an industry that has been crippled by Covid-19 in more ways than we can count. Hopefully, people will start coming back in numbers as we head into the fall.
"However, on the whole, I think we are on a good trajectory," she concludes. "We don't like to rush innovation or expansion. Instead, we like to pay attention to what is happening right in front of us. I would like to see some growth in our executive team over the coming years because we did shrink quite a bit, adding a couple of key players here and there. But really, we want to maintain our focus and keep it consistent. In the end, that is how you organically grow a business and then who knows. If Ahmass wants to do another 53 opening down the line because it is so popular, then I am game for anything. At the end of the day, we think about growth in a holistic fashion and that is both assuring and exciting, because we're all about good food, good drink and good company."
www.altamareagroup.com