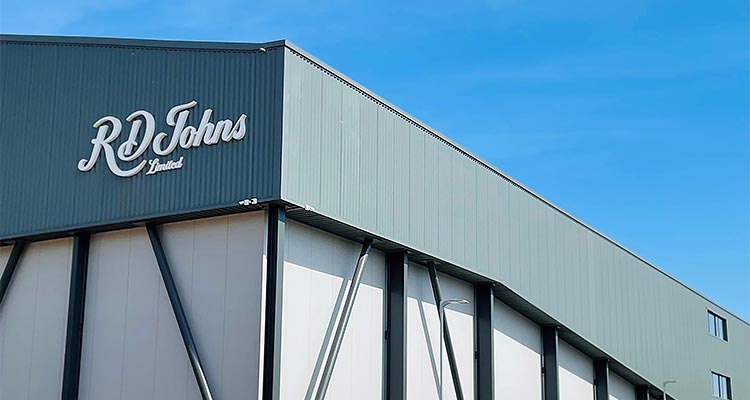 Andrew Johns reveals R D Johns' mission to become the best in the South-West
R D Johns (RDJ) is currently the fastest growing independent wholesaler operating in the South-West of England. Established in 1970, the business started as a family butcher and gradually grew into foodservice, with the founder's son, Andrew Johns, now leading the company as Managing Director and propelling the company forward with a vision of foodservice and butchery under one roof, making RDJ the ultimate foodservice provider.
It boasts a portfolio of over 5000 products including fresh butchery, frozen food, chilled, ambient, and non-food, and delivers six days a week with no minimum order requirement. It has sites in Devon and Somerset serving the company's geographic reach, which extends to cover Gloucestershire, South Wales, Bristol, Cornwall, Dorset, Hampshire, Wiltshire, and the Isles of Scilly.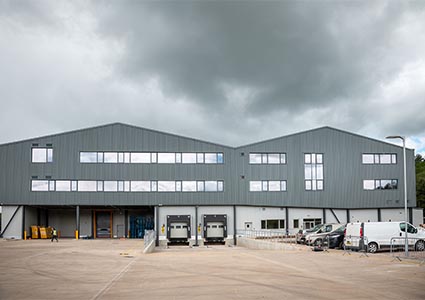 Having acquired three businesses over the last five years and made significant investments in its infrastructure, it is fair to say RDJ is experiencing tremendous success. The business has recently moved into a new facility in Kingsteignton, Devon, which comprises a purpose-built depot and headquarters. We sit down with Andrew to discuss the company's new site, as well as its historic growth and journey to success.
"We're a family business offering a service that is totally focused on delivering the best service," Andrew begins. "The key to our success has always been consistent, quality service. Being competitive in the market is important to keep the business financially healthy, but for us, it's crucial that we have a great product range and maintain the ability to fulfil customer orders efficiently and accurately, whenever required."
It is not just RDJ's service that's top quality, its products, specifically the butchery lines, are known for supreme quality across the regions in which it operates. Its 6oz West Country Premier burger has recently won the prestigious Taste Of The West award, making 2023 the fourth consecutive year it has received a gold rating.
"Our West Country Premier burger is a mouthwatering combination of locally sourced ingredients, including succulent beef from the West Country," Andrew details. "The flavors and textures come together to create a truly unforgettable dining experience and we carefully craft each element to ensure a perfect balance of taste and quality – that's why it's the talk of the town!"
Turning to the company's history, it was founded by Roy Johns with the opening of a butcher's shop in Bishopsteignton, Devon, in 1970. Over the 20 years that followed, Roy opened a further two shops. Andrew joined the business along with his brother, Martin, in 1996, with a revolutionary vision that would change the direction of the company.
Strategic acquisitions
RDJ sold its three stores in 1998, moving to a larger site on Milber Industrial Estate in Newton Abbot, Devon. It then focused its efforts on catering butchery and began to supply many local hotels, pubs, and restaurants.
Its next milestone in 2014 saw RDJ join Landmark (Unitas), a large wholesale buying group, which enabled it to buy into own brand products, as well as provide better pricing and a wider product range.
The business continued to grow year-on-year, helped along by three acquisitions. The first of which was Redruth based W G Chaffins Foodservice, in 2017. It was followed by the acquisition of a similar family-owned business, Jones Food Solutions, in 2020, which strengthened the RDJ brand in the West Country, particularly around Bath, where it took over an existing depot.
Most recently, in 2022, Gibbins Quality Meats of Exeter (GQM) joined the RDJ family.
Andrew approached Paul Gibbins back in 2019 and looked to acquire GQM.
Andrew admired what Paul had created over the years and could see that with the successful RDJ distribution network he could expand the butchery further than ever before and grow sales whilst also adding other product ranges to strengthen its position within the market.
Paul was adamant that Andrew and RDJ were the right people to take GQM to the next level and continue the family business respectfully.
Another factor leading to the company's tremendous success is the flexibility of its operations. In 2020, the business successfully adapted to the market conditions induced by the global Covid-19 pandemic. It not only introduced home delivery, but also supported care homes across the region by supplying them with essential provisions.
Consistent growth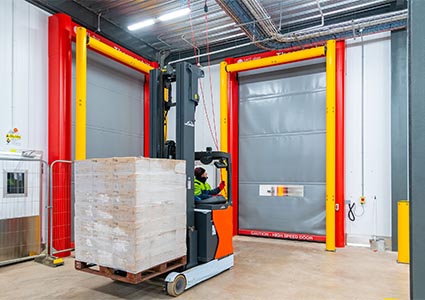 It is clear that Andrew and his brother, Martin, have worked incredibly hard to develop the correct culture to succeed, and the hard work has paid off; RDJ experienced a record year in 2022, with 66 percent growth taking its annual turnover above £43 million.
However, with a vision of continuous growth, the hard work and focus continues. "We began construction on our new, purpose-built headquarters in 2022 and we officially moved all our staff and stock over in June 2023," Andrew explains. "We've invested around £10.5 million in the expansion, which will provide us with the necessary space to continue our current growth trajectory.
"The new site will enhance our efficiency, particularly in terms of stock management and range, further improving our overall service and making our processes more consistent and accurate. The opening marks a necessary but significant milestone in our quest to become the largest food wholesaler in the South of England.
"With our other depot in Bath, this move allows us to grow, not just in terms of capacity but also allowing expansion of key operational and business development functions – marketing, procurement, distribution, sales and so on – under one roof. This new facility will be our head office and the brains of the whole operation."
Andrew continues: "We believe the exceptional design functionality of the building will lead to us achieving industry-recognized accreditations, which only strengthens our position in the market. The bespoke building is an eco-friendly Dutch barn design, a specialist but increasingly popular type of cold store constructed from a single layer of composite panels. The internal ceiling has a high-level apron roof structure, which meets both the thermal and vapor barrier requirements for frozen, chilled, and ambient storage".
Expanding product portfolio
"It is also a fantastic place for our whole team to work," he adds. "The modern, open plan design of the offices and warehouse space fosters a culture of collaboration, as well as providing a comfortable area for our employees to rest or socialize during breaks."
Aside from the new headquarters, RDJ has invested in doubling the freezer storage at its depot in Bath and is planning to repurpose its former base at Milber Industrial Estate in Devon. "Work is already underway at Milber," Andrew tells us. "We're expanding our butchery department to provide us with increased dedicated production areas, which will enhance our efficiency and ability to produce an increased variety of products."
Delivering excellence
With its new headquarters now fully operational, RDJ is focused on maintaining its growth in an ever-changing industry. "The market is constantly evolving," Andrew reflects. "There's always new products or different variations emerging, and our aim is to embrace change by introducing them to our customers.
"It is crucial that we have an excellent product range, as our customers have varying requirements, which are often based on the sector in which they work, such as hospitality, care, education, and retail. We pride ourselves on offering over 5000 products and we will continue to grow this in line with market trends and customer demand.
"In terms of the future, we will continue to build on what we have already accomplished within the business," Andrew concludes. "Our aim is to be targeting growth of over £100 million by 2026. We're always looking ahead, identifying new opportunities to expand our market presence, our brand and increase sales, while upholding our core values and consistently delivering excellence."