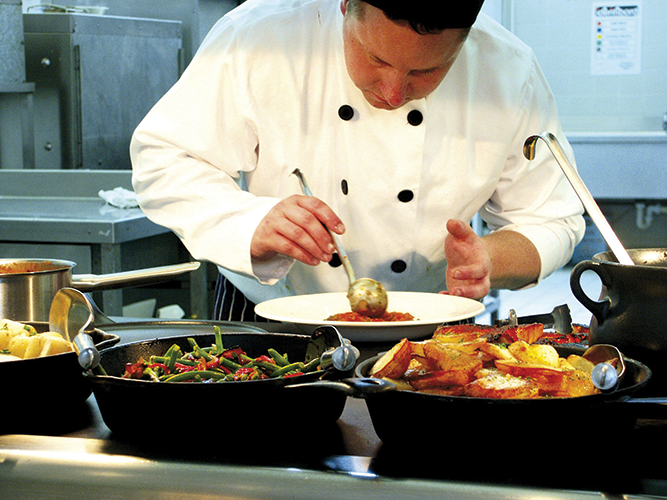 Catering for all tastes
Illustrating its commitment to setting the highest standards within contract catering, BaxterStorey has launched its new Chef Academy
On 23rd January 2007, leading UK contract caterer, BaxterStorey, unveiled its new Chef Academy at WestLB in London. The event was an opportunity for all academy members and their mentors to meet the main board, and celebrate the company's investment in their first Chef Academy, while signalling its commitment to leading the way in training and development. Given the responsibility of leading the academy, executive chef, Rik Razza, has been inspirational in its establishment, after founding the company's chef development programme three years ago, and the January launch was the culmination of significant investments by himself and BaxterStorey.
Explaining the academy concept, deputy chief executive William Baxter begins: "Selecting candidates from our own employees, from college leavers through to mature members of staff that have been in the business for a long time, we are offering them the opportunity to join the Chef's Academy and improve their skills as well as their academic prowess."
The academy offers training at five different levels, allowing students of varying abilities to work towards the next stage of their development, ranging from receiving their basic chef certificate to obtaining a BSc (Hons) in International Culinary Arts. Level one is the chef certificate and is used to evaluate and develop the students' abilities as a commis or chef de partie within BaxterStorey, introducing them to specific practical and kitchen management skills, while sending them to college to gain a level two NVQ in Professional Cooking.
Receiving a chef diploma is the second stage of the training, with students receiving a level three NVQ, foundation HACCP award and level two in food safety. From here, students work on the culinary arts programme, which is designed for chefs that have been working professionally for at least five years. The programme builds on their existing practical knowledge, and through a week at the kitchens of the Vineyard Stockcross with executive chef John Campbell, and a variety of training sessions, students are encouraged to develop an inquisitive culinary mind, as they work towards a Culinary Arts Programme Diploma and the opportunity to apply for sponsorship on a university-based degree programme.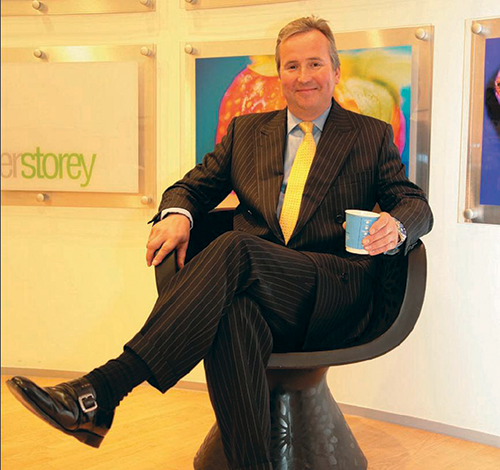 Endorsed by the Academy of Culinary Arts and the Craft Guild of Chefs, level four is a foundation degree in International Culinary Arts, with students attending university on a day release basis specialising in kitchen, larder, pastry or a combination of the three disciplines, before having the opportunity to work towards level five, the BSc (Hons) in International Culinary Arts.
Explaining the academy's relationships with external training organisations, William says: "You cannot operate a programme like this in isolation, so as a company we spend a lot of time partnering with universities and colleges to bring them up to speed with our industry. For example we have been doing a lot of work with Bournemouth University, and we will be exposing some of their students to our business, while the tutors also spend time with us in the summer to appreciate the modern techniques and standards that we follow."
Commenting on the overall development of the scheme, William continues: "The academy has taken on its first students and we will be awarding our first certificates and qualifications this year. After investing significant resources the process has been very exciting and, motivationally it has been brilliant for our teams."
Expanding on the impact that the scheme has had on the business, William says: "It has been a massive step forward for us because essentially you are only as good as your employees. Sadly we are in an industry that is notoriously poor for employee relations, and in a difficult labour market it is always hard to find highly skilled, motivated people, so we have put a lot of effort into developing and training our staff to rise above our competitors. We also particularly wanted to address the issue of young chefs leaving, reducing our staff turnover rate in the more skilled side of the business, and one of the ways to solve this was to create an internal innovative, creative training programmes at all levels."
Although the Chef Academy is still in its very early stages, BaxterStorey has seen staff turnover for chefs and craft employees reduce by five per cent in the last year. "It is too early to say how much of that can be attributed to the academy, but my guess is that the buzz around it has certainly helped the figure," comments William.
Looking to the future, he continues: "Success is a journey, not a destination, and our aspirations are to carry on doing a good job, keeping our feet on the ground and not worrying about our size or turnover. Obviously we have got to be profitable, and we manage that carefully, but not at the expense of other aspects. We have eight board members and we are all like-minded people who aren't totally motivated by money, size and growth. We are caterers, who want to do a good job and we often say to ourselves, keep it simple and remember that the clients are only interested in what we do for them. They are not interested in how big or sophisticated we are; they just want to know what we can deliver.
"Our work is about relationships with customers; it always has been and, in my view, it always will be. If you are in front of your customers, listening to what they want you to do and delivering a great service then you will continue to move forwards. The danger is that as you grow you start to contemplate yourself too much, and start looking inwards instead of outwards. I believe that the aspects that made our small company successful are the ones that will continue to make us successful as a larger company."
With a strong emphasis on quality of service and the training and development of chefs, BaxterStorey is a growing influence in the UK contract catering industry. Stressing the importance of having quality staff offering quality food to customers, the board is committed to building a business to be proud of, and through developments including its new Chef Academy, Irish and Scottish offices, the company's success seems set to continue.