Catering at the cutting edge
As one of the UK's leading independent hospitality and catering providers, BaxterStorey provides customers with great tasting meals and unparalleled service
Operating across the UK and Ireland, BaxterStorey sets the standard for specialist catering services everywhere. The company has a reputation for all-around service, with great-tasting dishes, highly skilled staff, and years of industry experience. Following some major successes in recent years, BaxterStorey is now looking to expand its team, and grow into new territories.
Founded in 2004, BaxterStorey has always been dedicated to providing customers with the best quality food and coffee. As the company's Chief Executive Officer, Ronan Harte, discusses: "Alastair Storey founded BaxterStorey on the principles of fresh, local, seasonal food, a major commitment to training and development and an entrepreneurial spirit are at the core of the business.
Memorable experience
"BaxterStorey has grown rapidly since its inception, with the company expanding into Ireland in 2006, Scotland in 2010, and BaxterStorey Europe following shortly after in 2011. BaxterStorey is part of the WSH family; a group of hospitality businesses which collectively employs 19,000 people across restaurant brands including Benugo and Searcys, as well as school caterers Caterlink and Holroyd Howe.
"It is the UK's biggest independent foodservice provider, serving over one million meals each day. Some of the company's milestone moments include the inception of our award-winning Chef Academy in 2005, by our Head of Chef Development Rik Razza, which has seen over 500 chefs graduate. The program not only gives our chefs industry recognized qualifications but teaches practical culinary skills as well as giving them the confidence to lead a team in a high-pressured environment. The Academy gives them a support network throughout their career with us."
The company has evolved considerably since being founded, and now offers a range of services in the hospitality and food service categories. "At BaxterStorey, we specialize in in-house, high quality hospitality for a variety of clients across sectors including retail, banking, travel, financial services and manufacturing. We operate in 625 locations across the UK, Ireland and Europe. Our offer is simple – fresh, locally sourced food made by well-trained teams.
"Most importantly we put food at the heart of everything we do. It's simple, our job is to delight the customer with great food, impeccable service and incredible attention to detail. Those are the things that really matter when you're trying to create a memorable dining experience," Ronan details.
Supported by its culinary expertise, BaxterStorey also sets itself apart by building a strong network of clients and local suppliers; as Ronan affirms: "Maintaining strong relationships with our clients and building those partnerships is something we encourage from the ground up. We recognize that we are guests in our clients houses and a 'one size fits all' approach doesn't work, instead, our service is made bespoke to the needs of our clients.
"The company also benefits from a decentralized supply chain, ensuring suppliers are always local to the client. We give our chefs autonomy to create their own menus for their customers using ingredients that are readily available, and that way we can keep the food fresh and unique."
Advancing technology
A culture of continuous improvement is one reason for BaxterStorey's rapid success over the last 18 years. The company consistently invests in its people, and engages its teams in regular training and development schemes, as Ronan asserts: "Every time I go around our business, I'll chat to our chefs and ask them about their dishes, what ingredients they've used, and how they've prepared the final meal. It's about connecting with food and really understanding the customer journey from the moment they walk in the restaurant.
"Our love of training and development is what sets us apart. We recently partnered with some renowned industry chefs to support us in coaching our chefs on seasonality, sourcing local, and how to utilize ingredients more to bring out flavors without overcomplicating recipes. Working with the likes of Kirk Haworth, Adam Byatt, Josh Eggleton and Ruth Hansom is really going to invigorate our teams and give them access to incredible knowledge and experience.
"The industry has been challenged recently, through food price inflation, supply chain issues and continuous lockdowns during some of our busiest periods. We work closely with UK Hospitality to challenge the government, and ensure that they do more to support our industry and protect people's livelihoods."
The company also uses its position as an industry leader to inspire positive change, by investing in sustainable and socially responsible practice. "From sourcing renewable energy, and reducing plastic usage, to food waste reduction, hospitality services can bring in knowledge and best practice that reduces a client's carbon footprint and instils a culture of behavioral change. Within BaxterStorey, our food waste management system has reduced waste by over 40 percent, saving clients over £2.5m in disposal costs and £400k in energy costs. The success of this is largely down to not 'telling' them to do it, but instead giving them the reason why they should.
"The company is constantly moving forward. We're now looking at social enterprise coffee bars within our sites and engaging with vulnerable and homeless or ex-homeless people, to bring them in as an apprentice and help them to learn to be a highly skilled, trained barista," states Ronan.
BaxterStorey is also an industry forerunner when it comes to the use of innovative new technologies. The company uses some of the latest inventions in cloud, mobile application and even artificial intelligence technology to elevate its service offering, as Ronan confirms: "We have all become more familiar with using technology throughout the pandemic and we've been satisfying people's appetite to order quickly through digital platforms.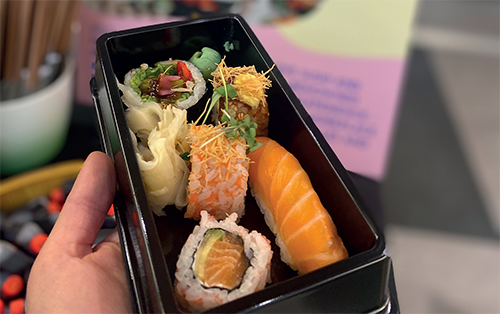 "Advancing technology is a huge focus in 2022, and the appointment of Rob Brown, Head of IT, to the executive board will ensure we are pushing forward with the latest technology across our business. We've also introduced a system for customers to order and pay through an app, which ensures their food is available to collect or be delivered direct to their table or desk.
"For the last two years, we have focused on improving our digital offer to our customers. We have been developing and implementing a full omni-channel digital solution to give our customers the best experience possible when they transact with BaxterStorey.
"We have also been focusing a lot of our time on, what I would call, industry leading technology involving AI solutions. These are not yet released, but we see AI technology becoming more and more important in the coming years to the hospitality and contract catering sectors. This is a continuing journey, as technology evolves and customer behaviors change, but it is a challenge we are prepared for, and one we can adapt to seamlessly."
Team support
These bold and strategic maneuvers have not gone unrecognized, with BaxterStorey being awarded numerous high-profile accreditations over the past few years. "BaxterStorey was founded on the pillars of investing in the learning and development of our people, and we have never lost that ethos. It is this commitment to our people and the continuous investment in our academies, vocational experiences, and apprenticeships, which has given us this ability to challenge the norm.
"Winning the Sustainable Business of the Year Award, at the Edie 2018 Awards, was a pivotal moment for the business. To be up against major brands, including Adnams, IKEA, and Timberland, who are revolutionary in their sustainability campaigns, and to beat them, was an incredible achievement for our team. The award is a testament to the work we've been doing to establish sound sustainable practices since we launched our agenda in 2006," Ronan, a chef himself, comments.
As it remains dedicated to the core values of great food and reliable service, BaxterStorey sees enduring success. Looking toward the future of the company, Ronan comments: "We have some really exciting plans over spring and summer, particularly around our Chef Academy, which we'll be investing in even more to support our teams across the business. We want to ensure that we are all adapting and responding to new ways of working, including changing trends and customer demands. I can't say anymore on that at this stage, but keep your eyes peeled.
"In addition, we will continue to search for, recruit and nurture great talent. Recruitment within the industry continues to be a challenge, but we are continuing to work with partners and programs to ensure we attract talent and promote a positive profile for the industry.
"As an industry, we must shout about the fantastic career opportunities hospitality can provide. We have countless examples of our people that have worked their way up through the business, whether they started as kitchen assistants and are now running their own kitchens, or made their path through one of our graduate schemes and today run a huge team of their own, we are incredibly proud of our people, and they will continue to be the core of our business moving forward," he concludes.
www.baxterstorey.com