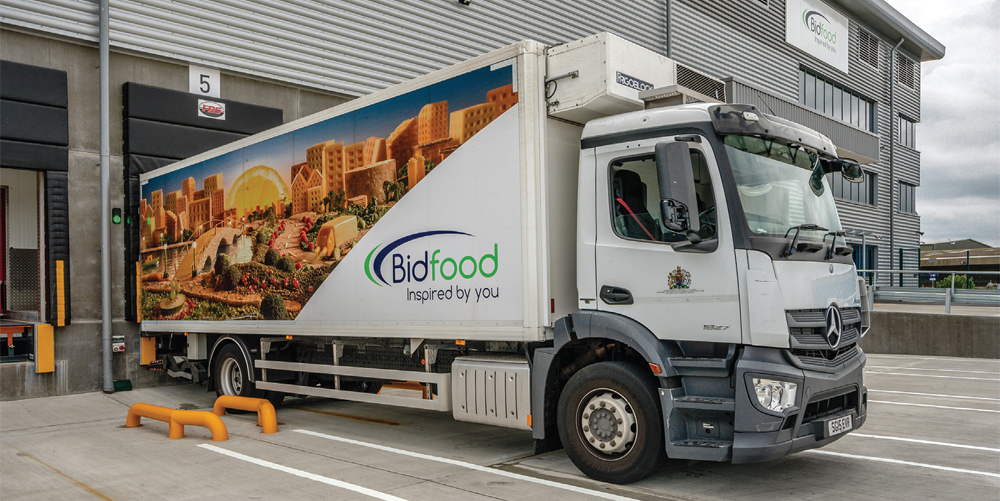 Trend setters
As its many accomplishments and highlights show, 2018 was another hugely prosperous year for Bidfood, with the company continuing to demonstrate its ability to respond to rapidly evolving trends, tastes and industry demands
When Dr Andrew Kemp FIH, Group Sales and Marketing Director of Bidfood, describes 2018 as an 'incredible year' for the business, if anything he could be downplaying just how successful those
12 months were for one of the UK's leading foodservice providers. "Last year, we were the recipients of over 60 awards for our products, our people and our business, most notably the Grocer Gold – Wholesaler of the Year award, and our CEO, Andrew Selley, winning the Grocer Cup," details Andy, who himself was recently awarded a personal lifetime achievement award at the EDUcatering Awards.
"We have also seen some major developments to our growing infrastructure, including moving our Worthing depot to a new, larger purpose-built site, opening our new site in Penrith, and securing land for a new depot in Liverpool. These additions allow us to continue to be closer to our customers and to deliver excellent service," Andy continues. "Meanwhile, as part of our strategy to make lives easier and help our customers to grow, we have continued to focus heavily on e-trading, with 2018 being our most successful year of e-trading to date!"
The aforementioned move of the company's Worthing depot to its new 64,000 sq. ft site in Lancing, was officially completed in September 2018. The new depot has a range of food holding areas from a 25k sq. ft ambient storage, and a 13.7k sq. ft freezer, to a 1.8k sq. ft chilled store, and a 7.4k sq. ft chill marshall area. The building has also been designed to incorporate a large customer experience centre, which is currently in planning stages. The space will facilitate Bidfood's work in partnership with food and drink suppliers to test and develop new products, as well as support menu development and innovation for customers along the South Coast. In addition, the site boasts a large office space, which combined with the new warehouse, is set to provide more career opportunities in the local area, from telesales professionals to drivers. The new office will also offer a Sunday telesales service to help streamline Bidfood's customer service in this region.
The site includes a variety of sustainable features including: lighting to ensure a safe working environment and photocell activation to reduce energy consumption, refrigeration that has zero ozone depletion potential and zero global warming potential which will significantly reduce energy consumption. It also includes the use of sustainable building materials and a 'SUDS' drainage system installed for storm water disposal.
"As leaders in sustainability, it is important for us to always be looking at ways to improve," Andy states. "Sustainability is always evolving, and so we need to be flexible and open to looking at new ways to improve our sites and educate our people. We also continue to improve the credentials of our fleet. For example, we do not use diesel powered refrigerators within our vehicles, instead opting for over-cab Frigoblock units, which are powered by an electric alternator driven by the vehicle engine. These fridges are more energy efficient and create 50 per cent less noise pollution. They also use refrigerant gases, which help to reduce our overall contribution to the greenhouse effect by 50 per cent."
Another topic that is close to Andy's heart is his belief that Bidfood, and others within its industry, should remain focused on the importance of feeding children and supporting the elimination of so-called 'holiday hunger'. "We have engaged with many organisations, working with them to mobilise industry bodies to support the protection of Universal Infant Free School Meals (UIFSM), particularly the benefits of children's attainment through good nutrition and hydration. Working on projects like this is hugely important to us, and we will continue to educate and create awareness of all the attributes and benefits of great food served well."
Supporting trends
Over the course of 2019, one of the biggest focus areas for Bidfood is expected to be its addressing of the needs of an ever-growing number of health-conscious consumers. Indeed, the rise of this
community – made up of a high percentage of millennials – and its demands are helping to shape influences in the food and drink world. "As a business, there is a lot that Bidfood is doing to support these trends," Andy reveals, "one example being the launch of our Vegan range in March 2018, which has since gone from strength-to-strength. The strong offer coming from manufacturers has meant that we have been able to provide our customers with interesting vegan products, packed full of flavour, to put on their menus, and we have been thrilled to win a number of awards for our vegan products and teams who have worked on this phase of our innovation pipieline, such as the Innovation Team of the Year accolade, presented to us at the BFFF People Awards.
"Our other efforts to support health-conscious consumers include working with Public Health England (PHE) to support the government's aim to reduce sugar consumption by developing our own sugar management pledge of a 20 per cent reduction target by 2020, where commercially and technically viable. We have also been looking at allergens, educating both customers and employees on their importance, and we have launched a special 'choices brochure', which looks at areas such as dairy-free, nut-free, gluten-free, and meat-free alternatives to provide choice to customers looking to produce menus inclusive of everyone."
'Talking food'
Perhaps understandably, given the size and scale of Bidfood, there seems to be a never-ending stream of news and new developments coming out of the business, and at the time of our interview with Andy, it was also celebrating the launch of its brand-new 'Street Eats' concept. "Street food is the one area that our commercial buying team absolutely love, primarily because it is fast paced, short cycled and changes by the season," he adds. "Street Eats has been a key platform in bringing our 2019 trends to life, showcasing the best food-to-go products and ingredients, and we have been focusing on themes including Great Britain, Americas Discovered, Modern Europe, Asian Appetites, The Middle East and Afro-Caribbean.
"We were also really excited to launch our first-ever podcast last month. Available on iTunes, 'Talking Food with Bidfood' focuses on our 2019 trends and features our team of experts exploring these at a macroscopic level, reflecting on how societal changes have influenced what consumers are choosing to eat and drink."
So, what does Andy consider to be the long-term objectives of the business that he hopes to see it meet in the coming years? "Firstly, we want to continue our development of new builds, ensuring that our businesses continue to be close to our customers," he explains. "At the same time, we will go on exploring the latest in IT innovation, which is an area we are really interested in developing. We were pleased to win a Real IT award in 2018 for our growth in this field, and our ultimate goal is to work on yet more ways to make our customers' and our colleagues' lives easier.
"Furthermore, we will continue to embrace the subtle changes in both eating habits, and the health and wellbeing of our customers, so as to remain the first-choice wholesaler to those that desire an extensive choice of own brand and branded products."