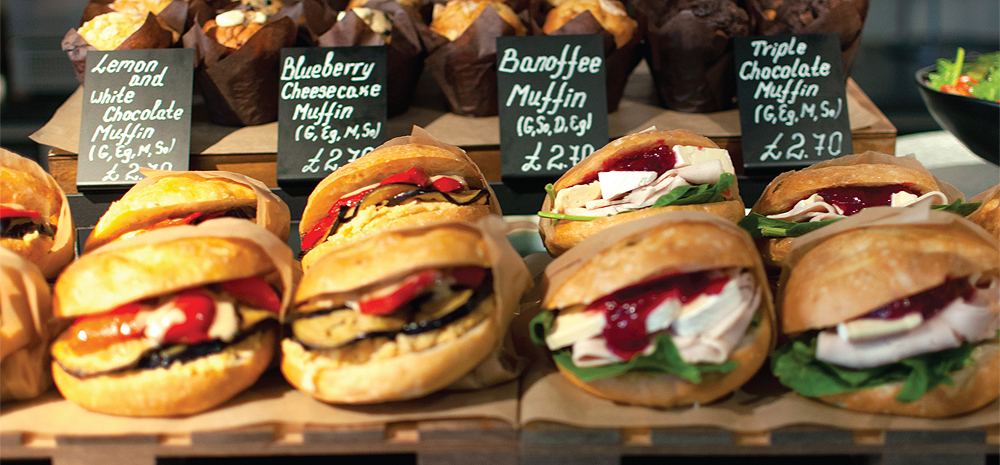 Tailored for all tastes
Independent contract caterer and restaurant operator Graysons enjoyed a hugely successful year in 2018, and with new contracts being signed on a monthly basis, 2019 is shaping up to be just as, if not more, profitable
For Simona Oproiu, Business Development Director of leading independent caterer Graysons, the word that best describes the company's performance during 2018 is 'tremendous'. "It really has
been a great year for us, during which time was have been extremely busy," she states. "We have grown not only in terms of turnover through the winning of new contracts, but also by means of expanding our own operations and support teams in order to support our sustainable expansion as a business."
Such was the success of the business in 2018 that, in December, it was revealed to be the fastest growing contract caterer in the UK, in terms of annual profit, in the Food Service Growth Report by EP Business in Hospitality and AlixPartners. The report, now in its sixth year, noted that the company benefitted from a strategic repositioning that delivered enhanced profitability across its various platforms.
Bespoke partner
Founded in 2008 by Sir Francis Mackay, and led by Managing Director Tim O'Neill, Graysons' ten-plus years in the catering business has been defined by its passion for delivering creatively-prepared meals that use only the freshest local ingredients available, and for its unrivalled level of customer service. With its range of capabilities including the running of staff restaurants, cafés and corporate hospitality suites, operating high street locations, and managing unique venues, events and conferences, Graysons has become firmly entrenched as a trusted service provider to a long list of recognisable institutions.
"Our continued pattern of growth has been down to several factors, not least of all being our uniquely independent approach, our ability to offer a bespoke solution for each individual client, and our passion for innovation," Simona continues. "There has been a lot of consolidation in the marketplace in recent years, and this has helped to leave a gap where clients are wanting the services of an independent, bespoke catering partner. These are the clients that want more than a prescribed way of doing things, and with Graysons they can be assured that we will approach them with a desire to understand exactly what they are about, what they want from a catering perspective and how we can satisfy these demands."
Shared values
The aforementioned clients call upon Graysons to impart its flair for innovation when it comes to its catering services, and a core element of this is the company's ability to rapidly respond to industry trends and changing tastes. One of the ways this is achieved is through a number of important partnerships with industry leading bodies, personalities and chefs. An example of this strategy in action came in 2018, when the company established an exclusive partnership with Chantelle Nicholson – chef-patron of Tredwells in Covent Garden and author of the book Planted – to support the development of its chef teams and inspire the development of plant-based menus.
Built upon Graysons' and Chantelle's shared commitment towards seasonal, local and sustainable eating, health and wellbeing, this partnership will also lead to the creation of a fresh food-to-go deli range exclusive to Graysons, and the development of a plant-based café concept. "Having been attracted to Chantelle's fantastic energy and passion for her craft, we were thrilled that, when we approached her to work alongside us, she was extremely excited to partner with Graysons," Simona explains. "She knew about, and shared, our ethos, values and culture, and was very keen to contribute to what we were trying to achieve in developing a full, sustainable, plant-based menu."
Equally as beneficial for Graysons is the fact that Chantelle has also been on hand to support the development and training of its chefs. "The opportunity to work with and learn from someone like Chantelle is quite the source of inspiration for our chefs," Simona adds. "Such instances give our people the chance to learn new skills and approaches, and prove invaluable when it comes to making them better chefs themselves."
Graysons' efforts continue to pay dividends in the form of new contracts and venue openings, with a raft of exciting new developments occurring in the last six months alone. In October 2018, for instance, it was revealed that the company had scooped a five-year, £4 million catering and hospitality contract at The National Archives (TNA) in Kew. This contract sees it managing all public facing cafés, on-site restaurants and staff dining facilities, as well as working with TNA to create an external event market for the venue.
Innovative thinking
In November 2018, Graysons secured the catering contract at Wakehurst, Kew's wild botanical garden run by Royal Botanic Gardens. Worth in excess of £7.5 million in revenue over the initial five-year period, the contract will see the company manage and deliver day visitor catering in Wakehurst's Seed Café, Stables restaurant and Redwoods coffee shop, as well as facilitating private and corporate external events throughout the year in Wakehurst's Mansion and the Millennium Seed Bank.
Other significant contract wins in recent months have included the iconic Blue Fin building on Bankside, Southwark, for Oxford Properties. At the time of announcing this contract, an Oxford Properties representative commented: "It was an easy decision to select Graysons. Above all others, they have a strong passion and understanding for the independent London food scene, and an approach to sustainability and the environment that perfectly matches the building's and Oxford's credentials. Graysons have worked alongside us to help visualise and deliver our plans for each area of the building and we look forward to watching this unfold."
Earlier in the year, the company has also announced a contract for delivering catering services at engineering, environmental and strategic consultancy Ricardo in Shoreham, West Sussex, and one to operate catering services at IOP Publishing in Temple Meads, Bristol, and more recently an agreement to service five Transport for London office buildings across London, stretching from West Kensington to Stratford.
"As you can tell from our levels of activity, we are looking to continually grow as a company, and to do so sustainably," Simona states. "We are also passionate about never standing still and constantly bringing innovative thinking and ways of working to our clients. While the contracts we win are usually of a long-term nature, we are always striving to develop the offer we provide. As such, we are convinced of our ability to grow across all the areas of our business and are confident about the wealth of opportunities that exist for us in market in 2019."
Graysons' successful year in 2018 and bright outlook in 2019 means its long-term goal of sustainable growth whilst staying totally independent should be easily met. Its plan is to remain true to its values of locally sourced quality fresh produce and flexible bespoke menu and service offers to continue to attract and secure long-term partnerships with leading organisations in the UK.