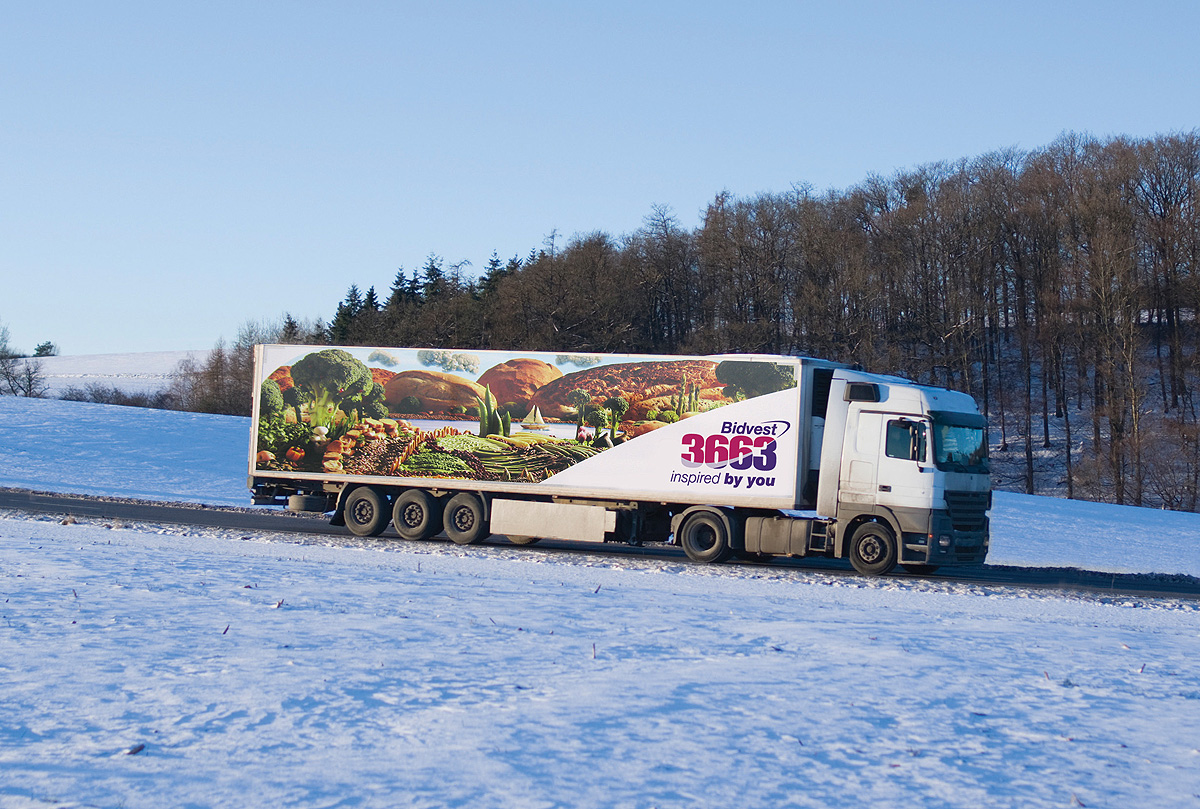 Source to sauce
Bidvest 3663 is one of the UK's leading foodservice providers, supplying to chefs and caterers throughout the foodservice industry
Operating from four support centres and 21 depots Bidvest 3663 employs staff throughout the UK. "Within our business we have a strong passion for great food and pride ourselves on offering customers choice," says Andy Kemp, group sales director. That level of choice consists of both an award winning own brand range of 850 products, as well as over 12,000 products from the best foodservice brands. "Our 'best of both' approach is about offering customers a choice of excellent own brand and recognised branded products to suit their individual needs.


"By working with high quality suppliers, we can offer customers consistent quality products, which meet our strict QA and CSR policies and products that consumers are guaranteed to recognise and trust. As a business, we have championed brands as long as we have existed, and the depth, breadth and strength of our relationships with branded suppliers, large and small, means that we have a fantastic resource of innovation, creativity and expertise to draw from," he continues. A great value is placed on making customers' lives easier, and through acquisitions and forming partnerships over the years, the business has created a specialist drinks division, as well as a catering equipment specialism. From disposables and packaging, cleaning, housekeeping and kitchen essentials, to tableware, beers, wine and spirits, customers benefit from a full scope of services.
Bidvest 3663 often launches innovative ideas to meet consumer demand in the industry, for example, the new 'gluten-free made simple guide', which will help customers tap into the £100m worth of 'free-from' business every year. "Additionally to this, the Beans & Steam coffee concept that we exclusively offer will help customers really drive their coffee offering, a market expected to grow to £16.5bn turnover by 2019.
We have also increased our ranges of other sustainable and ethical products such as Red Tractor, Fairtrade, MSC accredited and British," Andy points out. "We have a real passion for food that is further evident through our own brand ethos, quality standards and processes. Ten per cent of our own brand range is endorsed by Craft Guild of Chefs, and products are benchmarked against products in the market to ensure it is of the highest quality. Unless products are of an equal or better quality than competitors' match, they don't get into our range," he adds.
Food development
Bidvest 3663 maintains very strict product and supplier assessment processes with a focus on quality. Highlighting that stringent regime, Andy details the process for two of its unassuming, basic products: "Our own brand baked beans are sourced from haricot beans, carefully selected in the US, tripled graded before shipping, transported sustainably, exactly filling 20 foot containers. At the factory they are checked again and graded specifically to meet our recipe, and checked again post-blanching before they are added to a sauce content of 53 per cent. Delivered to customers in large 3.12kg cans ensures value and sustainability for foodservice caterers. Secondly, our 3663 own brand Red Tractor Cheddar cheese is made from milk sourced from family run rural farms in Northern Ireland. We use only milk from Red Tractor herds, which ensures there is a premium paid to farmers. Once the milk goes into maturation stores, it is then graded according to our specifications from six weeks on, and for taste and flavour profile, with the maturation process going to 24 months and beyond."
Employing a food development team, consisting of time served industry chefs, the business works closely with its own suppliers sharing industry knowledge and insight, to ensure the products offered are relevant. The recent launch of a new initiative called 'New4You', promotes four new products each month, which the business believes are the best new products for customers to try. Furthermore, it has in place dedicated teams able to offer advice and support on key industry issues, such as the Food Information Regulations, The School Food Plan, Sustainability and Health and Wellness. Through its Advice Centre, Bidvest 3663 provides support to customers through detailed knowledge of speciality products, cooking instructions and as well as nutritional information, which is specific to their businesses.
Understanding emerging trends on the high street ensures that it remains at the cutting edge of food industry developments. Commenting, Andy says: "Our insights team works with various leading research consultancies to gather industry insight and trends, which we then interpret to make relevant for, and to inspire our various customers. We also carry out our own research with customers to understand their own needs, what's important to them when they buy, and what service excellence means to them. It is so important that customers can rely on their foodservice provider to keep on top of customer insight."
Efficient service
In March 2014 the company opened a 91,000-sqft depot in Bicester, for the purpose of providing a more efficient service for customers. The majority of products can be stocked directly on-site, giving local customers access to a wide range of supplies, coupled with a voice-picking system that will improve accuracy of deliveries. "It will also reduce carbon emissions from the site with motion-sensor lighting, vehicle telematics and increased capacity vehicles. In November, we also opened a new site in Chepstow and moved our Swansea depot to a newly refurbished site nearby, to meet the increased demand across Wales and the South West. This is our first site to have solar panels on the roof, which deliver electricity to the depot and fast close warehouse doors to maintain temperature control. This is balanced across their overall infrastructure network which is both national and local, ensuring both the capacity to support customer growth, and also enough depots to offer a service that is local to customers giving them the best service levels and flexibility, whilst reducing the roadmiles needed to deliver food to customers.
"Providing a sustainable service and making it easier for our customers to be more environmentally friendly is important to us. Our award winning bio-diesel scheme has been running for over seven years and has generated carbon savings in excess of 30,000 tonnes," points out Andy. Such success has been down to a collaborative approach with customers and specialist fuel producers, allowing the business to collect waste cooking oil from customers and convert it into bio-diesel for use in its delivery fleet, as he announces: "We've also invested in a new Fleet of Euro6 engines that come with some great advances in technology, which cut fuel emissions to record lows."
Supplier support
As its clients are faced with the challenge of meeting the needs of the changing market, support from suppliers is essential as is innovation and inspiration to differentiate their offers. "As well as developing their menus, we recommend that foodservice outlets should invest in their digital marketing and technology, as well as their physical environment. For us it is about providing a choice of products which meet customers' individual needs, providing flexible ordering, recipe ideas and inspiration online or over the phone or value added services including insights, recipe ideas and benefits through the Safari loyalty scheme, all in addition to competitive pricing and monthly promotions," says Andy.
The out of home food market is expected to continue to grow in value in 2015, following good growth in 2014, largely attributed to increased spending confidence among consumers, rising employment and increased disposable 35income in households. However, as the industry grows, challenges are raised, including meeting far reaching changes in legislation, which has impacted caterers. Bidvest 3663 works across the foodservice industry, supplying various businesses from small independents to national accounts, including five star hotels, restaurants, contract caterers and pubs right through to schools, care homes, hospitals, universities and even the Ministry of Justice. "Competition is a key challenge in foodservice and the 'new' post-recession consumer is often discount driven, therefore it is far tougher for establishments to differentiate themselves on factors other than price and to encourage customer loyalty," explains Andy.
Highlighting the opportunity for outlets to provide innovation and creativity on their menus provides significant opportunity for the business and its customers to excel within an increasingly dynamic foodservice market, as Andy explains: "We aim to get closer to our customers, ultimately helping them to grow. We are focused on delivering service excellence, great food and added value, as well as delivering great value for customers in the form of competitive prices and promotions." With the aim to demonstrate its passion for food to customers; the business has trained 18 members of the sales team to be 'food champions' on top of their sales responsibilities. Concluding, Andy adds: "Each food champion has a background in the food industry, trained in key insights, trends and new products, which they then showcase with their local teams so that they, in turn, can inspire their customers with new ideas, recipes and innovation that can help them differentiate and refresh their menus."