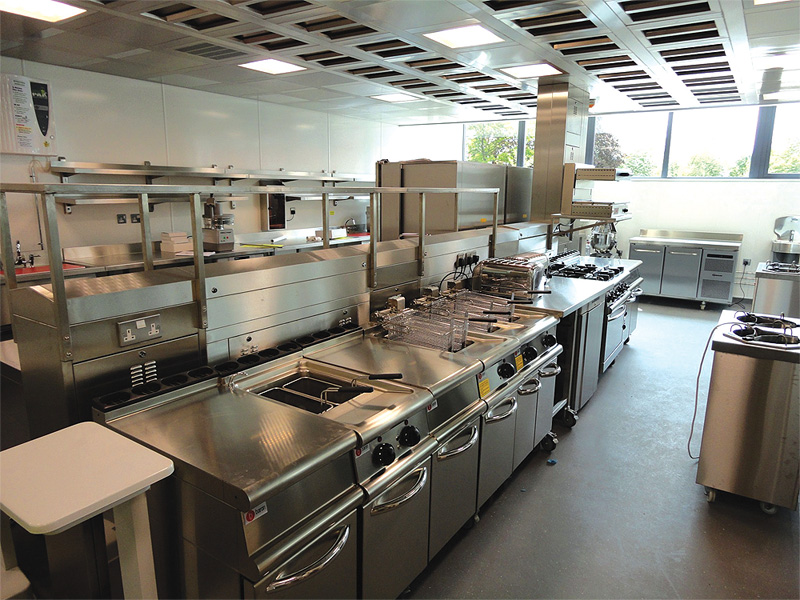 Catering Equipment Solutions
Catering solutions
Having completed a demanding six-month installation of equipment into 800 KFC sites Catering Equipment Solutions is ready for its next challenge
After several years working within her family's secondhand catering equipment business Catequip UK, Anna McNamara identified a need within the market for the supply of good quality but affordable new catering equipment. With that in mind, she established Catering Equipment Solutions (CES) in 2001, using her many years experience to offer solutions to those challenges facing today's professional caterers.


Ten years on and CES continues to design, sell and project manage catering equipment projects across the food industry including fast food, care homes, hotel, pubs, restaurants, gold clubs and schools. Anna elaborates a little on this client base: "We have carried out a number of projects to Avery Care Homes, Bondcare, Hallmark Care Homes, and South Coast Nursing Homes. Here we have demonstrated excellent concept design skills and competent project management abilities, which has resulted in our continued employment by clients due to the delivery of our work. We also offer servicing and breakdown services to out clients, as well as ongoing sundry sales."
Good client experience
This commitment to providing a good client experience has led to CES gaining the majority of its business not only from its existing client base, but also customer referrals. Having worked with a range of professional caterers from celebrity chefs to small boutique cafes CES understands the importance placed on quality and service. This focus is ever present whether undertaking a full installation or one-off catering equipment purchase. Customers also benefit from extra peace of mind in knowing that every piece of equipment brought from CES conforms to the latest health and environmental regulations.
"We care about saving our clients money and will actively look at new ways to do this," comments Anna. "We also give solid advice on design and the type of energy efficient equipment available in the market place today." Each design is created alongside the client to produce the premium layout for that particular application. This includes not only floor to ceiling design, but also installation of extraction and ventilation systems, fabrication and flooring, and refrigeration and coldrooms.
Challenging projects
CES has recently completed one of its most high profile and challenging projects to date where it was tasked with the installation of Rational oven equipment into all 800 UK KFC restaurants in a turnaround of just six months. As the approved UK agent for Rational equipment, Anna highlights CES' role in this project: "The project was the biggest of its kind in such a short space of time for all parties – KFC, Rational and CES. Our task was to install a Rational Combi oven into each KFC store nationwide, in line with the new Brazer menu that is being launched by KFC.
"There was a process of site survey, feedback to the stores to confirm services, delivery and positioning, installation and commissioning. This was completed very successfully and both Rational and KFC were delighted with the way in which we handled the project, and we will continue to support the ovens for KFC."
Voted New Supplier of the Year 2010
Preliminary work for the project was carried out in October 2010, with the full roll-out completed by April 2011. During this time, CES was also voted New Supplier of the Year 2010 by KFC UK – an achievement that the business is rightly proud of: "It means a great deal to a company of our size, and is great recognition for both the company and the team that delivered the project," emphasises Anna.
"The reason we were awarded New Supplier of the year was due to our can-do attitude. With such a massive project there are a lot of issues and situations that arise that require resolution and KFC felt that on each occasion, alongside anything that was asked of us, we addressed these with a solution-orientated attitude which sets us apart from other companies," she continues.
After-sales-service
In the long term CES will continue to work alongside KFC with ongoing supply and full after-sales services, however it is likely that such a major contract will also have a positive effect on the company as a whole. In terms of the future, Anna concludes with her thoughts on maximising this exposure: "We have found that business has changed in that clients are looking for companies who will go the extra mile so we are having to offer far more for less. However we have recently expanded our project management team so that we are able to focus on bringing in new accounts and have a more consistent workflow. In terms of future business we are looking to grow, but to continue to work to keep our existing customers happy."