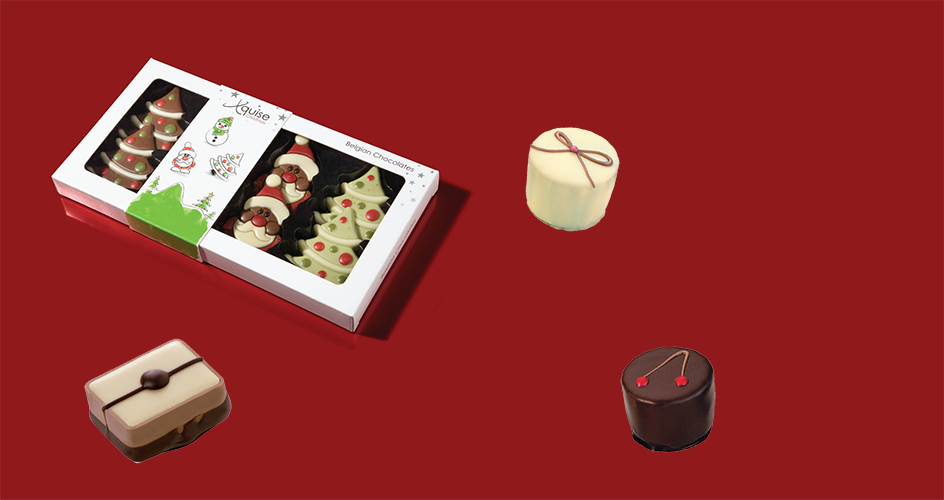 A box of luxury
Chocolaterie lckx has been making and distributing delicious and exclusive chocolate products since the 1970s
In the late seventies, Clement Ickx started the production of artisanal chocolates in the back of his wife's chocolate shop. Through the quality of his product, the volume increased rapidly, and
Clement changed production to a former dairy factory in Kapellen, just north of Antwerp.
Kurt Daans, sales and marketing director at Chocolaterie Ickx, continues the story: "One of his major customers at that time was the Dutch distributor Dragee, which in 1988 acquired all shares of the Ickx company. At that time Dragee was owned by Ed de Bruin, whom had long experience in the chocolate industry. The combination of Ickx/Dragee expanded and in 1993 they built a new factory in Essen. Around that time, Ickx started to export to other countries like the UK. The success and expansion of the company continued, and in both 1997 and 2003 the facilities were further extended.
"In 2005, Ed de Bruin decided to sell the company to Bas Huurman, and from that time, the growth accelerated. Further capacity was needed, which resulted in the expansion of production and moving to a much larger warehouse. The success of Ickx/Dragee has continued until today, when we employ more than 100 people at the Essen site and export to more than 30 countries. Plans are also underway to explore more countries in Asia, Middle East, North and South America."
Kurt also explains how Chocolaterie Ickx and Dragee now work together: "Internationally we export to large importers/distributors, which have been selected as being number one in their field, but in the Netherlands we take care of the market ourselves through Dragee, which is our own 'specialty trade' wholesale company. We have seven sales reps presenting our chocolate collections to more than 2000 stores in the Netherlands."
He added: "Our distributor for the UK specialty trade is a company called Crème d'Or, which is based in Tickton, East Yorkshire. We work very close with them and they sell our Ickx and Xclusif chocolates as well as our seasonal chocolate products throughout the UK."
Today Chocolaterie Ickx produces mainly hand decorated chocolates and seasonal chocolate items with a strong focus on innovation, as Kurt explains: "Our product development team reviews each season (Autumn/Halloween, Christmas, Valentine, Easter and Spring) to determine which chocolate items will be renewed or replaced by novelty ideas. Our chocolate collection is divided in milk, dark and white chocolates all made with different flavour combinations and fillings (praline, ganache, caramel, marzipan and creamy centres) and finished by hand so each chocolate looks different. We have always felt that the artisanal look of the chocolates is very important."
The handmade chocolates from Ickx are produced in Belgium using the best ingredients: quality chocolate from Callebaut, first class almonds and hazelnuts, and top brand liquors and aromas. Product development at Ickx continuously focuses on novelty and refinement, as all the products have to have the right flavour, colour and finish.
Kurt continues with more details about the company's latest addition: "Our new collection is called 'Xclusif' and was launched at the ISM in Cologne last January, and was exceptionally well received. The intention was to give this collection a unique look and taste combination and go back to the real Belgian chocolate heritage. It took us more than six months to get the right shapes figured out and combined with the right fillings."
Kurt adds: "Since I travel a lot internationally, I experience a lot of differences in the chocolate market. Each market-related specialty I come across will be communicated to my team of product developers, who turn it into a chocolate idea, which is then evaluated as to whether it can be used or not. It is important to look at other markets as well as the chocolate industry because we want to be leading, not following."
To ensure a continuous availability of high quality products, Chocolaterie Ickx works very closely with its suppliers. "Our product development team and senior chocolatier have regular contact with our ingredients suppliers – especially to keep abreast of what is 49happening at their factories, what they are working on and what we can use as novelty ideas," confirms Kurt. "On the other hand we also visit machine manufacturers and brainstorm with them to find out if they can help us turn our ideas into a technical solution."
This technological side also includes the packaging, because as Kurt points out: "People often buy with their eyes. This means that we want to show the quality of our pre-packed items to our customers. Therefore our packs are often presented with a window to display the hand decorated chocolates inside. A great example of this is the new range of packs called Xquise. We started with a Christmas line and later this year the Easter line will appear in the stores."
It is clear that Chocolaterie Ickx is continuously looking for new ways to delight its customers and in 2011 it plans to launch another new line at the ISM exhibition in Cologne. "We are working very hard on this as we speak," said Kurt. "Again, we will move away from the existing chocolate items and introduce something different. But I don't want to give too much away and so I invite visitors to come and be inspired on our booth in the Flanders Pavilion."