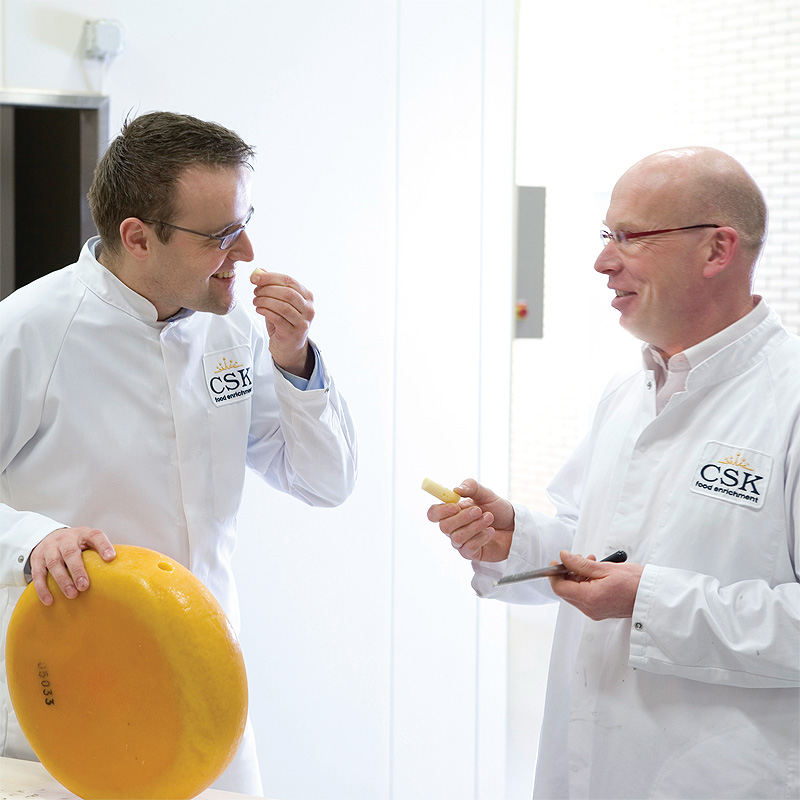 A matter of taste
CSK is one of Europe's oldest food enrichment specialists
CSK Food Enrichment supplies active ingredients to the dairy industry and maintains a reputation as a 'taste maker'. With a track record of more than 100 years in the Dutch dairy industry, CSK has expanded in line with its strong autonomous growth strategy to become an international business-to-business player. The organisation is acknowledged as a reliable partner with great business acumen and many years of experience in dairy manufacturing.
When it comes to working with CSK, the real focus is on customer intimacy. The company takes its customers' processes and products as a starting point and provides well-considered choices and tailor-made food concepts rather than mere ingredients. This approach has evolved from CSK's core philosophy of improving the process or product of the customer through co-innovation and essential technology, while focusing on a preferred status as a specialist on taste, texture and bio-conservation. The latter of these has become an increasingly important for the food industry over the past few years and CSK is proud of its dairy solutions that eradicate the need for additional E-numbers or additives, which is in line with the trend of clean labelling.


Dirk Lodewijk, deputy director, highlights the key strengths of the company differentiating it from competition: "We are a great deal smaller than some of the big multi-national biotech firms who put a lot of investment into the R&D and innovation of life science ingredients such as probiotics – but this is also our strength. We are a niche player that is extremely strong in the semi-hard and hard cheese arenas, and what makes us unique is our focus on the customer. We take the client's concept as our starting point, co-creating and developing our products in line with market requirements. We also spend a lot of time on trend analysis in the consumer market to ensure that it is our concepts, rather than ingredients, that are meeting people's needs."
A major element of the support that CSK offers clients is its new product development department, which is constantly active in developing and sourcing new dairy concepts, which can include conditioning, culture and coagulant solutions. One of the organisation's most important innovations is its 'Flavour Wheel' concept that represents a selection of flavour creating dairy cultures that can be added to cheese milk to create a specific flavour profile. This innovation enables clients to experiment with various flavours of cheese for a more tailor made solution and hence a differentiating position in the market place. For example, CSK has created a number of unique ideas to enrich the taste of cheese including a farmhouse dairy specific flavour that can be added to a product to create an authentic farm cheese. The company's range of Gouda cheeses can be produced in a variety of flavours including sweet, cowshed/farmhouse, strong fermented, yeasty, alcohol notes and combinations of these.
Such has been the popularity of the Flavour Wheel that CSK has recently extended the culture range to create that special, authentic and refined flavour profile in cheese. Flavour Wheel cultures can be applied in several cheese types like Gouda, Maasdam, Emmental, Cheddar, local farmhouse or surface-ripened cheeses. With use of the extended Flavour Wheel range new flavour profiles can be developed like a Parmesan sweet flavour with a fruity note in a premium Gouda cheese or a more sweet and nutty flavour with a spicy note in a Maasdam cheese.
A very recent coating launch from CSK has also been designed to communicate the experience of authentic natural ripened cheese by matching the appearance with the cheese taste. Developing the right appearance and conditioning of the cheese through a cheese coating is one of CSK's specialities, regulating moisture loss through low-vapour coating for example, resulting in improved cost efficiency in the entire cheese making process.
In line with the company's focus on bio-preservation, another recent product launch from CSK guarantees a natural added value, while embracing the health and wellness concerns of consumers who purchase natural and organic foods. The organisation has developed a specific range of bio-protective cultures, which give a natural preservation of cheese. As a result, CSK has built a sustainable market position within the artisanal dairy market and with industrial cheese producers who want to reduce additives or want to market organic or clean label cheese. These Dairy Safe cultures are commonly used as alternatives to nitrate or lysozyme to protect cheese against late blowing defects. The advantages include natural preservation without additives, great flavour and texture performance, a cost effective, easily applied system, less risk of production losses, a solution which can be applied to farmer's cheese production, and is suitable for all types of milk.
Dirk outlines his vision for the company moving forward: "We will continue to grow autonomously in the international arena and expect substantial growth year-on-year in both existing and new market 51segments. Aside from the hard cheeses, we are also focusing on fresh and soft cheese, as well as yoghurt and this gives us huge scope for the coming years. We still endeavour to develop our own concepts alongside our clients, translating consumer market trends into real solutions based around taste, texture and bio-preservation. We are very future focused and look forward to taking advantage of new opportunities."