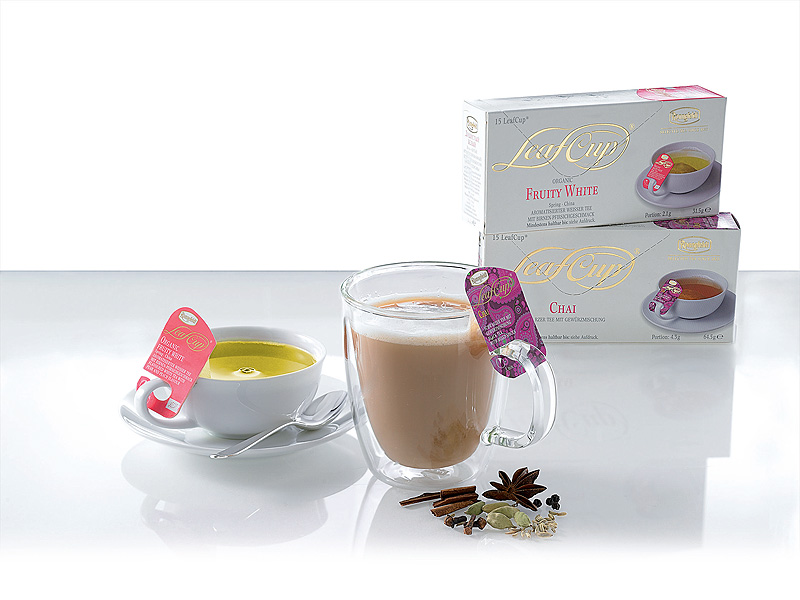 Brewing a change
A major product redevelopment means J.T. Ronnefeldt's strong combination of quality and innovation continues to capture the market
There are few names within the tea industry as well known as J.T. Ronnefeldt. Producers of fine teas, primarily manufactured by hand using only the highest quality tealeaves, the Ronnefeldt name has become an established mark of quality. Founded in 1823 in Frankfurt am Main, Germany, the company has grown into an globally known presence. Ronnefeldt has been exporting its teas since 1999, following the international growth of major hotel chains and centralised purchasing. Although its main market remains in Germany, Austria and Switzerland, Ronnefeldt teas can be found in over 60 countries worldwide particularly within eastern Europe, the Middle East and Asia.


With over 185 years' experience in the industry there are few other companies with same expertise and detailed product knowledge as Ronnefeldt. Jan- Berend Holzapfel, general manager and co-proprietor of Ronnefeldt, comments on the key to the company's success: "One of our main strengths is our quality. We only trade in orthodox handmade teas, which are of vastly superior quality to the standardised machine made crush, tear and curl (CTC) teas. We only focus on the four and five-star hotel and restaurant markets, so Ronnefeldt tea is not available in the retail channels. As part of this we provide training for the hotel staff across all 60 of the countries we trade in so that they are able to brew our teas correctly. We also offer
advice on flavour selection for each outlet of the hotel and provide a range of accessories such as display materials and serving products."
In November this year Ronnefeldt is planning a relaunch of some of its most popular innovations. This includes the Tea-Caddy which was first introduced over 20 years ago. A large teabag containing real loose-leaf tea the Tea-Caddy is perfectly designed for teapots, with the label containing a hook which fits around the handle to ensure it stays in place. Jan describes the redevelopment: "We've redone the whole design including the filter paper, which is actually a natural fibre. We redesigned the label to be more international and the whole box design is much more modern. At the same time we've introduced two new flavours, the first of which is Oriental Oolong. Oolong is a semi-fermented tea which once only tea connoisseurs knew about, now its much more popular and our Oriental Oolong is flavoured with date and lulu. Our other new flavour is a mellow pear and peach flavoured white tea, with white tea being one of the latest introductions into the market."
As well as Tea-Caddy, Ronnefeldt is expanding upon some of its other products such as LeafCup. A similar concept to Tea-Caddy, LeafCup is a large teabag containing loose-leaf tea, but is designed for a single cup. "We've also introduced two new tastes to the LeafCup range including Chai, which is a traditional Indian black tea with herbs and spices. Although it is a black tea we've carefully blended it so it can be enjoyed without milk. The second is called Fruity White, which is a white tea with the same pear and peach flavour as the Tea- Caddy version," adds Jan.


This forward thinking is the result of Ronnefeldt's core understanding of the tea industry and ability to design products, which are in tune with the needs of the market. Jan explains how Ronnefeldt is able to identify such opportunities: "We operate within the niche market of four and five-star hotels and having been in the industry for such a long time we are aware of the needs of these clients. We understand that one of the main issues is obtaining trained staff so as a tea company we aim to produce products that make it as easy as possible to serve a proper cup of tea. Products such as Tea-Caddy and LeafCup help to limit mistakes as they contain the exact measurements of tea and are all marked with the brewing time."
In recent years Ronnefeldt has pushed this innovative approach one step further with the development of its unique TeaMaster programme. Jan explains how the concept was a natural progression from the company's standard tea training: "We found that within the world's best hotels there is a need to have a trained individual who is focused on tea, so we created the TeaMaster programme. There are two levels that hotel personnel can reach – silver and gold. The silver programme takes one or two people from each hotel and over two and a half days trains them in the history and culture of tea, how tea is produced, how to ensure the tea's quality and the things you can do with tea, such as cooking. At the end of the programme they must pass a test containing over 100 questions. This also includes a taste test where the individual must identify 20 teas just from their appearance and taste.
"After gaining the silver TeaMaster status the individual can then proceed to the gold programme, which lasts seven days and takes place in the tea gardens in Sri Lanka. Aside from a small contribution from the hotel, we meet the cost of this trip and again at the end there is a test and tea tasting. It's quite challenging, not only to get admitted to the class in the first place, but also to pass the tests. We have had high levels of demand from hotels for the TeaMaster programme, this year alone we have has to double the number of classes on offer because hotels really see the benefits of it."
Although operating with a niche market, Ronnefeldt continues to identify growth opportunities for its business. "The tourism industry is continuing to grow and this of course leads to new hotels opening around the world, who then approach us regarding their tea needs. Within existing hotels we're also seeing an increasing demand for tea as more people are realising, not only the health benefits of tea, but the huge variety that is available," says Jan.
Bearing in mind the changing attitudes and tastes of guests and the increasing demand for a better standard of product, Jan concludes with how the right products can make all the difference: "Tea may only make up a small percentage of a hotel's overall budget but it is a guest's last impression as they leave the hotel after breakfast to go home or on to their next destination. We see that hotels are beginning to understand that a teabag dropped in a pot of water is not enough and they are working to upgrade their service and to offer the quality of products that guests now expect."