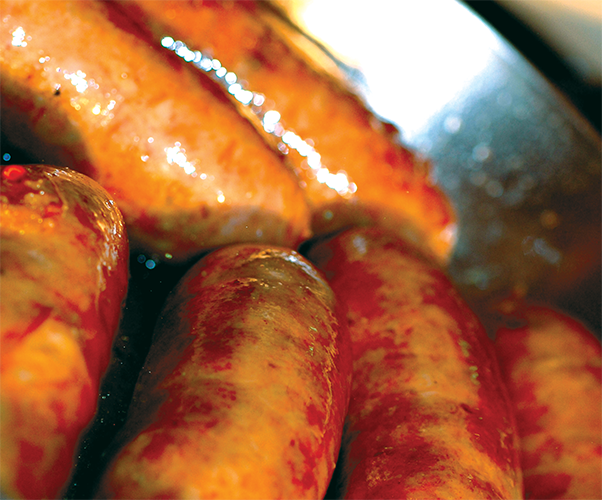 Meat the best
Devro is the world's leading manufacturer of collagen products for the food industry
Collagen, a naturally occurring protein, can be broken down and reconstituted into a mass capable of being extruded and formed into a tube or casing suitable for use in the food sector.
With a turnover of around £250 million, Devro – a leading manufacturer of collagen products – manufactures a range of plastic casings, supplies customers in the food industry with a range of distributed products and also supplies pure collagen raw materials for use in the healthcare industry.
Devro proudly claims to help its customers get 'more bangers for their money' and its collagen casings and films, which hold together ham, hot dogs, sausage, and other processed meats, are sold worldwide under the Coria, Cutisin, Devro, and Euro-Weiner brands. The company, whose products are sold in the Americas, Asia, Australia, and Europe, also supplies raw collagen for use in the healthcare and cosmetics industry.
As one of the world's largest sausage casing makers, Devro has a casing to suit all product types. With a worldwide support network of technical and development teams, the company's technical services team, together local sales people and distributors, provide practical help to its customers in all areas of meat processing.
Brian Donnelly, sales and marketing director, who has worked for the company for 22 years, explains: "Devro is a leading manufacturer of collagen products, which are commonly used for edible and nonedible casings for sausages, as well as hams and other processed meat. We lead this sector – our technical expertise, reputation and the breadth of our product range reflects this.
"We are not a high street brand but we do supply most of the major UK multiples and manufacturers. More frequently, we are supplying convenience stores and smaller manufacturers. We cover the UK and Irish market and have a thriving export market. Our output from the UK is a little short of 1000 metres per year, so there is a lot of sausage out there that we have been involved in producing."
Devro is somewhat unique in the sausage sector; indeed, after overcoming several challenges, the company developed what it believes to be the world's first casing made using pure pork collagen. This is a major development, which gives the consumer greater choice.
Brian comments: "Until now, collagen casings have been based on beef protein. Traditionally, the only viable alternative to this has been a casing based on animal intestines. Collagen is greatly preferred where possible by the industry as it is much more hygienic and meets stringent traceability standards.
"Collagen, which offers significant productivity gains to sausage makers, comes from animal protein and the most abundant supply in the UK is cowhide. There has always been a slight paradox in this industry – beef collagen is used on pork products. While pork sausage makers have been asking for a pork collagen casing for years, it has not been considered technically or economically feasible, as pork collagen is very different from its beef counterpart. Now sausage makers will be able to offer a choice of beef or pork casing with all the productivity advantages of collagen."
Given the impact the BSE and CJD scares, which were directly related to beef, for the British food chain, the creation of pork collagen came at a welcome time for both the industry and Devro. Brian continues: "These scares affected our business hugely at the time, so the opportunity to produce pork collagen is very welcome. I suppose the development of pork collagen was spurred on by the nervousness surrounding the supply of beef. Many of the issues that accompany beef are not associated with pork – this has changed our supply chain and means we no longer solely depend on beef collagen."
As consumers become more health conscious, traceability is also becoming an increasingly important issue: "Collagen products come from clean and controlled sources which can be easily traced directly back to their origin. This is an incredibly important food safety issue, and one that is becoming increasingly significant to the consumer," he urges.
With experience in a variety of different collagen processes and technologies in their manufacturing plants in Scotland, the US, Australia and Czech Republic, Devro is already the world's leading provider of collagen products for the food industry. Devro's customers, and the industry in general, are delighted with this new and exciting development. "We have been able to leverage our worldwide technical expertise to deliver a product which significantly extends the choice they can offer consumers," says Brian.
Talking about current market conditions, he adds: "Life for sausage makers is difficult at the moment. There are huge pressures being placed on them to produce more sausage, but at cheaper prices. This is because the multiples are constantly looking for ways to maximise profits and reduce overheads.
"However, we have seen a rise in the number of big food groups, which is good for the industry as it encourages competition. What's more, sausage, which has always been a popular product, is enjoying a renaissance – particularly the British sausage, which is seen as a superior product throughout the food service industry. The sausage has a long history, but it also has a bright future. We have been associated with the sausage for many years – good times and bad – and we want to be a part of the expected growth in that sector."
He concludes: "We remain committed to improving our market position, products and technologies. Indeed, we are well advanced in initiatives to improve our operations and expect our product offering to be broader, stronger and backed by mgreater manufacturing capacity."