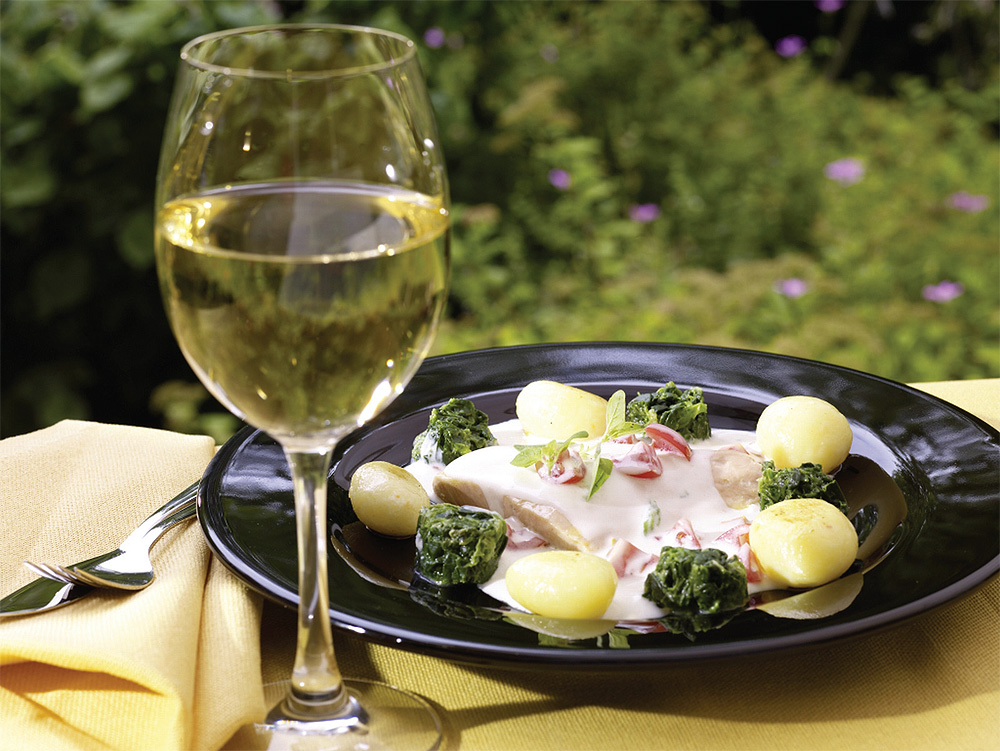 Responsible stance
Felix Ahlers discusses the various developments that Frosta has experienced recently
When Frosta decided to go through a period of significant change in 2003 by removing all additives from its products and fully labelling every ingredient on the packaging, it broke new grounds and became Germany's first producer to introduce additive-free frozen ready-meals. In 2006, the company saw the launch of a new vacuum package, and an attempt to gain Eastern European sales through its Polish site.
The key element of Frosta's product portfolio is that all products are free of taste enhancers, colourings, stabilisers and emulsifiers. The ingredients are all fresh produce with as little technological processing as possible, but this change to additive-free production required big company changes. Speaking to Food Chain, Felix Ahlers, sales and marketing director, describes the company and its move to additive-free products: "We were the first European company to change in such a radical way, eliminating about 100 additives from our products. In 2001, we were just a normal producer in the German ready-meal market. We knew we needed to find a way to differentiate ourselves from the competition, and there were a growing number of customers talking to us about taste-enhancers and allergies. Realising it was possible to stop using them, we worked with suppliers to remove them from production. We initially had 100 products, but over the two-year process we discovered that we could not keep the additive-free promise for all of them. The result was that we eliminated 50 per cent of our products. An investment of 11 million euros together with this portfolio reduction initially resulted in the company's first ever loss. It was a very tough time for the company that led us to question our decision. However, looking back today, I'd say we wouldn't have done anything differently.
"We are focused on frozen vegetables, fruit, ready-meals and fish products, under our own brand as well as private-label business. Our brand has always stood for purity, and we run this totally additive-free production in all four of our sites – three in Germany and one in Poland. We only moved into Poland in 1999 following our acquisition of a Unilever factory. Since we took over the site, we have used it to deliver our products to the central and eastern European markets, as well as utilising the lower labour costs for some of the western production."


Felix adds: "Most of our customers are mainly in retail, but we do also cover the home-service producers and catering companies. More recently we have begun delivering a wide variety of microwaveable meals to approximately 500 offices here in Germany – and this figure is still growing. There are quite a number of offices that do not have canteens available, which is why there has been an increase in demand for food to be delivered directly to offices. For this logistics project, we entered a partnership with DHL about six months ago because we have found them to be the most reliable in ensuring on time delivery and prompt service; all at a very reasonable price."
Frosta exports 40 per cent of its business to different countries including Italy, the Benelux, Scandinavia, France, Spain and Eastern Europe, with the UK still proving to be a growing market. There are no immediate plans for the company to expand, though it is experiencing a rather rapid growth in the export market.
He continues: "With consumers being far more informed than they have ever been on healthy options, they are getting increasingly concerned about what they are eating. The healthy trend is progressively growing and has moved from being just a fad to a way of life. We are witnessing the trend that UK consumers are getting far more health conscious, which is why we believe we have a strong chance of success in the UK – furthermore, we already meet the required high standards. The demand is quite specific, but we are extremely flexible, and through our Polish site we are able to deliver high-quality products at a reduced cost."
In 2008, Frosta experienced its most significant re-launch. From a range of four products in its gourmet range, Frosta progressed to innovate these and launched a total of 20 products ranging between vegetarian meals, meat based and fish based. "This was a very important development in our company, but what was more significant was the fact that these products were served 31in a clear vacuum packaging – a technology that has a European patent. This is already a huge success for us in Germany and Austria," he stated.
When asked what brought about the need for such a revolutionary investment, Felix explains: "We realised that consumers are used to chilled products and the ability to see exactly what it is they are buying. Because there are no other companies in Europe with such an extensive purity objective, we strongly believed it was only right that we stay true to this objective, and how best than to utilise a transparent packaging."
Alongside additive-free production and clear packaging, Frosta also emphasises clear ingredient listings on packages. "The back of every one of our product is a transparent declaration of the ingredients," says Felix. "We always declare the details, with specific explanations about where they came from." For example, the beef in the company's Gulasch Pan is from South American cattle that graze outside, without human feeding.
Felix states that Frosta is not only concerned about ensuring a healthy offering, it is also concerned about the environment. In the first project of its kind in Germany – the Product Carbon Footprint (PCF) – nine businesses have come together to measure the emissions of CO2 and other greenhouse gases related to selected products and services. He comments: "We at Frosta are just as committed to the environment as are our consumers, and I believe that being part of this project that is overseen by the likes of WWF, will enable us to reduce our CO2 emission."
Commenting on Frosta's future, Felix concludes: "In the light of the current economic crisis, consumers are less likely to eat out, which in turn spells a growing demand for good quality, clean food. Overall, the frozen food market is growing though in different percentages in different countries but more so in the UK and Europe. Over the last three years, we have experienced a 12 per cent growth year on year, so we are quietly confident that we will continue to grow especially in the UK market."