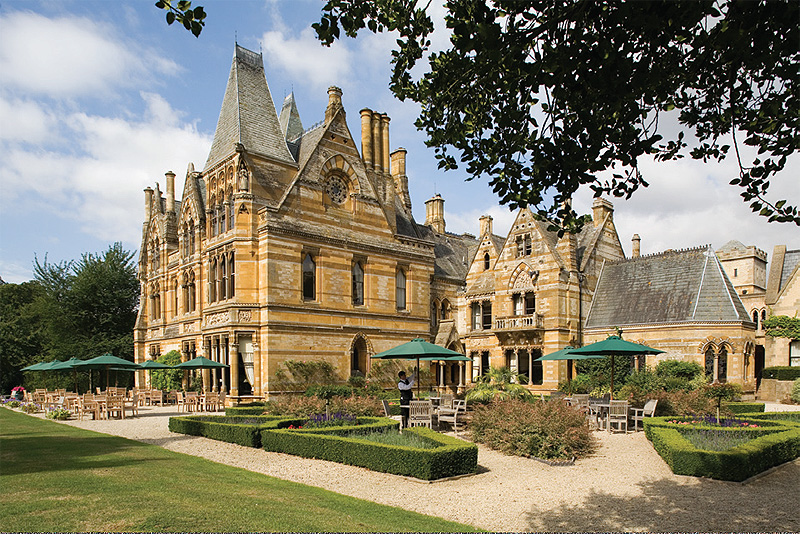 The personal touch
Celebrating its 10th anniversary as a key operator in the in the UK country house hotel market, Hand Picked Hotels' 'hand picked' ethos remains as strong today as ever
Hand Picked Hotels is a privately owned and managed hotel group created with the aim of being at the forefront of a renaissance in fine British hospitality. The awardwinning collection, created by former city lawyer Julia Hands, is made up of 17 country house hotels, each with their own cultural heritage, which Hand Picked Hotels strives to maintain. Set in some of Britain's most beautiful countryside, each property is decorated in Hand Picked Hotels' unique style where classic architectural features such as paintings, fireplaces, and antique furniture are blended effortlessly with modern comforts, fabrics, and technology.


Three new hotels – Hendon Hall, Audleys Wood, and New Hall Hotel & Spa – were purchased in 2008 and more than £1 million has been spent on each one to bring them up to Hand Picked Hotels' standard. This acquisition means thegroup has a total of 948 rooms across the UK. Hand Picked Hotels benefits from a wholly owned and managed estate, with a management team of industry professionals, alongside the leadership and close involvement of the business owner. This is reflected in six hotels achieving and maintaining red star status, being recognised as amongst the AA's Top 200 Hotels in the UK and Ireland.
Each Hand Picked Hotel has literally been 'hand picked' for its own unique personality, and the business strives to ensure this ethos is reflected in its customer service. The group's vision and values remain the same as they were 10 years ago. To reinforce the vision and values and further develop quality and service, 'Being Hand Picked' was launched, which provides a framework for how everyone at Hand Picked Hotels looks after guests and colleagues. In October 2010, this programme was recognised with two national awards – the South East Training Award in the Larger Employer (250+) category at the National Training Awards, and the Training Journal (TJ) Award for customer service.
Exquisite food
One aspect that Hand Picked Hotels is renowned for is its exquisite food and beverage offering. All Hand Picked kitchens are led by well qualified and trained chefs, who bring a wealth of international flavours to the table. Where possible, the group sources produce from local farmers, who are often producing smaller yields to a very high standard. Not only does this mean greater quality and flavour for the diner, but also reduces Hand Picked Hotels' carbon footprint. The group also has many elegant private dining and banqueting suites available for functions and events.
Alongside its private guest facilities, Hand Picked Hotels offers professional companies a unique combination of corporate accommodation and hotel luxury. The group specialises in the management of meetings, events, training and conferences at its properties, which are situated throughout the UK. There are different meeting packages available for the varied requirements of prospective clients.
At present eight hotels within the group have on site spa facilities offering spa treatments, days and breaks. The focus on all spa experiences is on using the best products houses (Elemis, Comfort Zone, Decleor and NEOM Organics) to deliver the most pampering and indulgent treatments. New treatments are added to the spa menus on a regular basis – highlights for 2010 were the bamboo massage, lava shells facial and the 'Treatments in the Forest' menu developed for Rhinefield House Hotel in the New Forest.
The group's Corporate Social Responsibility policy includes aspects such as developing the sustainability of plants and wildlife in its property grounds, to an ethical food supply chain. The group strives to make a positive contribution to the local communities and reduce its impact on the environment through efficient waste management. Each hotel is responsible for implementing both short-term and long-term objectives on a local level, as well as contributing to the group's wider targets.
A milestone
2011 marks the 10th anniversary of Hand Picked Hotels – a milestone it intends to mark with various corporate functions throughout the summer months. Looking to the future, Hand Picked Hotels continues to integrate key team members within its more recent acquisitions and to instil the vision and values for the continual growth of the group. The meetings, events, training and conference market is a targeted sector where Hand Picked Hotels is looking to expand its activities and facilities. The group is already no stranger to this sector, regularly holding events such as charity functions, gala balls, and murder mystery evenings. With Hand Picked Hotels' growth ambitions meaning the group is looking for further acquisitions across the UK, it is clear that this marriage of contemporary style and awardwinning service is bringing a new kind of hospitality to the UK luxury hotel market.