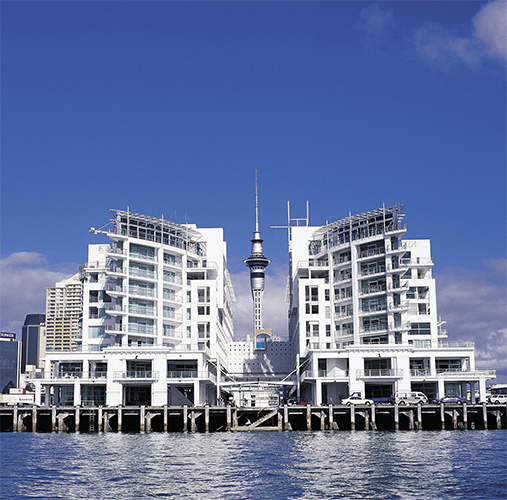 The perfect stay
Recognised as the number one hotel brand across the US, UK, Europe and Africa, Hilton has major plans to significantly increase its presence
With over 2800 hotels and some 500 branded Hilton, 56 of which under the Hilton Worldwide Resorts name, and in excess of 480,000 rooms located in cities across the globe, Hilton is the most recognised name in the worldwide hotel industry. Ninety-eight per cent brand awareness provides evidence of this strength and popularity of the Hilton name.
Employing over 100,000 staff in 76 countries, Hilton Hotels is committed to doing business in a responsible manner and aims to bring a positive benefit to the societies in which it operates through high quality services, economic growth, environmental protection, community involvement and employment.
At the end of May 2007, a luxury hotel was opened in Venice, Italy and claims to have the watery city's first rooftop hotel pool, its biggest spa and perhaps, its most improbable moniker. The 13 building Hilton Molino Stucky Venice is located on the western end of artsy Giudecca, a group of islands minutes by water from Venice's touristy Piazza San Marco, and underwent a 200 million euros restoration that transformed it into a 380-room hotel. At nine storeys, it's high by Venice standards, affording sweeping views from the roof for swimmers, loungers and patrons of the poolside bar.
Although a modern hotel, the complex retains historic touches that date back as far as 1895, such as pointed turrets, red brick façade, a silo-shaped ceiling, a bell that once rung to signal shift change and a mosaic of Demeter, the Greek harvest goddess. Facilities include five bars and restaurants, a private landing jetty for water taxis and, to open later, a nearly 7000 sq ft spa. During high season (April to June and September and October) room rates begin at more than $1000 per night and nearly $400 during the rest of the year. However, a night in the hotel's two-bedroom presidential suite with the mosaic of Demeter, a private steeple and butler service, will set you back a whopping $16,000.
As part of a big push by Hilton Hotels Corporation (HHC) to expand its lower-tier brands such as Doubletree, Hilton Garden Inn and Hampton outside America, HHC announced on 12th June 2007 a franchise deal in the UK that will see the development of 25 budget Hampton Inns costing approximately £300 million. The hotels, to be branded as Hampton by Hilton, will be developed over the next five years by Somerston Hotels, a privately-owned company that already owns and operates 34 hotels, mostly under the Express by Holiday Inn franchise.
Somerston Hotels entered the UK hotel sector ten years ago and now owns a portfolio of 34 purpose-built hotels, 33 of which are both owned and operated by the Group. The portfolio extends to over 4000 bedrooms and 32 of the current properties are operated as 'Express by Holiday Inn' hotels. Its origins date back to 1854 when Ralph Chapman went into business as a ship's agent. In 1878 the company started operating merchant ships though during the Second World War it lost a large proportion of its fleet in the Atlantic convoys.
In the 1960s, after more than a century in the shipping business, the Chapman family made the decision to diversify its interests. By 1975, the last of the shipping interests had been sold and property investment and development had become the focus. This business is still controlled by the Chapman family.
This represents the second major UK hotel franchise announcement with a leading property partner in the last month for Hilton, as the company's international development strategy gains significant momentum.
Opening in Luton next year, the first Garden Inn is part of a £16 million investment while the company is in talks with several existing hotel operators about signing a Doubletree franchise and converting their properties to the flag.
HHC embarked on an ambitious international expansion strategy after acquiring Hilton International for £3.3 billion last year from what is now Ladbrokes. That deal not only reunited the Hilton brand globally for the first time since 1964, but also gave HHC the right to develop its domestic brands around the world.
The strategy is being spearheaded by Ian Carter, chief executive of Hilton's international operations, who stayed on after the takeover by HHC. He said: "We have a target of doubling our UK estate from 75 to 150 hotels in ten years."
In the first week of June, HHC announced franchise deals covering expansion in Russia, the Caribbean and Central America. It also unveiled a multibrand agreement with Shiva Hotels, another UK company, which will add at least 15 hotels in Britain under the Hilton, DoubleTree, Hilton Garden Inn and Hampton by Hilton brands.
Phil Cordell, senior vice president of Brand Management for Hampton by Hilton said: "We look forward to debuting Hampton by Hilton in the UK and establishing a 'new kind of economy hotel' with our key brand attributes such as complimentary high-speed Internet access, complimentary hot breakfast and our 100 per cent satisfaction guarantee, which have made Hampton by Hilton the preferred economy hotel choice for business and leisure travellers throughout the United States."