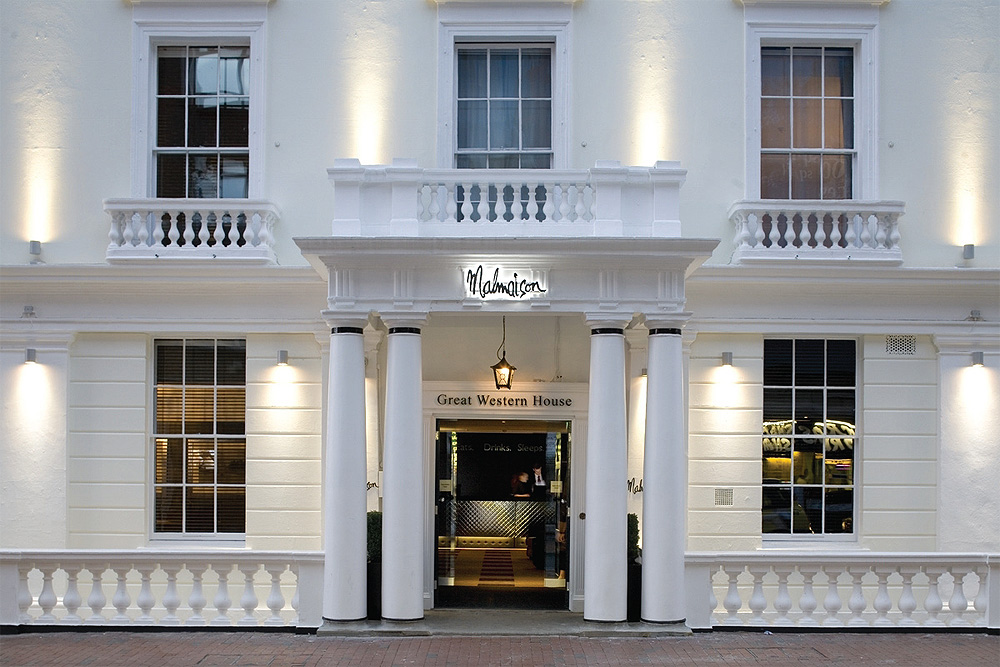 Battling on
Having experienced the most successful opening in its history, Robert Cook believes Malmaison is winning the battle against the economy
In July 2007, the one time Great Western Rail Hotel in Reading was revived to its former glory and is now a stunning boutique hotel offering all the luxury Malmaison is renowned for. The brainchild of Victorian engineering svengali, Islambard Kingdom Brunel, originally built in 1844, this hotel is reputedly the oldest surviving rail hotel in the world. Malmaison has restored this piece of history with a lot of compassion yet successfully managing to introduce a touch of the 21st century.
Now a boutique hotel offering 75 luxury rooms, including five stylish rail themed suites, this Reading hotel has not been compromised on any of the Mal ingredients – great beds with Egyptian cotton sheets and duck feather pillows, mood lighting, power showers, satellite, TV, DVD players, serious wines and ReFuel – the mini bar that allows a guest to relax.
The latest luxury hotel to join the Malmaison family is the boutique hotel in Aberdeen that used to be the famous Queen's Hotel, and one that is truly fit for a Queen. Opening its doors in November 2008, this part new build, part original façade hotel is a striking addition to the group of 12 Malmaison boutique hotels. With the magic touch of Malmaison, this building has been transformed into a stunning luxury hotel with the usual Malmaison style and flair for design. The CEO of Malmaison, Robert Cook explains: "Aberdeen is my home town and so I was determined to do something very special, and I truly believe I have successfully managed to do just that with this stunning find. Giving this building a new lease of life with a luxury revamp, this hotel boasts 80 sumptuous rooms and suites, two of which have 40-metre private terraces overlooking the south of the city and over the hill.


"There is a main bar that serves top class wines, champagnes and cocktails that have become synonymous with Mal bars, but in Mal Aberdeen there are various twists to our conventional Mal offering. There is a glass bridge in the bar, under which is a walk-in wine cellar equipped with a huge selection of 250 wines. Unique to the Aberdeen Malmaison is our whisky pantry, which has over 600 variants of whisky – the biggest selection in any city in the UK."
He continues: "Since Malmaison began in 1994, we worked to the principle that nothing but the best will do, and we were not about to compromise when it came to Mal Aberdeen. Aberdeen is famous for its abundant source of fish, finest meat and home grown ingredients, and it only made sense to bring all of that into our brasserie. Apart from offering a wide selection of white fish and fresh local vegetables, there is a glass butchery in the middle of the restaurant, where you're able to not only observe our very own expert butcher, Donald Russell at work, but select the type of meat you'd like – anything from a 750g rib on the bone to a sirloin. My aim was
to give Aberdeen a great place to have quality steak, so when we realised that this is our busiest restaurant in the group, I believe we have achieved what we had hoped for. In my 15 years of being with Malmaison, this hotel is, by far, our most successful opening."
Today there are 12 Malmaisons in the UK: Edinburgh, Glasgow, Newcastle, Manchester, Leeds, Belfast, Birmingham, Oxford, London, Liverpool, Reading and Aberdeen, all distinctive, architecturally unique buildings that exude flare. Each one is bold in design and rich in colour. While relishing in the overwhelming success in Aberdeen, Robert is more than aware of the current condition of the market and its impact on the business: "It is very tough and we're not invincible to the effects of the economy. We have to ensure we're operating smarter and offering great deals to the community as well as added value meals. I am usually always an optimist but it is going to get worse before it gets better. However in saying that, I do believe we are going into this unusual recession with great products, an excellent team and a good concept – these are the ingredients that will help us wade our way out of this tough time and emerge a whole lot stronger."
If awards were the defining factor of a company's overall quality and success, then Malmaison would be dominating the market, having been voted the top UK business hotel by Conde Nast Readers in Autumn 2005, the AA Hotel Group of the Year 2006-2007 and short-listed for Best Marketing Campaign and Best Hotel Website, whilst more recently Malmaison won the Sunday Times Reader Award for the Best UK Leisure Hotel Group and went on to scoop the Best Places to Work in UK Hospitality 2008. "The most recent award is, for me, the best one to win because it's about how we develop our people and highlights that we are a good brand to work for.
"Progress over the next couple of years will be challenging and I think we need to keep our feet on the ground and work hard on what we've got. These are very difficult times but we are taking it month by month – if a month is a battle, and the recession the war, then we are definitely winning the battle," Robert concludes.