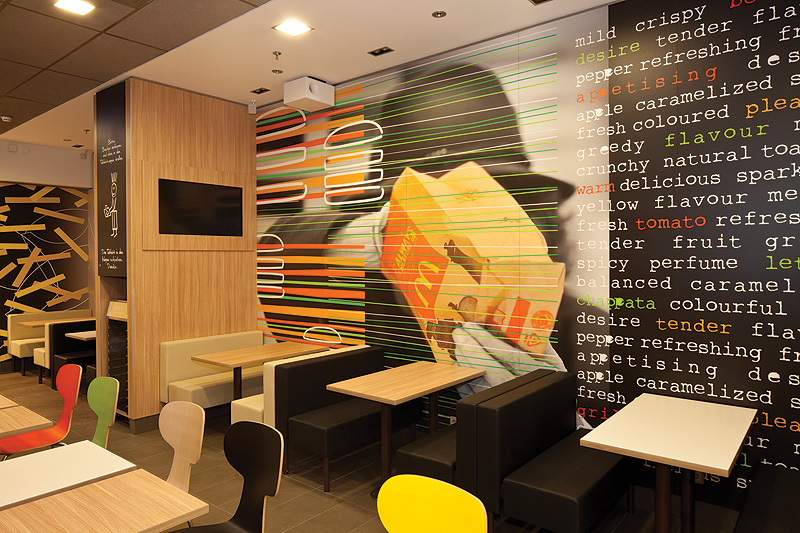 Delight to eat
McDonald's Austria has spent the last few years launching new stores and refurbishing existing branches, and good results are already showing
The McDonald's Corporation opened the first branch of McDonald's Austria in 1977 on Vienna's Schwarzenbergplatz. In just under 40 years the number of stores has increased to 174, having been helped by the addition of 53 franchisees, with a current plan of launching between five and ten new branches per year. In addition to this, the company has been committed since 2006 to a plan of renovating all its existing branches in terms of both operational organisation and interior design, with the aim of modernising the national brand.


Much like its presence elsewhere in the world, McDonald's Austria is one of the most nationally visible brands on the high street. This has been achieved not only through the customer drawing power of the brand but by offering a consistently high quality experience with both its products and its outlets. At a cost of approximately 400,000 euros per restaurant, the current programme of refurbishments has aimed to improve this experience even further and cement the company's position as the high street leader in casual dining.
By taking on customer feedback gathered by annual surveys, managerial decisions are made on ways to improve a branch. Having already invested more than 120 million euros, the company is seeing positive responses to changes such as kitchen reorganisation and new seating layouts. By making the service more efficient, the environment more spacious and the meals more refined, McDonald's Austria has succeeded in improving market image.
A major product introduction happened throughout the nation on May 3rd last year, when the company brought an entirely new 'easy morning' breakfast menu to its stores. The menu includes 20 special items including the Bacon McMuffin, McToast, Ham and Egg Wrap, and McCroissant. An innovative new product joining these is the McGriddles Sweet, a sweet-baked pancake smothered with maple syrup. Previously, the company had launched a new range of wraps to compete with the increasingly popular demand for wrapped items. Designed by former first class chef andcurrent McDonald's franchisee Gerard Fuchs, it went on to great success and the company has sold 12 million wraps from May 2009 until now.
McDonald's Austria also has a large focus on corporate social responsibility (CSR), undertaking a vast number of social and environmental initiatives to help the local and national region. For example, where possible, each branch will make use of locally sourced ingredients for its foods; this means it benefits the customer in being fresh and the supplier in supporting local farmers. This also reduces the carbon footprint of the company's operations in line with efforts to minimise environmental impact in all its forms. It also, like many regional McDonald's companies, fundraises and invests into the Ronald McDonald's House Charities that provides housing and care services for sick children.


In January 2011 the McCampus was launched, an online digital education platform for all employees of McDonald's Austria. This website acts as both a database of knowledge regarding health and safety and career progression, as well as an online learning facility where staff can take part in multi-level training programmes. Developed in co-operation with ad agency Red Urban to make the website user friendly and aesthetically appealing, it will enable workforce not just to further their own knowledge of the food service industry but to improve their position within McDonald's. The company has a strong upwardly mobile structure that often sees former counter service staff progress to becoming branch managers, and McCampus will help the employees achieve this.
Largest employer
Today there are more than 8000 people working for McDonald's Austria, making it one of the country's largest employers. Each new restaurant and McCafé employs around 45 people, and with the company's plan to open a further ten stores in 2011, the creation of approximately 500 jobs will enable the company to maintain its position as an important presence within the Austrian economy.
By continuing to invest in menu improvements, staff education, CSR and general customer experience, McDonald's Austria looks forward to continuing its position as a leader in high street dining. With new stores being prepared for launch throughout this year, and with the five-year refurbishment project having already started showing excellent feedback, it looks like one of McDonald's oldest regional franchises will have many more years of good business.