A seismic shift has occurred within the industry in recent years, with a repositioning of the narrow sports nutrition market into the broader and more inclusive active nutrition category. This transition is primarily a change in vernacular, however, as consumers in both sports and active nutrition aim to support their body's capabilities for fitness as well as health and well-being. With its mainstream appeal, active nutrition is a rapidly expanding space that provides an array of opportunities for future-focused brands.
An evolution in motion
Sports and performance products have traditionally been driven by consumers' aspirations to exercise longer, be faster and be stronger. While these attributes are still important, the shifting terminology in active nutrition showcases more comprehensive solutions for the everyday athlete, with targets for support that may include physical appearance, strength, performance, recovery and general health. In fact, approximately 53 percent of the population is classified as active nutrition consumers. They are focused on how to look and feel better in everyday life and are seeking products that promote a variety of physical and emotional wellness benefits.
Trends to watch
Another big change in the active nutrition segment is growing demand for plant-based proteins and products. Pea, chickpea, navy bean and other plant proteins are alternatives to whey or milk proteins and are increasingly popular as inclusions in sport and energy bars, protein yogurts and ready-to-drink (RTD) high-protein drinks. Protein blends, either plant- and dairy-based or a combination of several plant proteins, are appealing to both formulators and consumers. Blends can offer protein diversity while also helping to achieve preferred taste and texture, and blends may also positively impact a product's protein content.
With more consumers taking a proactive and holistic approach to wellness, many are also pivoting to personalization. Research finds 63 percent of global consumers are interested in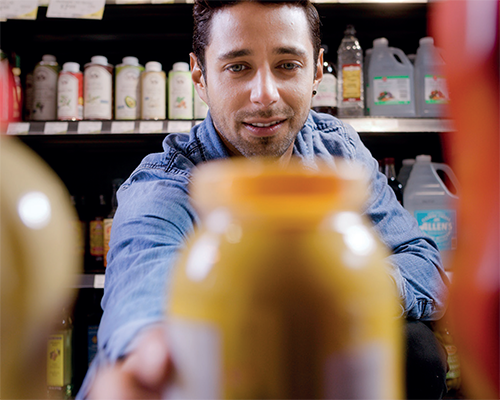 foods and beverages that are customized to meet their individual nutrition needs. Many active nutrition consumers are interested in products that may support digestive health, emotional well-being and immune function. Products that support the gut microbiome are increasingly in demand, as consumers increasingly believe the microbiome is the root of wellness.
For example, increasing consumer awareness of the potential of biotic ingredients to support aspects of health and well-being is extending past digestive health. ADM's award-winning BPL1™ (Bifidobacterium animalis subsp. lactis CECT 8145) and its heat-treated counterpart, BPL1™ HT, target factors relevant to metabolic health and have demonstrated positive effects on measures of body composition in clinical trials. Heat-treated BPL1™ strains contain non-viable microorganisms and can withstand harsh processing conditions like high heat and pasteurization. It enables a plethora of innovative formulations, from functional gummies and stick packs to better-for-you biscuits and fermented milks.
Immune function is another high priority among global consumers, with 65 percent more conscious of the need to support their immune function due to Covid-19. Preliminary evidence indicates microorganisms like DE111®, a spore-forming probiotic that maintains viability across applications, may contribute to healthy immune function. As another example, active nutrition products like electrolyte drinks with vitamin C are commonly associated by consumers with support of immune function. A lesser-known benefit is that vitamin C may also play a role in collagen synthesis. These attributes may have even greater appeal with health-conscious consumers.
Winning combinations
A segment once dominated by tablets, capsules and chalky shakes, today's active nutrition category offers elevated formulations that deliver a pleasing sensory experience while maintaining functionality. Additionally, consumers are seeking products that tick the boxes for clean label and convenience. For instance, BPL1™ HT is an option for Nourished stacks, personalized gummy vitamins produced using 3D printing technology. Nourished gummies are available in the UK and are ideal for active nutrition consumers, as they can be tailored to support holistic wellness and athletic performance targets.
Beverages are another highly customizable format, notable for their convenience and sensory appeal. Globally, 56 percent of consumers say they use sports drinks as an everyday product. These beverages can meet their daily needs for hydration, sustained energy and balanced mood. We're actively researching and developing innovative isotonic options to help brands deliver functional wellness and performance benefits, as well as flavor.
For example, our 'Proisotonic' beverage concept comes in a powdered format for convenient ease of processing for product developers, creating a drink that meets consumer demands for taste that contains key vitamins and minerals. As an all-in-one powdered blend not affected by heat, it also offers greater stability, longer shelf life and enhanced sustainability. We've also created RTD 'CoolFit' and 'Fruitivity' beverage concepts with refreshing flavor, isotonic capabilities and specific vitamins, minerals and other nutrients to suit individual consumer needs.
A combination of science-backed ingredients such as biotics, fiber and protein, paired with attractive colors and trending flavors, can elevate functional foods and beverages to an experience consumers will enjoy repeating. Optionality among formulations and formats can help shoppers choose the active nutrition solution that best meets their personal goals. ADM's cutting-edge capabilities and deep technical expertise are propelling health and wellness brands into the future, supporting innovative product development that aligns with consumers' evolving needs and expectations.
For a list of the sources used in this article, please contact the editor
ADM Health & Wellness
Vaughn DuBow is Marketing Director for ADM Health & Wellness. ADM is a premier global human and animal nutrition company that helps develop groundbreaking products to support healthier living. From the seed of the idea to the outcome of the solution, ADM gives customers an edge in solving the nutritional and sustainability challenges of today and tomorrow.
For further information, please visit: www.adm.com