RedStar is celebrating 70 years of Creating Pure Joy with its great-tasting tomatoes  
It all started back in 1953 when Theo van der Kaaij, his wife Sophie and their two sons, Cor and Dirk, established a greenhouse horticultural company for growing fresh, great-tasting vegetables. Over the next 70 years, the business continued to develop and innovate in a number of areas, introducing new LED lighting, expanding operations to the UK and Spain, as well as pioneering the growth of the deliciously sweet Sunstream tomato. Today, RedStar is highly regarded as the tomato industry's 'total specialist,' committed to growing, packing and selling the best tomatoes in the business, all year round.  
RedStar prides itself on its purpose-led approach to business and is committed to leaving a legacy of doing what is right and good for its people, produce and planet. Acting CEO, Peter Kalden explains: "The key factor is the people working here. The people make the company and bring the culture alive. Our curiosity for innovative solutions, our expertise, and our passion all ensure that we are growing the best tasting tomatoes to make RedStar successful."  
As such, the business maintains a key focus on ensuring its people enjoy what they do and are inspired to reach their full potential by creating great working conditions, providing opportunities for growth and development and nurturing a supportive and respectful working environment.

Ahead of the curve 
In addition to taking care of its people, RedStar equally prioritizes its pledge to the planet and is entirely committed to protecting the environment through the adoption of pioneering, progressive. and regenerative methods and practices. The company has endeavored to limit its impact on the environment by being constantly in pursuit of pesticide-free practices, introducing bees into greenhouses and reducing the amount of packaging material used for its products.  
A dependency on the use of fossil fuels has led many to believe that using greenhouses is a pollutive way to grow tomatoes. RedStar's pioneering methods combat this perspective by producing electricity for the grid through a combined heat and power generation process and using heat from the greenhouses to grow tomatoes, peppers and cucumbers with key partners.  
Furthermore, the company recycles all carbon dioxide produced as well as rain, drainage, and condensation water, which helps to reduce its carbon footprint and limit waste, as well as allowing for a much more efficient watering and fertilization process. RedStar's five-year strategy focusses on reducing its ecological footprint, aiming to reduce its gas consumption by more than 50 percent whilst maintaining a consistent level of production. A heavy reliance on non-renewable sources of energy does not facilitate an effective, future-proof strategy; an issue which has been exacerbated by the recent energy crisis and subsequent production and cost challenges. In the long run, it is crucial that greenhouses find alternatives to using gas as a source of fuel as the world around us changes rapidly. 
The agricultural sector has witnessed an increasing reliance on technology and AI across the full value chain, which has proven to be highly useful for driving interconnectivity, providing solutions for maintaining the longevity of fresh produce, influencing the stability of production quality and helping to resolve labor challenges.  
RedStar's progressive and entrepreneurial purpose has helped the company to position itself ahead of the curve when it comes to scientific and technological innovation. It is focused on ongoing investment and expansion in this area, with many developments taking place in robotizing work and introducing greater levels of automation such as driverless tractors, bug-hunting drones and AI technology to maintain greenhouse climates.  
Productive partnerships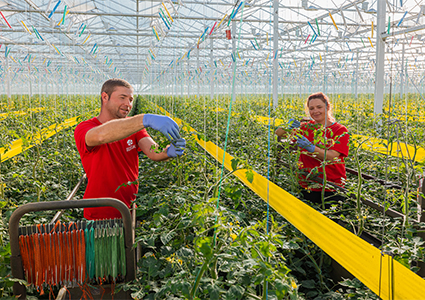 Looking to the future of the sector, Peter outlines his expectations of how things are likely to progress: "The sector will continue to innovate and there will be an increased focus on reducing the impact on the environment. This requires huge investment in initiatives such as LED lighting and alternative heating sources such as geothermic energy. These kinds of projects will only work if they can be done in collaboration with partners."  
RedStar places great importance on its partnerships and has some exciting growth ventures in the pipeline for 2023. This includes several major collaborations in the UK and North Africa to develop new tomato varieties. Additionally, the business has recently entered an exciting joint venture in Morocco which will enable the provision of consistently high-quality tomatoes all year round.  RedStar is rightfully optimistic about maintaining its position as a major player. The key to its success lies in ensuring its people are committed and passionate about what they do. Furthermore, a willingness to seek out partnerships that facilitate further innovation for the improvement of product and environmental impact will ensure that it continues to deliver exceptional produce, year-round and for many years to come.