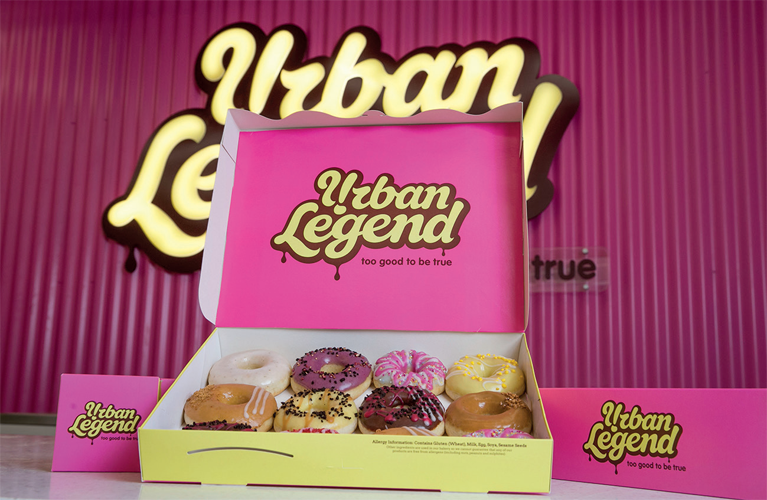 In an effort to take the junk out of junk food and address the obesity crisis in the UK, Fletcher has created a range of doughnuts that are over 50 percent lower in sugar (-57 percent) and saturated fat (-52 percent), while also dramatically lower in fat (-44 percent) and calories (-36 percent) than other doughnuts currently being sold.
Urban Legend's range of doughnuts contain no artificial preservatives, sweeteners, colours or flavourings. In fact, to make the vibrant colours, extracts from flowers, plants and vegetables have been used including safflower and beetroot.
Beyond the taste, look, feel and impact on our health – Urban Legend is about bringing innovation into the food industry including pioneering a patented manufacturing process that facilitates the creation of nutritious bakery products without compromising on taste. Fletcher worked with leading UK scientists, including Dr Chris Holland, Senior Lecturer in Natural Materials at Sheffield University. Together they investigated novel starch and protein technologies, which would allow doughs to be 'set' by a beam of steam rather than prolonged deep fat frying. They also used a technique to deposit a micro layer of fat on the outside of the doughnut, retaining the taste and texture of a deep fat product with barely any of saturated fat being added to the product. Urban Legend also includes clever natural flavour combinations that enhance sweetness and cue indulgence, and alternatives to sugar discovered in melons, pears, roots and leaves.