An ideal opportunity
Specializing in authentic Tex-Mex cuisine, Taco Cabana has turned a somewhat startling encounter with success into a fully-fledged culinary empire
In 1970s San Antonio, Texas, located on the corner of Hildebrand and San Pedro, there sat an abandoned Dairy Queen. Just across the street, a popular bar and grill called the Crystal Pistol found itself in need of more parking. It turned out to be an ideal opportunity: the owner of the Crystal Pistol, Felix Stehling, leased the derelict stand for the sole purpose of offering his clientele more places in which they could park their cars. But that all swiftly changed.
Vexed by the fact that the actual property he was leasing was still left in a discarded state and useless in terms of income generation, Felix hit upon an idea. Why not serve breakfast tacos and simple Mexican fare to locals while the Crystal Pistol was closed?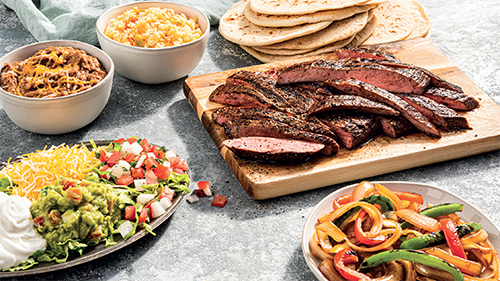 It quickly became a family affair. Felix's wife, Billie Jo, his stepson, Lynn Moody, and several other family members all joined in to aid the project. Felix also managed to recruit two head cooks from his favorite Mexican restaurant. With their winning recipes and an emphasis on freshly prepared produce, it was almost bound to be an immediate hit. People from all over town travelled to that once abandoned spot in San Antonio, now the home of Taco Cabana, for delicious yet affordable Mexican food – 24 hours a day, no less.
Although classic Mexican fare would eventually give way to a Tex-Mex heritage and culinary foundation, nothing changed when it came to the heart and soul of the organization, which remains thus: family.
It's not unfair to say that the Stehling family didn't begin with the goal of creating a popular Tex-Mex restaurant chain. They were simply putting the land they had leased for parking to good use. As of this year, the Texas-based, fast-casual restaurant chain has 149 locations – 143 in Texas itself and six in New Mexico, all operated by the wider Taco Cabana family of restaurant team members.
"Today, every Taco Cabana can trace its roots back to the unique heritage of the very first restaurant," begins Ulyses Camacho, COO at Taco Cabana. "That original desire to create a casual neighborhood gathering place, where you could savor great, affordable Mexican food crafted from authentic family recipes, still permeates the business. Since its inception, Taco Cabana continues to redefine the fast-casual Tex-Mex dining experience through on-going culinary, service, and operational enhancements.
"When we think of the Taco Cabana brand, we envision a home for Tex- Mex flavors, crafted from the heart. We enact this vision every day. We're recognized for our distinctive pink branding, open-display cooking, convenient drive-throughs, open-air patios, and a variety of high-quality Tex-Mex food and beverages, including a popular rotating selection of frozen margaritas. Every day and every order, we deliver our service in a friendly, fun, and inviting way that makes our guests want to return time and time again," he adds.
Ground beef tacos, chicken fajita quesadillas, queso-topped enchiladas, bean and cheese nachos, guacamole chalupas, shredded chicken burritos, and cabana bowls served in a crispy shell. The iconic list of Tex-Mex greatest hits plays on. "At Taco Cabana, we're very proud of our industry leading position," asserts Ulyses. "We pride ourselves on listening to guests as it relates to culinary development and innovation. The secret to Taco Cabana's 44 years of success is grounded in the knowledge that we are a pioneer within the fast-casual Tex-Mex restaurant category."
To meet guest suggestions and rapidly evolving industry demands, the restaurant chain has revived many original Tex-Mex recipes like shrimp tampico, salsa fuego, and a wide variety of enchilada flavors. More recently, Taco Cabana has introduced Beyond Meat's plant-based protein across its extensive menu.
"Taco Cabana started from a strong and authentic Tex-Mex foundation," Ulyses explains. "It has, since then, continued to evolve and innovate across all brand aspects, including culinary development, operations, technology, marketing, training, and real estate development. But everything we do starts with food. We serve food made fresh, not fast food – that fact helps differentiate us from our competitors.
"Over the years, Taco Cabana has built upon its authentic regional Tex-Mex heritage and hospitality foundation to create many additional multi-discipline brand successes that draw customers, new and old, from all over. For instance, we serve alcohol while many fast-casual restaurants do not. We also possess innovative and differentiated menus, an iconic salsa bar feature, convenient double-lane drive-throughs, and popular patio-dining," he continues.
Tex-Mex core
By studying ever-evolving consumer trends through on-going research, Taco Cabana is set on making itself a brand of the future. "Recently, we've been responding to a continued demand for culinary innovation with new Tex-Mex flavors," Ulyses says, highlighting the restaurant chain's robust and open-minded philosophy to change. "Our new partnership with Mexican spice company Tajin attests to this and has, in turn, led to the first-ever Tajin margarita.
"In today's increasingly health-conscious world, we're also keen to explore more nutritional options as part of our overall culinary development. Though Taco Cabana will always remain vigilant to ever-changing flavors and tastes, it will always remain committed to its Tex-Mex core. Furthermore, continuous improvement to the ordering experience, making it easier for guests to find their perfect meal, is integral to our success. To accomplish this, we are implementing new tools like digital drive-through menus and handheld point-of-sale devices, which offer face-to-face interaction," he adds.
Staying up-to-date and rolling with the times is important for any business. When Covid-19 came to town, Taco Cabana was presented with a unique opportunity to put its self-image as a pioneer and culinary leader into practice. A culinary strategy based on innovation and extensive staff training had all led up to this.
"The pandemic affected us in many of the same ways that it affected the entire fast-casual restaurant category," explains Ulyses. "We had to adapt. We had to pivot. We had to evolve. Needless to say, Taco Cabana had to change in many ways. We closed our dining rooms system-wide for a portion of the pandemic and thus had to re-invent and rely on the output of drive-throughs and pick-up and delivery. To be as efficient and consumer-friendly as possible, we refocused company efforts and training across all of the above.
"We optimized and simplified our menu to better fit a reduced system-wide labor model as well as service times needed for increased drive-through output. We concentrated on those guest favorites that we knew could be made quickly and accurately, including more takeout margaritas and alcoholic drinks. With many restaurants and bars closed, adapting in this way drove and continues to drive Taco Cabana's business growth," he elaborates.
Industry pioneer
During the pandemic and now beyond, the food industry has placed a discernible focus on expanding loyalty benefit schemes and third-party delivery partnerships. For Taco Cabana, it was no different. "We directed our focus to any and all ways for current and new guests to enjoy our brand, including our expanded 'MYTC!' mobile loyalty program or our increasingly efficient delivery options," says Ulyses. "In many ways, then, we've come out of the Covid-19 crisis stronger. We've been able to refresh many aspects of the brand while remaining true to our Tex-Mex roots. As a result, it's safe to say that Taco Cabana is a more disciplined brand with a revitalized sense of purpose and direction. It's certainly an exciting time."
With the ball now firmly in its court, Taco Cabana show no signs of slowing down. "We will continue to challenge ourselves and adapt by studying marketplace conditions, competitors, upcoming technologies, and upcoming consumer trends," Ulyses contends. "As an industry pioneer, we must remain curious, innovating across all departments and, most importantly, focusing on making our restaurants better for our guests in every way possible.
"But we're also preparing for growth. Though there is still room to grow in Texas (we're still looking for additional sites in multiple markets across the state), the goal in the next five-to-ten years is to expand via franchising outside of the state. But opportunities lie around every corner, particularly in catering, which we consider to be a key focus for 2022 and beyond: in the last few months, for example, we've created a new competitively priced catering menu with exciting items and packaging. Taco Cabana has a great legacy as a regional brand, but it can be a national brand, too, with forward-thinking planning such as this. Therefore, I don't hesitate when I say this: our future looks nothing less than phenomenal." D
www.tacocabana.com