Super blue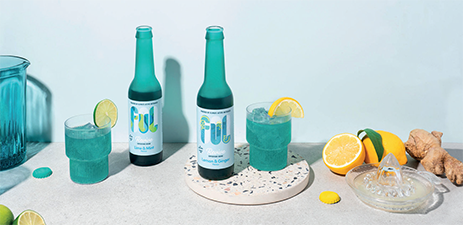 FUL® Revive is a versatile sparkling drink available in three refreshing flavors – white peach, lemon and ginger and lime & mint. Suitable for any time of day, the drinks can be served on their own, or used in a mixer for cocktails/spirits.
Low in calories, with no added sugar, the drinks also provide a powerful serving of natural, high-quality vegan protein, nutrients, vitamins, minerals, and electrolytes, all derived from FUL® – a water-soluble, unapologetically blue superfood. Derived from nutrient dense spirulina via a biorefinery process, FUL® is mass market friendly and aims to positively impact the planet through the way it is produced.
In September 2021, FUL® Foods, the company behind FUL® Revive, recently won the World Beverage Innovation Award for best beverage ingredient, recognizing its credentials as a sustainable, water soluble, stable, and delicious-tasting source of natural nutrition.
https://fulsuperfood.com/
The FUL Revive drinks were certainly extremely blue! Our testers found them to be unusual, and not like anything they had tried before. "It contrasts the fruit with a bitter edge; it was very refreshing and it went well with the spirits I mixed in with it , too!" said one reviewer.
Perfect pasta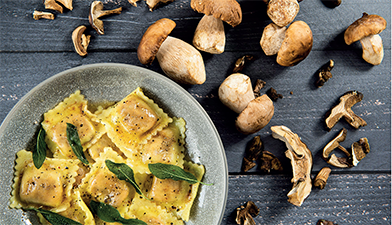 Already known for its vegan and gluten free pizza selection, White Rabbit is now doing pasta options too. Aubergine Parmigiana Ravioli and Porcini Mushroom Ravioli have been added to the line-up, with both options being gluten free and vegan.
www.whiterabbitpizza.co.uk
The White Rabbit pasta received a glowing review from our in-house vegan, with our tester trying the mushroom ravioli, which is stuffed with juicy Portobello and porcini mushrooms and a velvety dairy alternative filling. "Not only is this 100 percent plant-based but it's also gluten free, which is perfect for me," she said. "Literally ready in three minutes, it had a lovely, rich mushroomy taste, was very satisfying to eat, and I could tell it was very high quality. Thoroughly enjoyed it and would buy again, for sure."
Snack attack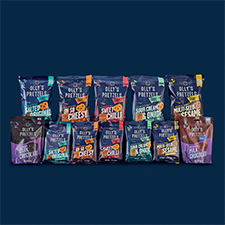 Snack brand Olly's has launched three diverse new ranges that should tickle every tastebud: a five-strong range of Pretzel Thins (with three brand-new flavors), three Seasoned Nut Mixes and two varieties of Chocolate Pretzel Thins.
Olly's Pretzel Thins are oven-baked, vegan delights with more protein, up to 80 per cent less fat and 45 per cent fewer calories (from 95 calories per portion) than average crisps!
The Chocolate Pretzel Thins (£2.50 per 90g bag) are ideal to satiate a sweet tooth. Olly's oven-bake and lightly salt their pretzel thins before delicately enrobing them in a coat of creamy 100 per cent Belgian chocolate, with only 121 calories per serving.
www.ollys-ollys.com
The Team tried a range of Olly's Pretzel Thins and praised all the flavors, with particular plaudits for the Sour Cream & Onion option. "I loved these, they were very savory and a delicious afternoon snack. I prefer these 'Thins' to the usual pretzel, as they snapped and crunched which is always satisfying for me. I loved the packaging too. Overall very 'impretzed!'"
The 'Oh So Cheesy!' variety also received compliments, for a good, authentic cheese taste and excellent texture. Thumbs up were also given to the Multi-Seed Sesame option.