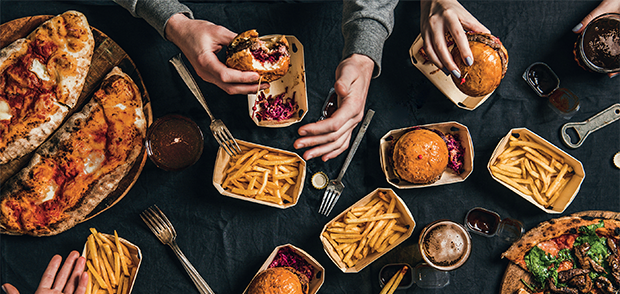 Lubrication for the soul

ENGINE is a new, 100% organic gin, produced in Italy, in a traditional copper John Dore pot still. The gin is produced from a controlled Italian supply chain, including juniper from Tuscany, licorice roots from Calabria and Damask rose from Piedmont, which are then mixed with sage from Piedmont, lemons from Sicily and mineral water from the Alps.
Founded by Paolo Dalla Mora, entrepreneur and consultant in the fashion and spirits sectors, the ENGINE design is inspired by oil and fuel cans, motocross races and racing vehicles. The unique and sustainable packaging references various 80's retro details of which are a tribute to the characteristic world of racing.
Engine Gin has just been launched in Tesco stores.
www.engine.land
The packaging instantly got a big 'wow' from the Taste Test team, with its distinctive oil can look. The resident gin buff took on the review, and he found it was a sophisticated take on the traditional gin, with a bitter finish of sage, and interesting citrus notes and licorice finish.
Wine o'clock

London-based wine startup, NICE, is making great tasting wine from wineries they love. The female-led team is innovating with formats, making wine more inclusive and less intimidating, and bringing a fresh outlook to the industry. So, whether it is a perfectly portioned canned wine for the train, or boxed wine for summer celebrations, they make it for whenever you want it.
Focusing on the Box option, which is equivalent to three bottles, nine cans, or 18 small glasses of wine, this offers drinkers the benefit of staying fresh for six weeks after opening. Once finished, the box and bag are fully recyclable.
NICE can be found at Sainsbury's, Ocado, Amazon and WHSmith, as well as sports stadiums, music venues, airlines, theatres, cinemas and restaurants; as well at summer festivals.
www.nice-drinks.co.uk
The NICE stable includes a dry and crisp Sauvignon Blanc, a Pale Rosé from just outside Montpellier and a fruity and smooth Argentinian Malbec. Heading to a birthday party, our Tester trialed the box of Pale Rosé, which they found the perfect format, with the incorporated tap making it easy to dispense. "I could also relax knowing there were no bottles to be broken!" added the tester. "The wine had a good level of fruit, with a lovely berry finish but wasn't cloying or sweet. Went great with the BBQ!"
Sophisticated breakfast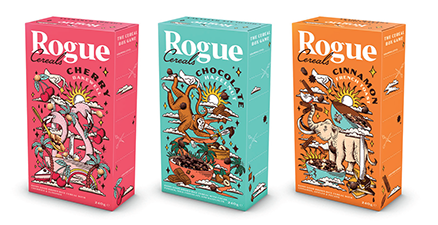 Artisan brand Rogue has introduced cereals to the breakfast aisle, with three new products offering a choice of delicious options. Embracing the brand's ambition to end 'the conservative world of mass produced and boring food' the trilogy entices buyers with tempting flavors, including Cinnamon French Toast, Chocolate and Hazelnut, and Cherry Bakewell.
With packaging that develops the tattoo-inspired illustrations that were created for Rogue's jams and chutneys, the boxes feature bright colours and monkeys, elephants and flamingos, and are sure to stand out in the breakfast aisle!
www.enjoyrogue.com/collections/cereals
The packages definitely caught the eye of the Taste Test team, who thought it looked both fun and also high-end – 'one for the adults' was one comment, especially when noting the 'damn good rice cereal' strapline. Trying the Cherry Bakewell option, the tester appreciated the crunch (didn't go soggy in milk) and the delicate cherry and almond flavors. They also loved the resulting bright pink milk!
Heaven in the post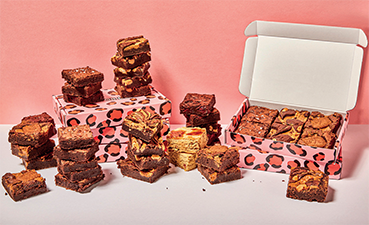 Already creating some of the UK's favorite bakes available to order online and delivered hassle-free through the letterbox, Cake or Death has relaunched its brownie subscriptions with a huge upgrade. Customers decide which of their favourite flavors go into each box, every time they're delivered, and having signed up for Build-A-Box brownies every two, four, six or 12 weeks, they can change flavours each time, with the option to pause if they are away.
Named after an Eddie Izzard sketch, Cake or Death offers a luxury treat experience ,which also happens to be vegan. Beautifully packaged in pink leopard print, the choice of flavors includes classic Sea Salt, Peanut Butter, Biscoff, Oreo, Salted Caramel and Nutella-Style Hazelnut, to name a few.
www.cakeordeath.co.uk
The Taste Test team couldn't have been more impressed with their brownie selection box from Cake or Death. "These are sinfully good brownies, and definitely the best vegan dessert I've ever had. I will be ordering my own box very soon," said one tester. "The best vegan brownie I've ever had," concurred tester two, who tried the Biscoff variant. "This was the ideal consistency with a firm outer crunch and a soft, gooey texture. I would describe this as the perfect brownie."
Creamy velvet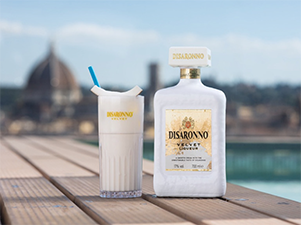 Disaronno has unveiled its latest cocktail creation, Disaronno Velvet Batida, which features its luxuriously smooth Disaronno Velvet liqueur. The cocktail is made by mixing one part Disaronno Velvet, one part coconut water and two parts crushed ice – served with a slice of coconut as garnish.
The new blend is inspired by Disaronno's 'DIS IS OUR SUMMER' concept, and the mixologists behind the drink sought to create a cocktail that celebrates the pursuit of one's own happiness, as well as signify a transition from the old to the new this summer.
www.disaronno.com
The Testers were able to try the Disaronno Velvet liqueur both on its own and as the new cocktail. Describing the former as 'creamy and luxurious' the testers were impressed first by the pure white bottle which they 'knew was a good indication of the treat we were about to experience'. "With the recent heatwave in full force, we poured ourselves a cocktail over lots of ice… Smooth and creamy, rich and coconutty – it really did feel like a summer treat. "Big fans of almond as a flavor, we also found this amaretto liqueur was the perfect addition to our morning Lavazza coffee. Needless to say the bottle did not last long!"
Artful wine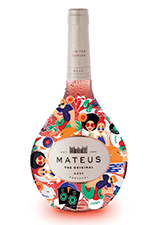 Celebrating its 80th anniversary, specialist rosé wine brand Mateus has released three new limited-edition bottles. These match the brand's culture and feature three new design concepts – Fado, Rock and Dance Music. Fado is inspired by Amália Rodrigues, the most famous fado singer in the country's history. This design intends to spread Portuguese culture and share this traditional and renowned music style with younger generations worldwide.
Rock represents the brand's historical connection to rock and roll, and remembers Mateus' association with legendary artists such as Jimi Hendrix and Elton John, as well as the irreverent spirit that inspired Mateus' creation of its bottle. Finally, Dance music portrays the relaxed, friendly nature of the brand and rosé wines, in line with Mateus' younger fans.
www.mateusrose.com
"Mateus fills me with nostalgia as the brand and bottle have been familiar to me so for so long," said our tester. "I loved the new bottle art as it was very well-executed, but the wine itself is the most important! I found it light and fresh, with a little hint of sparkle, and was best served nice and cold, or even with some ice. I found it paired really well with summer salads and even dishes with some spice. A classic and reliable rosé with a great heritage."