TASTE THE DIFFERENCE
The last bite is the best bite. By the time you reach it, you have explored all the complexity of flavor and texture of a burger – the soft palatable squeeze of a bun pressing in on the ingredients that it so elegantly encases; the crunchy freshness of a humble lettuce leaf, and the juice of a ripely-picked tomato that bleeds through the greenery above it; the sticky, almost molten flow of American cheese; and then, finally, the succulent showstopper: the burger itself.
It is the reason you walked in, after all. Warming, filling, delectable. As it comes into contact with the other ingredients it becomes all these things and more, metamorphosing with each bite, inviting you to discern the intricate melody of its various tasting notes.
This time with crunch; this time with sweet relish; and this time with feeling. At the forefront of experiences like these is BurgerFi. Founded in 2011 by a team of gourmet chefs dedicated to serving a high-quality and always fresh fast casual burger product, the original location in Lauderdale-by-the-Sea, Florida has since been dwarfed by 100 plus stores across the US.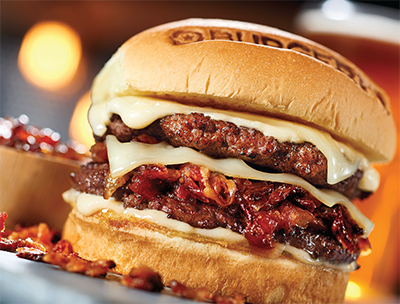 Now one of the leading brands in the fast casual scene, BurgerFi prides itself on using only the best ingredients. That means 100 percent American Angus beef, which is strictly free from steroids, antibiotics, growth hormones, chemicals, and additives.
Indeed, this is promised through the chain's 'Never-Ever' guarantee, which ensures that guests need not worry about the origins of the ingredients… well, ever. 'Go ahead,' BurgerFi seems to be saying. 'Taste the difference.'
Fresh and flavorsome
Ingredients come in fresh every day and are hand-washed, chopped, and prepared in-house. Fries are fresh-cut – never coming from frozen – and are first blanched before being fried twice to add a golden crunch. Guests can, moreover, opt for Cajun, urban, and truffle style fries, while also being able to top these with bacon or cheddar cheese sauce. The famous BurgerFi jumbo onion rings are battered by hand and made-to-order, guaranteeing a delicious experience each time.
Evidently, the chef-driven approach that got the company off the ground in Lauderdale-by-the-Sea has been deeply instilled and cultivated across the rest of the brand's locations – and that strategy has paid off. BurgerFi was named Best Fast Casual Restaurant in USA Today's 10Best 2022 Readers' Choice Awards for the second year running and ranked as the highest burger restaurant on the list. Other accolades include: QSR Magazine's Breakout Brand of 2020, Fast Casual's 2021 Number One Brand of the Year, and BurgerFi was recognized as having 'A-Grade Angus Beef' for the third consecutive year by Consumer Reports in 2021.
"While we are best known for our delicious, all-natural burgers, our menu also includes high-quality wagyu beef; antibiotic and cage-free chicken; fresh, hand-cut fries; and beer-battered onion rings, as well as custard shakes and concretes for dessert," says Patrick Renna, President at BurgerFi, who has been with the company since 2020. "The BurgerFi Sauce recipe alone uses more than 12 fresh ingredients and was crafted with flavors to perfectly complement our juicy and all-natural cheeseburger.
"Other favorites include the VegeFi (our own gourmet spin on a veggie burger), which is prepared in-house, wagyu beef hot dogs with all the toppings, and a glass of local craft beer," he adds. "We are 100 percent committed to serving fresh, all-natural food of the highest quality. In fact, we utilize certified American Black Angus beef from the top ranches in the country. This means that the cattle we source our burgers from are free range and raised on a vegetarian diet. Moreover, we source all-natural chicken that is free of hormones and antibiotics and fed a purely vegetarian diet of 100 percent American-grown grains at Springer Mountain Farm. The chickens are raised in climate-controlled and humane-certified homes to produce the freshest chicken from farm to tray."
Exceeding expectations
Recent Limited Time Offers (LTOs) include the Juicy Lucy, which is made with BurgerFi's award-winning Angus beef. "We have a lot of exciting offerings that we are going to be testing out in the remainder of the year, and preparing for LTO offerings we will be showcasing in 2023," reveals Patrick. "So, keep an eye out on our social media channels to make sure you do not miss the announcements!"
Yet, it is not just the sourcing of ingredients that Patrick sees as BurgerFi's unique selling point. As he is quick to assert, the chain also excels in the customer service department. "Our employees will always be the most important part of BurgerFi," he admits. "Without them, it would simply be impossible to deliver a better burger experience to our guests. Even before the pandemic, we have looked for opportunities to incorporate innovative technologies that can help our staff be more efficient. Most recently, for example, we have integrated self-ordering kiosks, allowing our employees to focus on a quality guest experience and help decrease ticket times."
A multi-brand platform
Minor adaptions such as self-ordering kiosks brought about major returns on investment during the pandemic, the brusque and unrelenting arrival of which certainly seemed to shift the way the entire food industry operated. Despite this, Patrick comments that, as a brand, BurgerFi prides itself on an incredible ability to pivot and incorporate innovative technologies to help address challenges as they arise.
"In 2020, for instance, we saw that delivery and convenience were just as important to our guests as the in-restaurant dining experience," reveals Patrick. "That is why we have jumped on trends such as contactless ordering via digital kiosks and guaranteed lowest delivery fees through the BurgerFi mobile application in order to meet guest expectations. Actively listening to guest feedback, as well as looking at qualitative data and insights, are key to ensuring a well-rounded and positive guest experience. In doing so, we will be able to continue attracting new and loyal BurgerFi fans.
"In the end, guests appreciate convenience, and our digital technology solutions are focused on streamlining the ordering transaction so that our diners can focus on spending time with friends and family as they eat fresh, high-quality, and delicious food," he adds. "We are actively investing in enhancing convenience for both the guest and the delivery driver. Ensuring the order is made available when we promise it and providing ways for guests to order in whatever they wish is at the top of our agenda.
"From a technology perspective, this will mean focusing on the user," Patrick details. "The challenge there, then, is to make all our processes as simple as possible. The user may be the employee, guest, or delivery driver and they may want to eat in the restaurant, at home, or on the road. These variables must be considered as we investigate streamlining our business further."
Also included in Inc. Magazine's Fastest Growing Private Companies List, BurgerFi has evidenced an ebullience for expansion and recently acquired Anthony's Coal Fired Pizza & Wings (Anthony's). The 60-strong chain is spread across eight states and has been built on founder Anthony Bruno's passion for pizza since 2002.
Margherita, pepperoni, broccoli rabe and sausage, ricotta cheese white pizza, eggplant and pecorino – even meatballs and sweet peppers baked on top of fresh, hand-stretched dough. All these options and more – from toasted sandwiches and rigatoni pasta to roast chicken wings and tiramisu – can be expected at an Anthony's establishment.
"The Anthony's acquisition marks the first step in our long-term inorganic growth strategy to build a premium multi-brand platform," reveals Patrick. "It represents a fantastic complement to our brand, and we are well-positioned to strategically grow Anthony's as it fits in with BurgerFi's focus on high-quality restaurants. Both brands sit together very nicely as geographically overlapped and elevated concepts that our guests love. Anthony's and BurgerFi have mutual strengths that we can utilize and capitalize."
Utilize and capitalize. It is a robust, tried-and-tested strategy; and BurgerFi intends to lead from the front with it. Through the rest of the year, the chain intends to open a number of new restaurants, most of which will be franchised, as well as continuing the expansion at more than 30 Gopuff locations.
Gopuff, the go-to platform for immediate delivery of customers' everyday needs, will be delivering freshly made BurgerFi burgers and fries in more than 12 cities, including Miami, New York City, and Philadelphia, to expand BurgerFi's national presence.
"Growth is our ultimate goal," concludes Patrick. "In five years, I expect we will have expanded both the number of brick-and-mortar stores as well as our delivery options for our guests. Going forward, we will tap more and more into our franchisees, elevating their product to the next level. As a company, we are very excited about the future and cannot wait to see what it has in store for us."
www.burgerfi.com